For over 30 years the brand Melvin & Hamilton has reinvented itself season after season without ever losing its identity. At the root of the brand, there is a philosophy and a family: the key assets to create original, durable products that are in harmony with manufacturing traditions as well as with trends and modern comfort.
01 Family expertise
From Lebanese origin, Rajab Choukair decided to continue his studies in Europe after he graduated from high school. By coincidence he ended up in Heidelberg, a small medieval town in the west of Germany, known for its university which is the oldest in the country. He learns a lot about the German culture but also about the French culture as it is right here where he met his wife: a Parisian student. His first job was, of course, in the shoe business as a representative of a brand new French shoe brand on the German market.
In the small family apartment the demonstration case, leather samples and prototypes from the new collections are in between the toys of Karim and Olivier, sons of Rajab and his wife, who are particularly interested. For them, the new collections and the changes made to the models, season after season, have something fascinating.
After working with France Rajab Choukair started doing business in Italy. The reputation of the Italian in terms of leather work and quality workmanship is known worldwide. Visits to various Italian workshops enriched Rajab's word and reinforced his love for shoes but not only for him: also for his sons!
Despite all the Italian know-how and quality, the products didn't suite the expectations of Germans. Is was necessary to adapt the collections, to choose models which would catch the eye of these demanding customers. Each season the challenge gets bigger and bigger so the Choukairs' decide to take at one step further and they decide to create their own shoe brand! His sons, Karim & Olivier, decide to create their first collections as soon as they finish their studies. Melvin & Hamilton was founded in 1988 and has been growing year after year through the expertise and creativity of the brand.
02 Respected tailoring
At the end of the 80s, business style was high in trend, especially among young people entering their professional life. And, when it comes to perfect business shoes, the British style has been confirmed. The Derbies and Oxford models can be worn in the office, for a walk in the city, for a drink with friends or for any special occasion.
Karim and Olivier started to create their own collections in this period. They had a clear vision of what they wanted to add to German fashion industry. In order to design original and stylish models, they collaborated with a Turkish workshop. This collaboration ultimately provides them with a number of beautiful and original shoes with beautiful soles and it is precisely these special soles that made Melvin & Hamilton famous. The small brand quickly blends into the surroundings of the German fashion industry.
Karim and Olivier wanted to invest even more in the production of their shoes. As they are fascinated by all stages of production and have total control on the quality of their products. They started to look for a specialised leather workshop in Europe and even, all over the world. They quickly chose India, this is one of the few countries where you can get a high quality leather without it being imported! They also have knowledge and expertise of shoe design as it is a former British colony so the shoe styles are not unknown. In India they have found several tailoring shops that all have their own knowledge and expertise in shoe manufacturing.
03 Quality, tradition and originality
The search for the best quality is the essence of the designers' work. Leather is a raw material that must be respected and has to be particularly well chosen. These are important steps to obtain the high quality and longevity of our collections and this is a large part of Melvin & Hamilton's production costs. Karim and Olivier quickly made the choice to use vegetable tanned leather for most models of the collections, offering customers a high quality leather that is safe for health.
They are also using somewhat forgotten techniques, such as hand-woven or interlaced leather, to bring originality and creativity to their men and women shoe collections.
Little by little, Melvin & Hamilton has become a brand that stands for high quality, originality and longevity while maintaining its identity and philosophy. These characteristics have made it possible to sell Melvin & Hamilton shoes throughout Europe.
04 Melvin & Hamilton wins Schuhkurier Award as the best manufacturer in Germany
On September 3rd, 2018 in Düsseldorf, Germany, the well-known german trade magazine Schuhkurier announces Melvin & Hamilton as best manufacturer & brand 2018. A great way to celebrate the 30 anniversary of our brand this year! We are very honoured and thank the jury for this prestigious award, as well as our clients & partners that have put their trust in us these past years, and we look forward to celebrating future collaborations.
We have rewarded three outstanding winners this year in Düsseldorf. Melvin & Hamilton as the best brand / best manufacturer has convinced the jury in several ways: the family business has succeeded in establishing the Melvin & Hamilton brand in the market with a completely independent concept, an individual appearance and a powerful marketing presence. And everything with a compact team.
- Petra Steinke, Editor-in-chief at Schuhkurier
05 Recognisable products
Karim & Olivier reinvent their collections season after season yet all their products have something very "Melvin & Hamilton" about them. The logo, of course, is one of these recognisable elements, but what distinguishes our shoes the most is the particular care given to their finishes, such as the shades in two tones, darker shoenoses, and the unique colouring of each model. Not to mention the colours: the mixtures chosen and created with care, and which change season after season: from pastel colours for summer and rich, deep colours for winter... Each model is unique: therefore the colour can change a little and the patina is never the same from one shoe to another.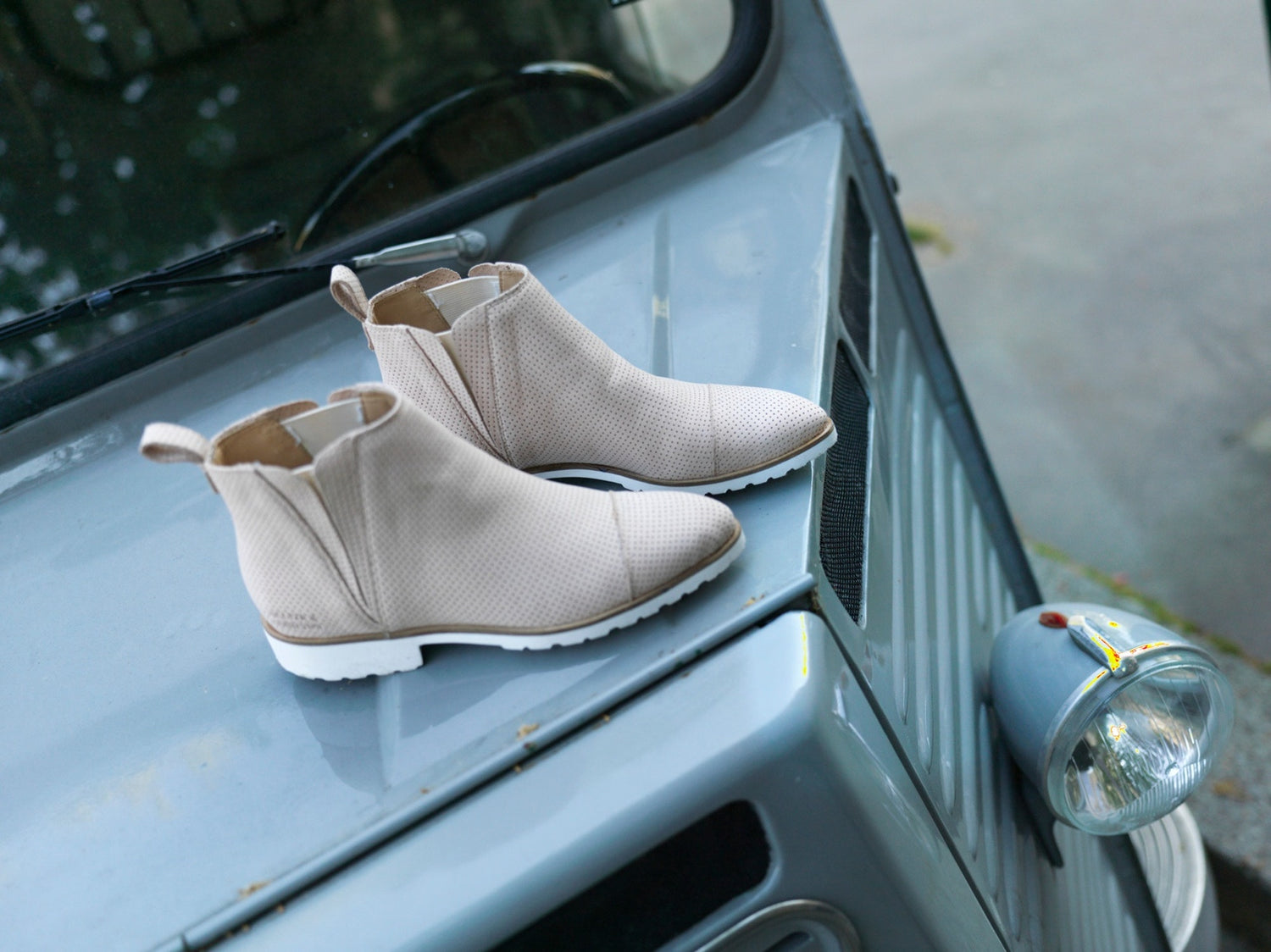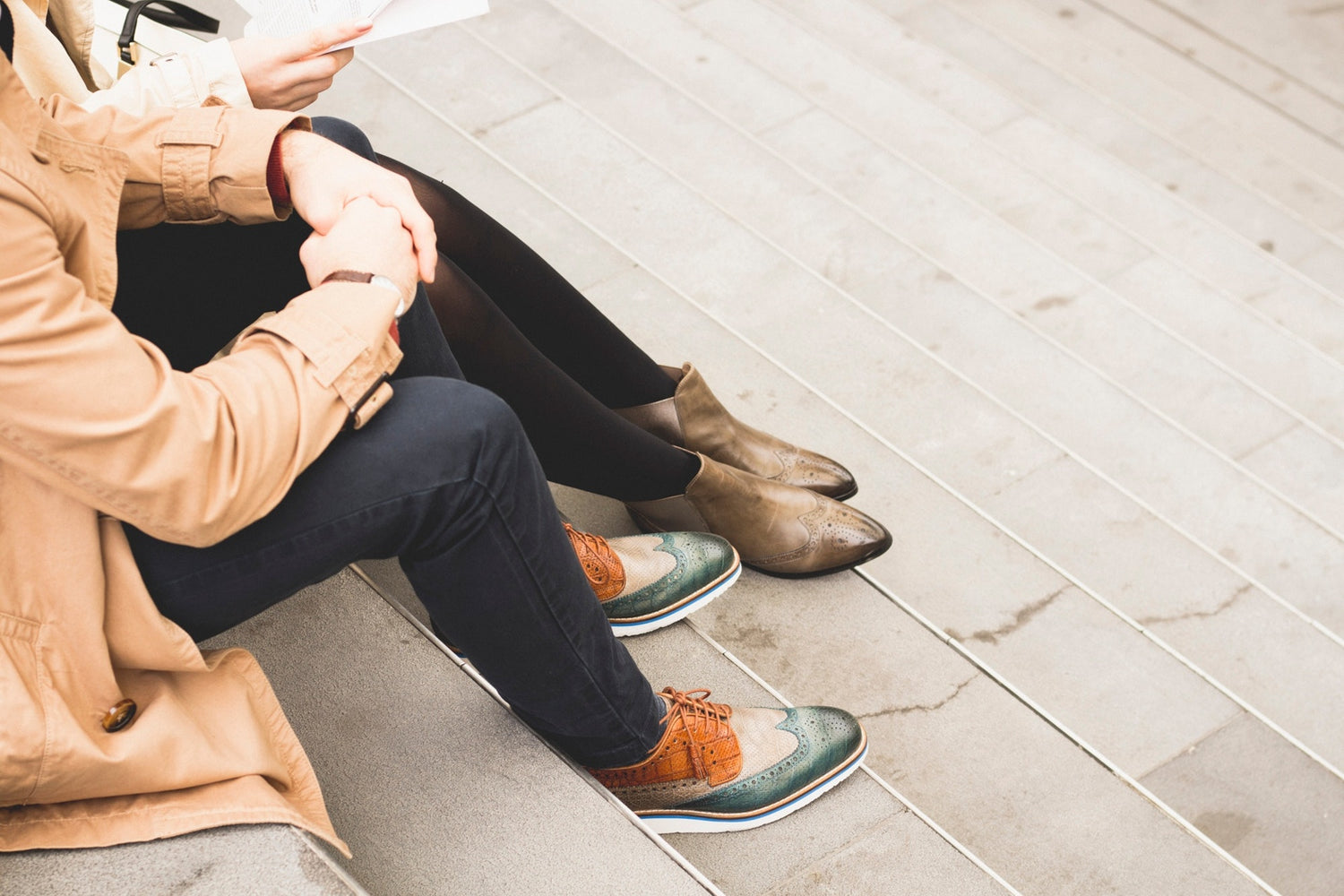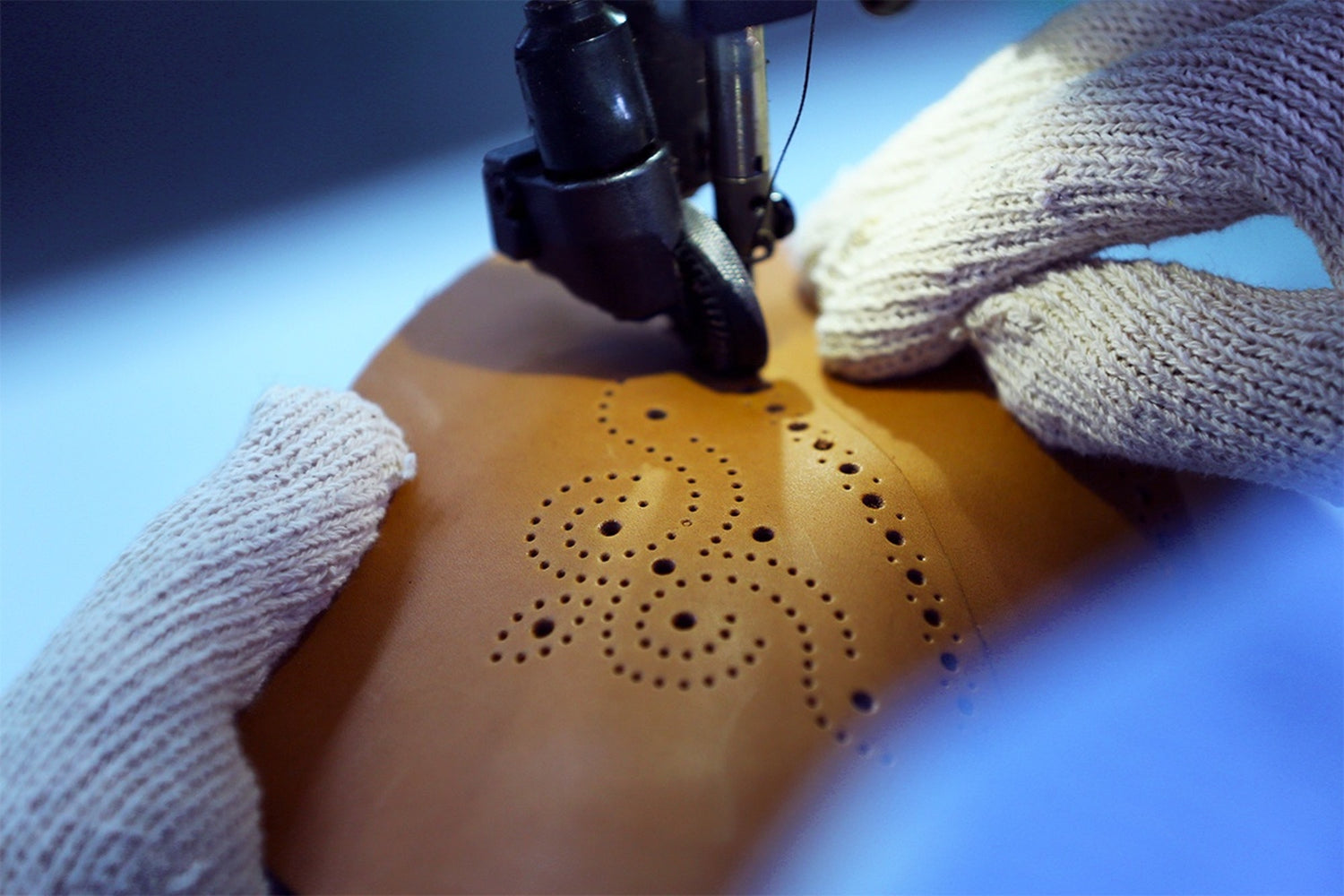 Beyond these characteristics, the Melvin & Hamilton product is strongly rooted in the philosophy of designers: creativity and work.
Karim and Olivier's creativity is nourished by different things, having mixed origins and their pronounced taste for travel - among other things. The creativity draws its strengths from many other fields than fashion: modern architecture, culture, their passion for the great Metropolises of Paris, New York, Milan and Berlin and the taste for beautiful old things too: like furniture and antiques.
But this creativity is based on disciplined work and a permanent questioning. Innovation, collection after collection, on each product is the great strength of the team gathered around the designers. Nothing is taken for granted; and this is how they can present varied and unique collections, with numerous references, several times a year, in Germany as well as in France, England, Italy or the Netherlands.
The character and personality of Melvin & Hamilton products is unique, just like the designers: They'd rather create than follow trends! But not for their selfish pleasure: for the happiness of being able to share them with the greatest number, by making discover products of great quality at a reasonable price.