"A customer who wore size 52 was so happy to find an original brand that finally offered shoes in his size that he ordered the same pair five times... Which we didn't have in stock, so we made it especially for him."
This anecdote told by Nicolas Metzke, co-founder and CEO of Melvin & Hamilton Digital, is representative of the story of a brand that is shaped by its customers. Guided by a keen sense of detail and a special attention to the needs of those who will wear its shoes, Melvin & Hamilton forges close links with its customers and witnesses a number of personal stories. Some of the most memorable are orders eagerly awaited to complete a wedding outfit, or chance encounters where the alibi turned out to be a pair of Melvin & Hamilton shoes. More mysteriously, we remember a customer who ordered over sixty pairs of shoes in record time.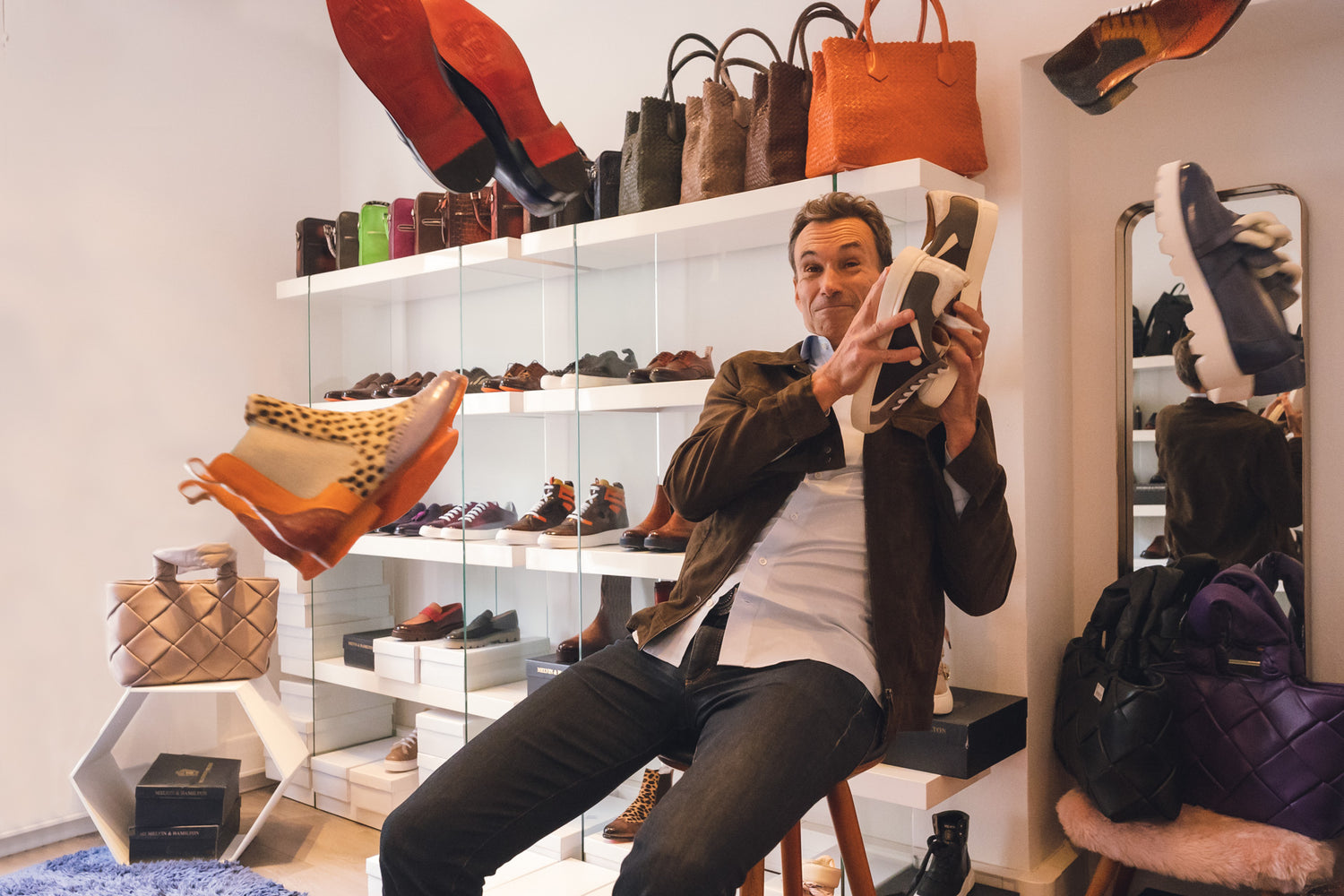 Since its beginnings, the brand has preferred to focus on the quality of the product rather than giving in to the siren song of trends. To avoid this frantic race while remaining in tune with the times, Melvin & Hamilton plays with the classic codes of city shoes and solidifies its foundations by developing limited quantities available in several variations. Jeff 14, Susan 10, Amelie 5, Selina, Scarlett or Toni... These models have survived the years and have become true best-sellers that now exist in several shapes, materials and colours.
The year 2022 marks the first decade of the website. A true extension of the creative universe of Melvin & Hamilton, the webshop has developed in harmony with the expansion of the brand: an evolving homepage and functionalities that are refined to best accompany the changes in consumer habits. Complementing the physical points of sale for an omnichannel customer experience, the digital platform is designed as a showcase that celebrates the new collections and highlights all the models, from the most classic to the most trendy. Ten years later, it is with the same attention to detail that it is developing, striving to be ever more inspiring, innovative and easy to use for all its users. Nicolas Metzke tells us about the genesis, evolution and milestones of the webshop since its launch.
This article is also an opportunity to celebrate our anniversary with you. To mark this first decade together, we're offering you the chance to take part in our wheel of fortune to receive a discount voucher, between 5% and 30%, applicable to the entire site (from 90€ onwards, cannot be combined with other current promotions or promotional codes). Winning guaranteed!
01 Summer 2012: the first steps to digital
"The project started in the summer of 2012. We decided to create a real retail website and not just a brand showcase. After four months of preparation, the first site was born: in September 2012, melvin-hamilton.de was launched. It is in Germany where our long-term customers are and where our reputation is strongest. But three months later, for Christmas, the French and English versions were launched.
We are therefore initially working with these three languages and are addressing more than 20 countries in Europe. The central warehouse in Germany and a partnership with DHL allow us to deliver cross-boarder very easily. Some players, such as Zalando, are already very present at this time and are paving the way for online shoe sales in Europe. Starting with Germany, we made decisions for the long term that benefit other countries as well (and which we have maintained to this day): free shipping on purchases over €50 and free returns for customers.
At that time, all the stock was on the second basement floor of the office (without wifi or internet), while the printer to generate the delivery notes was on the ground floor. You can imagine the number of trips back and forth between these two floors! A dance in the stairwell where packages just received and those being shipped intermingle (with the occasional surprise lift breakdown as a bonus)..."
02 Milestones: the evolution of the site and its variations
"The decision to buy a pair of shoes can be planned or made spontaneously. In both cases, multi-brand sites offer an advantage to customers who do not yet know us or do not yet know the type of shoes or brand they want to buy. Since 2014 we have been selling on affiliate sites, also called marketplaces, in our key countries. Discovery is easier on these platforms (Zalando, BOL...).
In 2015, we developed the Dutch version of the site, and in 2018 the Polish version. Between 2012 and 2020, two major redesigns of the site take place and many changes are implemented to always remain close to the customer and offer them a personalised experience: size guide, "now available again" alert, and above all improvement of the experience on mobile, such as recently personalised advice via WhatsApp."
03 A European presence: current markets and future plans
"Germany is our home country and France the country from which we operate for the whole of Europe. Historically, we had agents in these countries and therefore a presence in certain sales outlets. Given the proximity between Austria (language, geography, culture) and Germany, and between Belgium and France, it seemed logical to us to work with these markets first. We therefore added Dutch to be able to address the whole of Belgium, and of course the Netherlands with a dedicated site. Each of these countries is already very well developed in terms of e-commerce: there are secure payment methods, a very good "e-commerce" education of consumers and logistics covering the whole country. Finally, as the largest country in Eastern Europe and bordering Germany, we decided to launch in Poland."
Among the projects to come in the near future, we are targeting neighbouring countries that are not, or no longer, in the European Union, notably Switzerland and the United Kingdom. Other countries are being considered, but nothing has been decided yet. With the third redesign of the site that took place at the beginning of 2022, we have a very agile platform and can therefore consider developing other markets and languages more quickly."
From new product launches to communication tools, the customer is at the heart of our thinking and has always been the driving force behind our actions. Since its creation, the brand has been guided by the quest for the perfect shoe for every occasion: whether you are looking for a timeless classic, a trendy and colourful model, a business look or a more casual style, or something to complete a chic outfit for a formal evening or a wedding, you will find what you are looking for among our wide range of shoes. With the quality of the materials and the boldness of the style as a common thread, all our models are designed to last and allow our customers to express all the facets of their personality.
Want to know more about Melvin & Hamilton? Discover the history of the brand's founders here!