The new season is just around the corner and you probably want to prolong the summer season or prepare for a smooth return to reality. To start off on the right fashion footing and make a gradual transition to office life, iridescent shoes will be the must-have models for September: a little holiday look that promises a sunny, summery look.
Gold, silver, bronze... In the world of fashion, shiny features are always in vogue and go well with a wide range of colours, from pastels to the brightest tones. With shoes in metallic shades, it's never been easier to make your outfit shine in seconds. Here's a closer look at our most beautiful silver and gold shoes to wear for any occasion.
01 How to wear golden shoes?
Golden sandals, silver heels, glittery ankle boots... Iridescent shoes compete for elegance. A great classic in women's wardrobes, gold and its cheerful variations are perfect for parties, from summer evenings to wedding ceremonies and end-of-year celebrations.
True chameleons, their great quality is to be associated elegantly with a wide range of colours. You can wear your silver and gold shoes with soft and natural colours, flashy shades, but also with discreet or more extravagant prints. Without further ado, here are all our tips on how to wear these metallic shoes in style.
Golden sandals for a romantic summer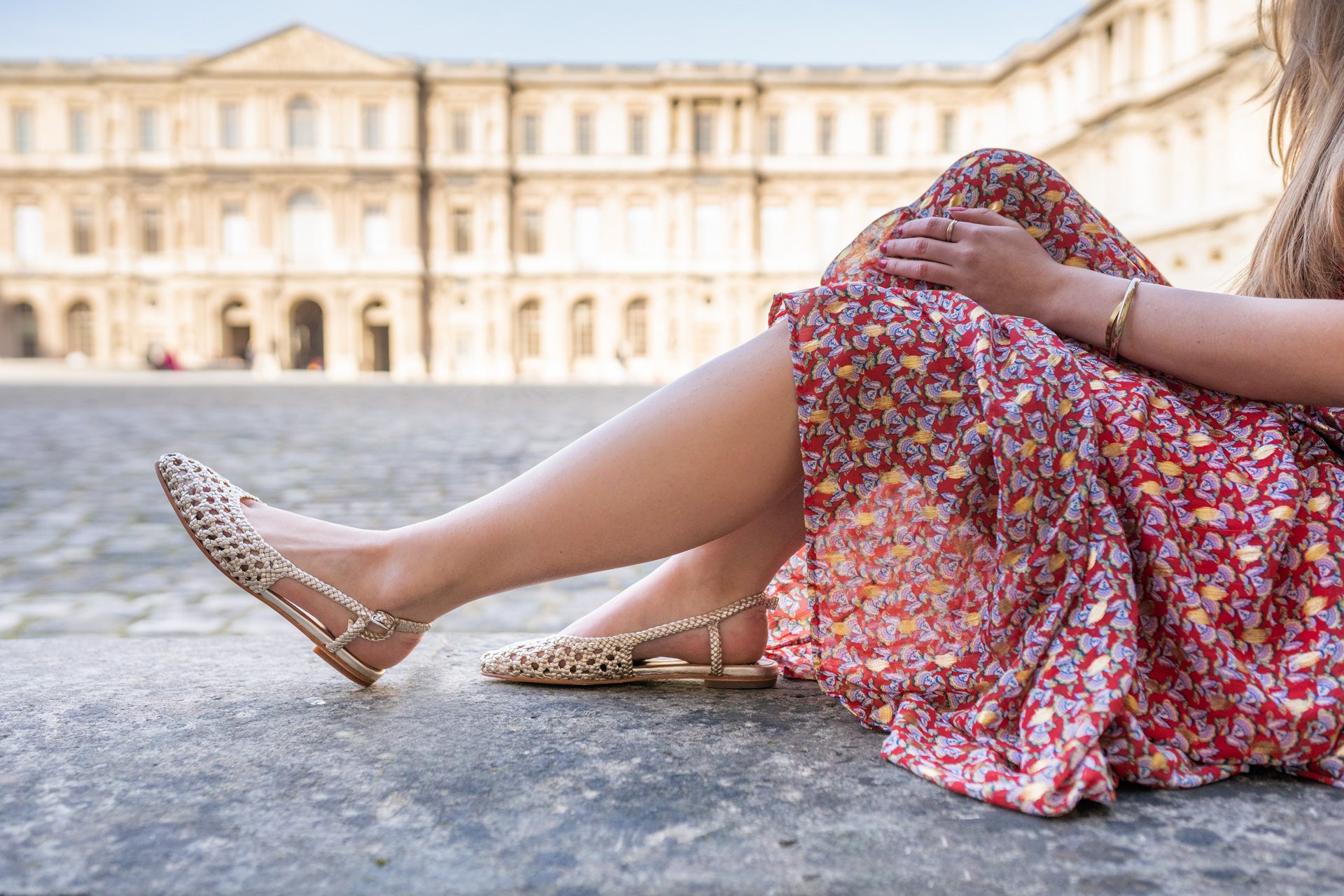 Here's a bohemian look inspired by the South of France: cobbled streets, sun and cicadas! Here we opt for golden sandals, a long floral dress, a ruffled blouse, an embroidered blouse or high-waisted jeans! Golden mules, comfortable and easy to wear, will also perfectly match this romantic silhouette.
Golden loafers to be the queen of the open space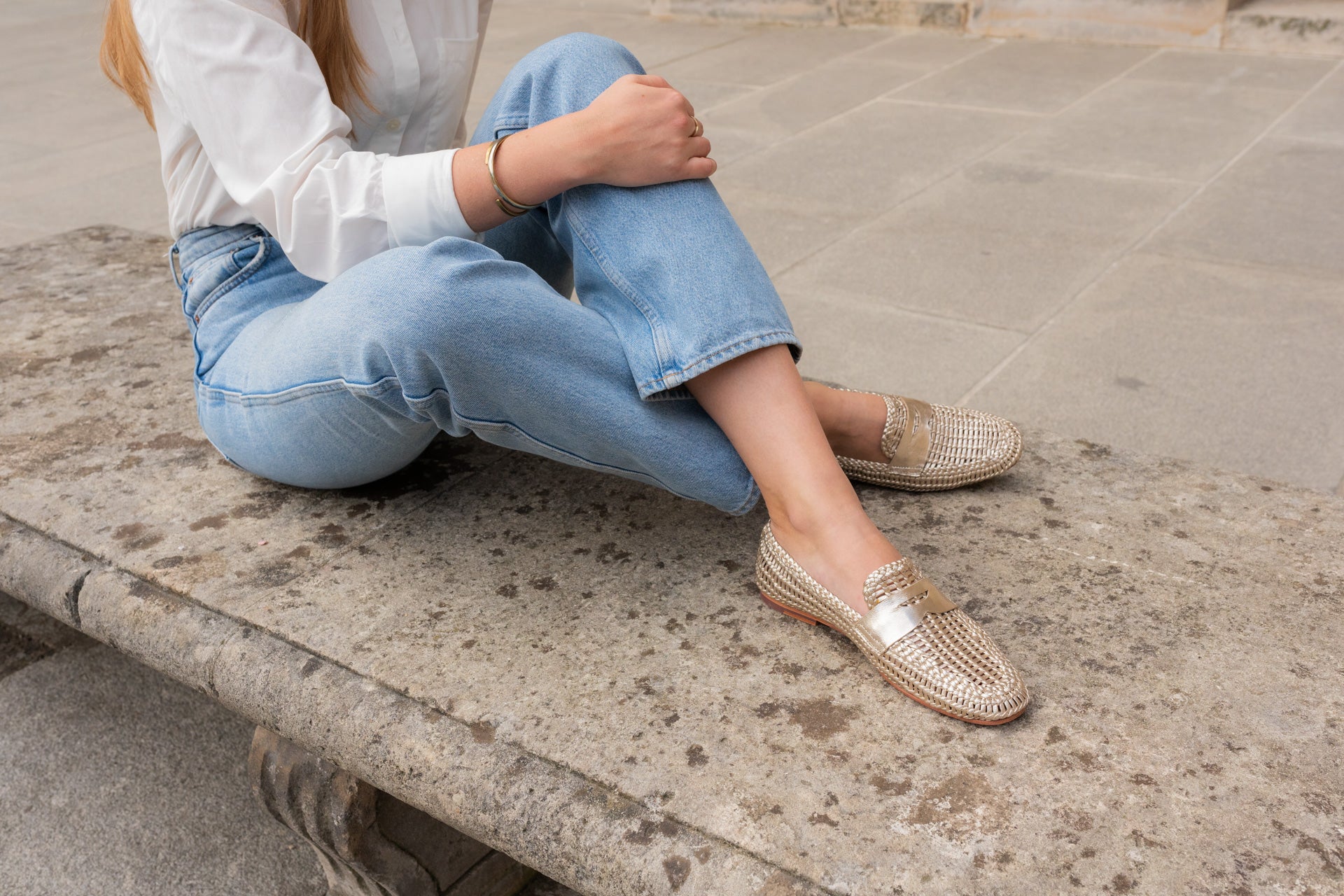 If you want to create a chic, polished look with gold or silver shoes, leather loafers are perfect for the office. A chic yet comfortable silhouette, perfect for boosting your confidence and being confident all-day long. If you're a fan of lace-up shoes, our leather derbies and Oxford shoes in metallic hues will also be a real wild card to ensure you look like royalty!
Silver shoes for a sparkling disco look
As a true dancing queen, you'll be following in the footsteps of ABBA! Silver sandals make it easy to dance comfortably 24 hours a day! A must-have for cooler days, metallic boots will also bring a funky touch to your life. So break out the disco ball, plug in your best playlist and slip on your new party shoes!
Gold or silver sneakers for a sporty chic look
For all streetwear fans, it will soon be time for gold: our beloved leather sneakers also want to shine in the new season! Whether it's all-gold or silver shoes or iridescent shades, sporty and casual can also be chic and extravagant! Worn with jeans, chino or dresses, gold sneakers are a perfect compromise between elegance and comfort that will accompany you everywhere.
02 Which bag to choose with golden shoes?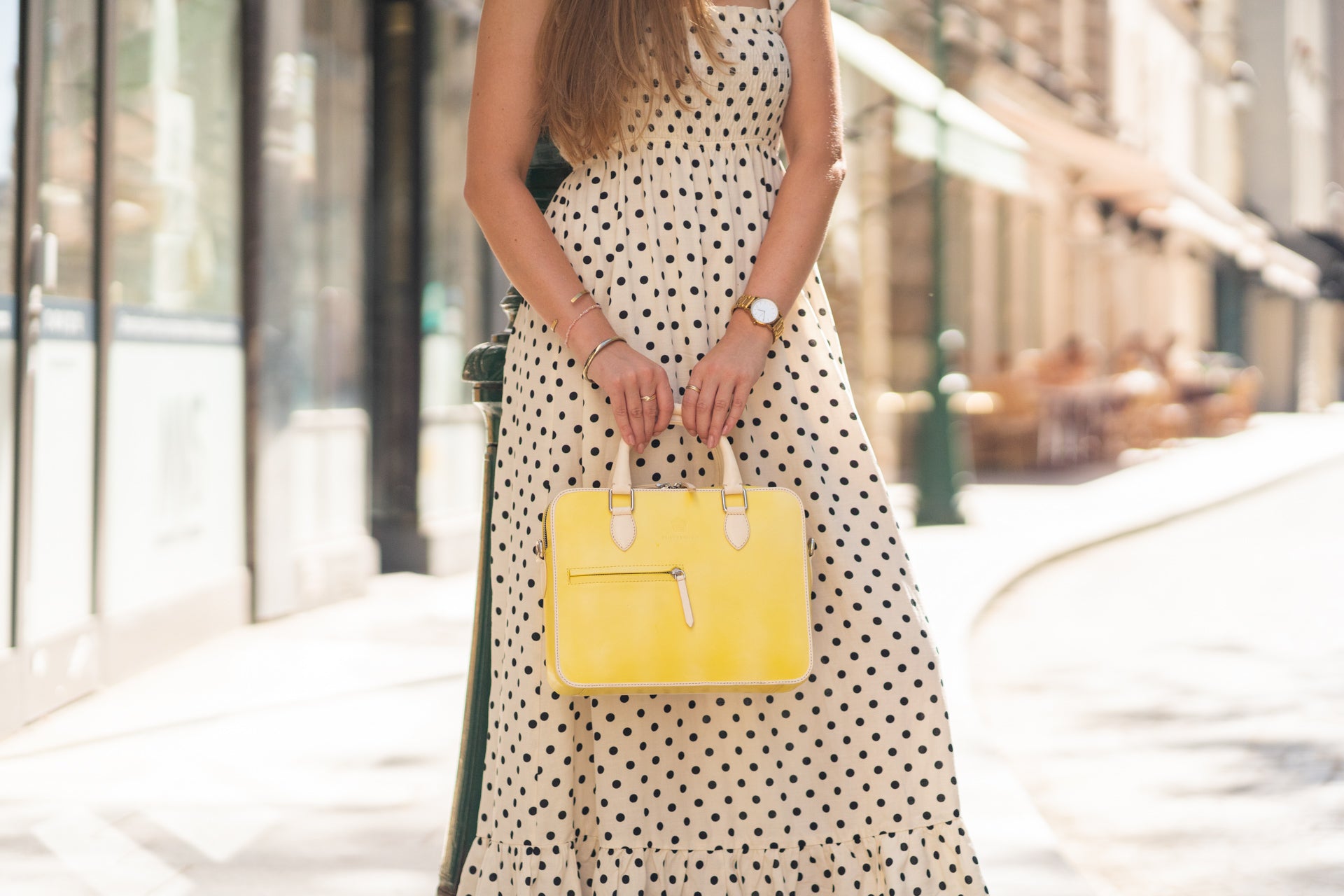 Are you missing a beautiful leather handbag to go with all your outfits and your gold or silver shoes? Good news: in September, bags also make their comeback! If your shoes are the centrepiece of your outfit, a leather bag can add the finishing touch to your silhouette. From the largest model to the smallest, from the tote bag to the clutch, our models are infinitely adaptable.
Ready to sparkle? Check out our full selection of metallic shoes now!