For some it is their favourite trousers, for others almost a real lucky charm. The right pair of jeans outlasts every season and can be passed down through the generations. The search for the perfect pair of jeans can seem endless, but don't worry, they exist: the right jeans for every body shape.
Jeans are a timeless piece of women's wardrobe: It is a real all-rounder that can be worn for parties, going out to dinner or for a meeting in the office. You may be one of the lucky ones who have finally found the right model: the comfortable and elegant jeans that fit you like a glove and that you wear all year round like a second skin. Now it's time to find the right pair of shoes to go with those jeans. This way you can create the perfect look for any occasion without spending hours in front of the closet.
Even though jeans are always a good choice, the right shoe is crucial to make the look complete. Whether you're getting ready for dinner out or a marathon day at the office, there is a variety of shoes that are easy to wear with jeans.
Among all the existing models, what shoes to wear with which jeans? Lacking inspiration in front of your wardrobe or because of the changing weather? We've put together a guide with the best denim/shoe combinations. From sneakers to loafers, explore our favourite combinations to find the one that will suit your pants best. Here's a 6-step tour of the pairs of shoes that will pair perfectly with your favourite jeans.
01 What shoes to wear with white jeans?
White jeans are a summer wardrobe staple, but finding the right pair of shoes to go with them can be a real challenge. Luckily, there are a variety of shoes that will work perfectly with your white jeans.
While black or white sneakers are a timeless alternative, brown leather sandals will add a sophisticated, bohemian touch to your outfit. For a more fashionable look, opt for clogs with heels or two-tone leather loafers. Finally, coloured ankle boots or brown suede boots are a great option for mid-season. There is only one trap to avoid with white jeans: avoid black boots and ankle boots which will contrast with your white jeans and weigh down your silhouette.
02 What shoes go with straight leg jeans?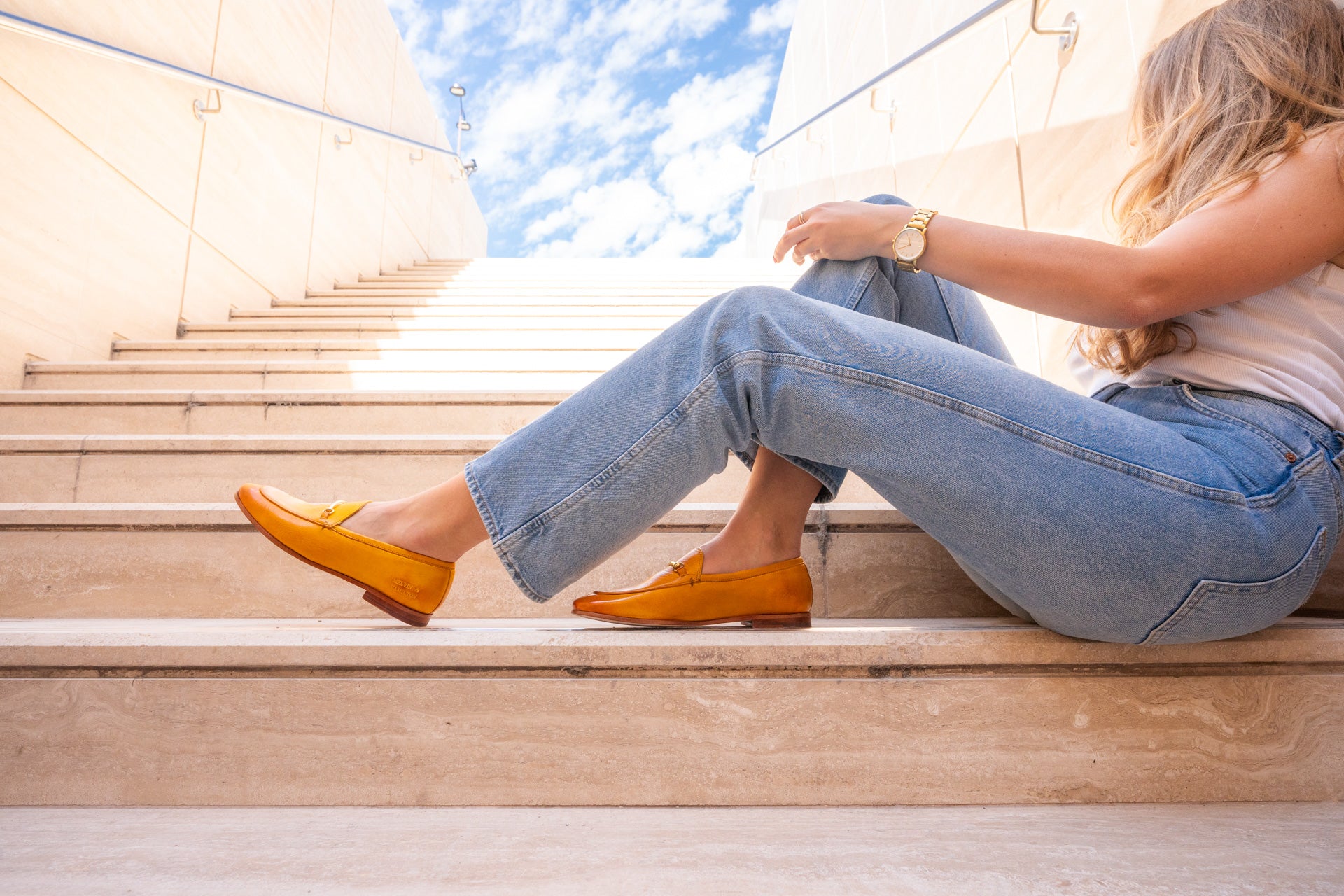 Casual and comfortable, straight jeans are a timeless style that can easily be paired with many pairs of low-rise shoes, from leather derbies to loafers to leather sandals. The key with straight jeans is to match the colours of your shoes elegantly with your outfit, and you'll be ready for any occasion.
For a formal but not overly sophisticated look, leather loafers are the perfect pair of shoes to wear with straight washed jeans or dark blue jeans. For a preppy silhouette, choose a pair of light leather tassel loafers or a pair of black patent leather loafers. To liven up your winter look, dare to wear socks in your shoes! Colourful, sequined or patterned, the loafer-sock combo is this season's top trend.
03 What shoes to wear with ⅞ jeans?
⅞-Jeans are a must-have in every woman's wardrobe and the perfect companion for strolling during the mild days of mid-season. Short and tightened at the calf, it is best to opt for low shoes that will let your ankles show. In spring, espadrilles and mules are in vogue! Combining them with bohemian chic accents is ideal for the summer season. For the cooler months, opt for sock boots, lace-up boots or Chelsea boots.
Ballet flats are also a popular option to accompany 7/8 jeans, they are comfortable, stylish and perfect for an office outfit or a holiday stroll. Sandals, on the other hand, are ideal for summer days: flat for a casual look or with heels for a dressier look.
04 What shoes to wear with ripped jeans?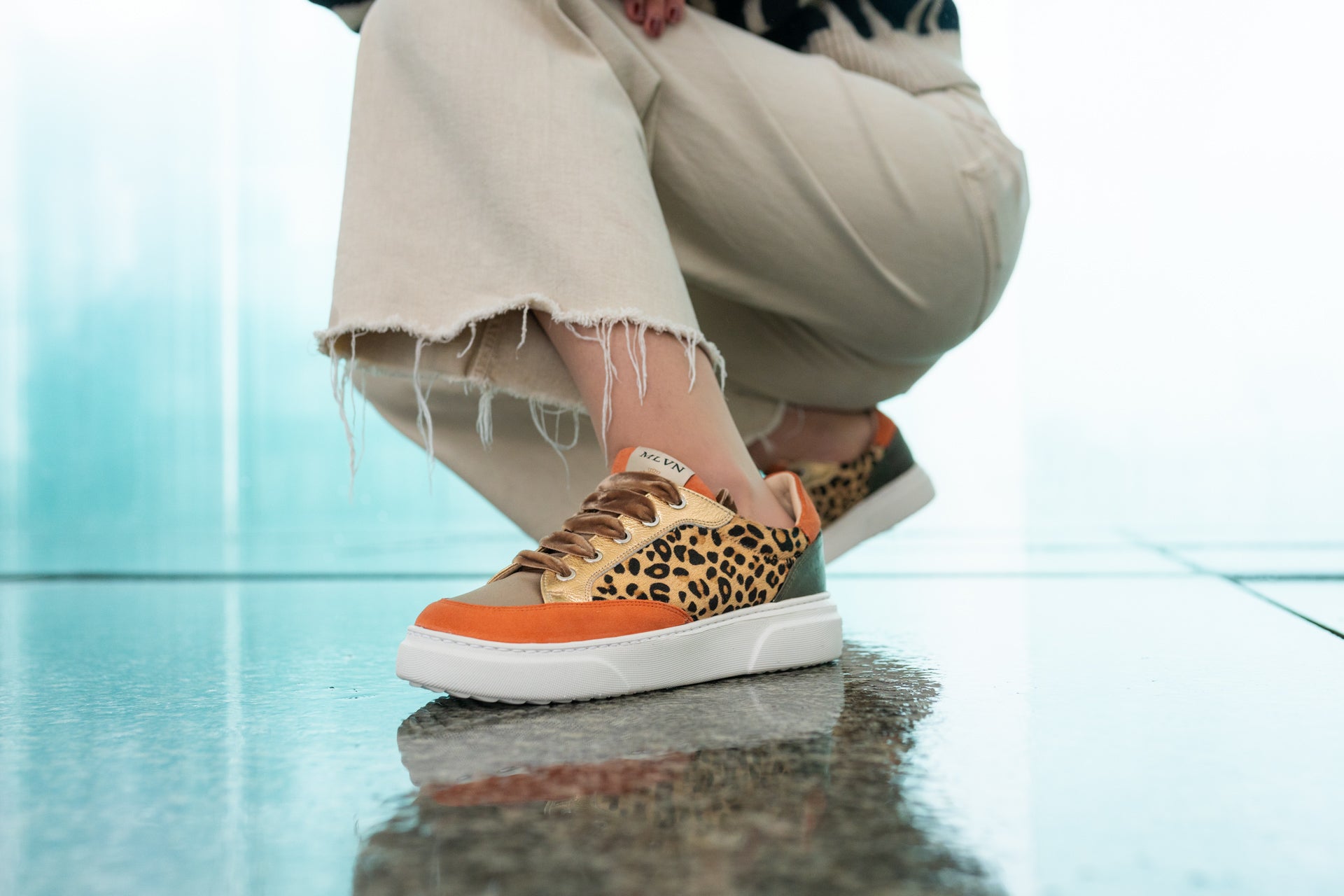 Get a cool and bold style while wearing washed-out jeans. Rock-chic look with black ankle boots, or more urban with leather sneakers, torn jeans can be worn all year round. Have fun and create contrast with this trendy piece: its grunge and casual side can be softened with white sneakers during the day or pop and colourful ankle boots in the evening.
Heels are finally a stylish and bold choice to wear with your ripped jeans. While this shoe style may not seem like a good match for grungy or slightly distressed jeans, it will add a touch of elegance and modernity to your outfit. Choose black, red or gold pumps for a chic and sophisticated outfit.
05 What shoes to wear with skinny jeans?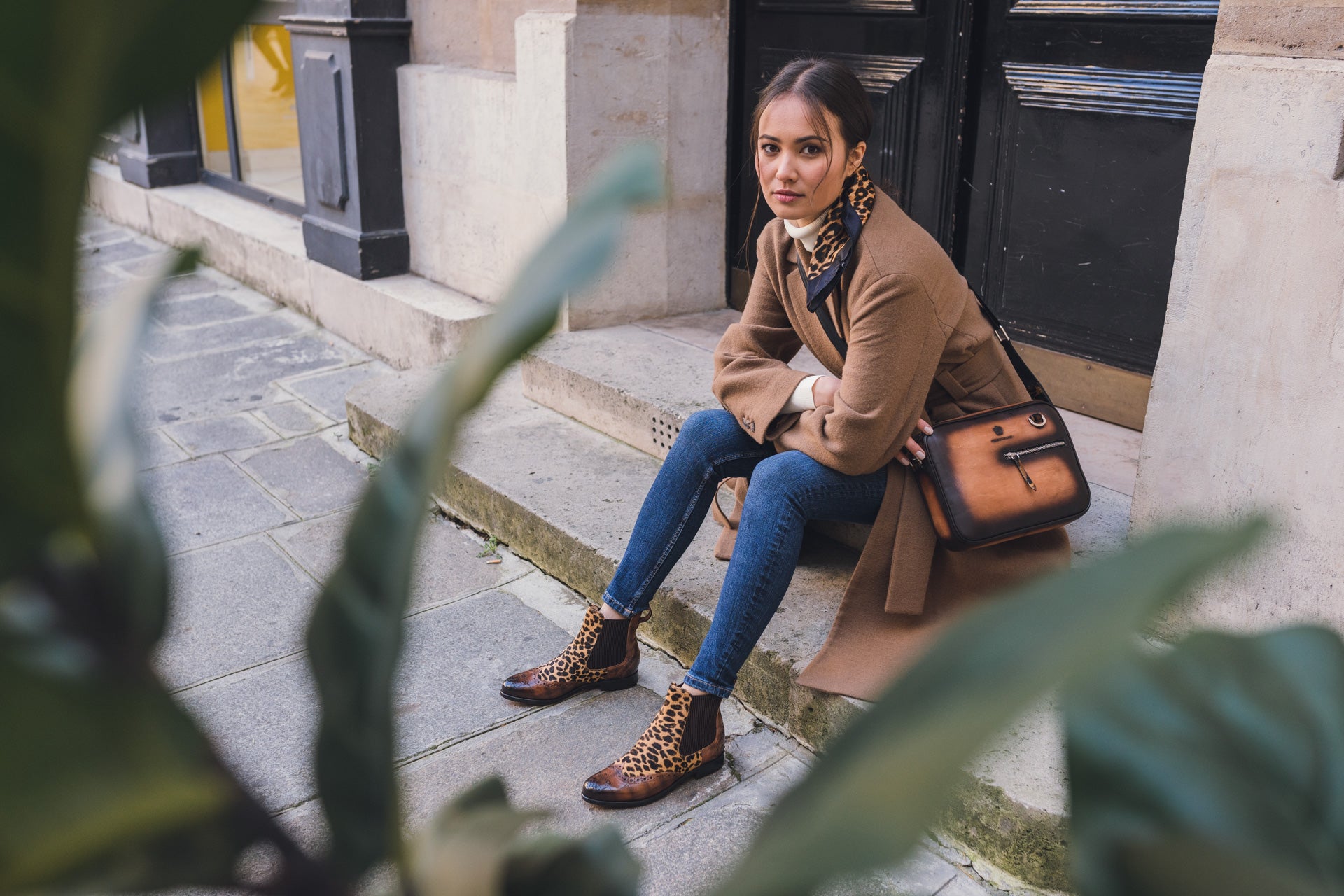 Skinny or slim jeans are undoubtedly the most popular pants styles of the last few seasons. In winter, leather boots and ankle boots are your best friends: thanks to the tight fit of your jeans, you can slip them inside your shoes to stay warm. As soon as the summer temperatures arrive, free your ankles and adopt braided oxford shoes or flat leather sandals.
For a sporty look, leather sneakers are the modern choice. White, hybrid and all-purpose low top trainers can be worn with all your slim jeans, regardless of their colour. If you're looking for a more original style, opt for trainers with graphic patterns and bright colours!
06 What shoes to wear with rolled up jeans?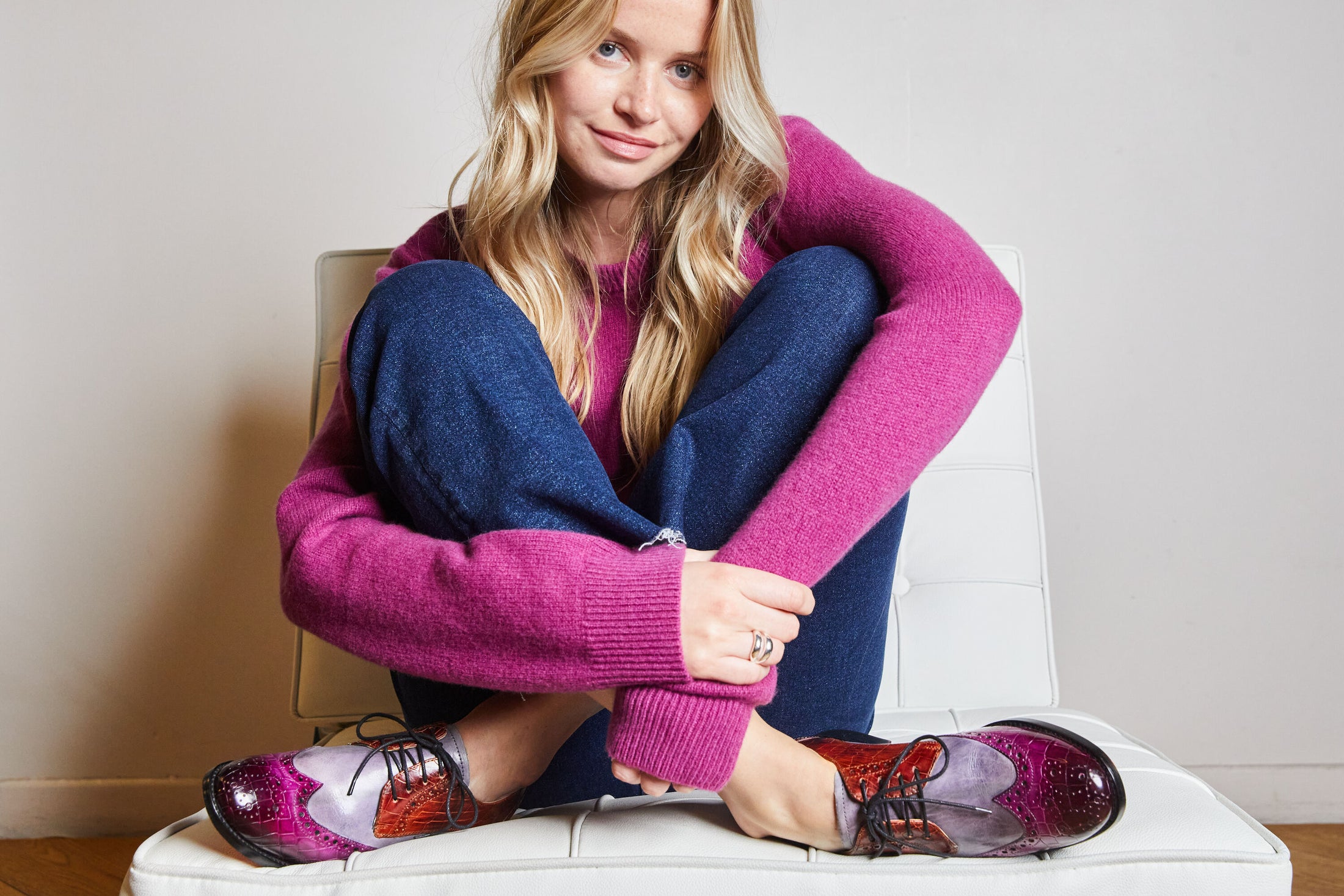 If you are a fan of cropped jeans: cuffed high-waisted jeans, mom jeans, rolled-up boyfriend jeans... Go for low-rise shoes for a ⅞-length: sneakers, oxfords or even leather derbies. For a dinner or an evening out, a pair of wedge mules will transform your casual jeans into a chic and sexy outfit. You feel more comfortable in flat shoes? Then choose a pair of gold, silver or sequined ballerinas to get you through the day comfortably and elegantly.
If you prefer high-top shoes, leather ankle boots are an alternative to explore with rolled-up jeans. They'll add a cool touch to your outfit and can be worn with a variety of denim colours. For a dressier look with rock chic accents, choose black matte or patent leather ankle boots.