A well-fitting belt is the cornerstone of a successful outfit. Plain or colourful, in smooth or embossed leather, this understated accessory can change the style of your outfit and add an elegant twist to any look. So how to choose the right belt size for you?
Here's a handy guide on how to avoid mistakes when buying your new belt online. You can measure an existing belt or calculate your waist size. By following these simple tips, you can be sure you'll never buy the wrong size again. Follow our tips to find the perfect belt that will add a touch of style to your wardrobe.
01 The different sizes of men's and women's belts
The size on a belt is the length in centimetres between the centre hole and the end of the leather strap. For example, if your waist circumference is 95 cm, choose a size 95 belt. If you're hesitant in-between sizes, choose the larger one.
It is important to note that belt sizes can vary depending on the style of belt. Belts for men tend to be wider and longer than those for women. In our shop, women's belt Linda is 3 cm wide, while men's belt Larry is 4 cm wide.
02 How to determine your belt size? First method: Calculate your waist size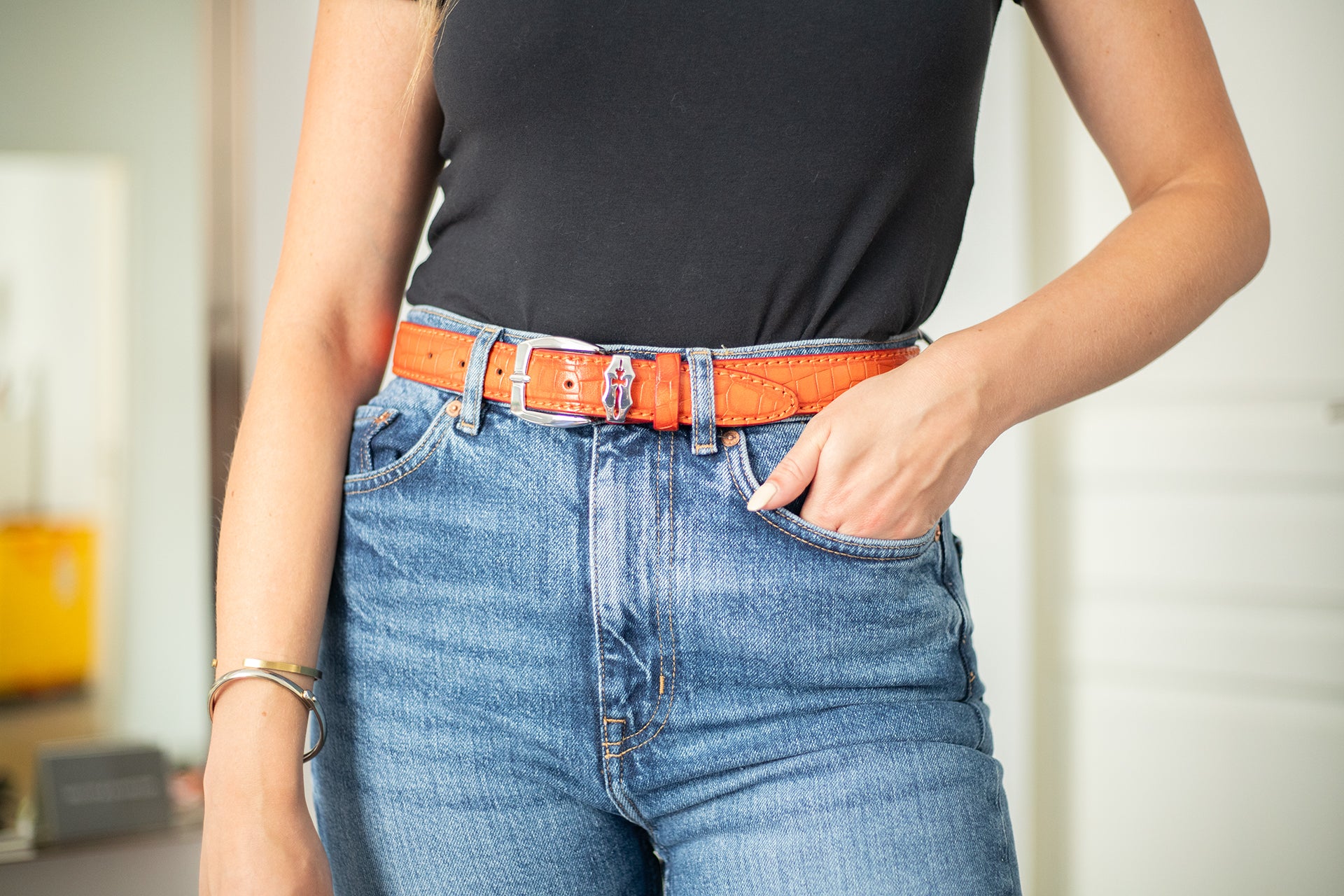 You can calculate the size of your new belt based on your waist circumference. To do this, proceed as follows:
1. Measure your waist: Use a fabric measuring tape to measure your waist circumference where you would wear the belt. Make sure the tape is close to your hips, not too loose and not too tight.
2. Add the length: For a standard belt, you can add about 5 cm to your waist measurement. This will give you the ideal length for your new belt.
03 Second method: Measure a belt you already own!
The second way to choose the right belt size is to measure a model you already own. You can do this as follows:
1. Lay it on a flat surface: Spread the belt out on a table or flat surface. Make sure that it is stretched and that there are no folds or twists.
2. Measure the belt: Use a measuring tape or a ruler to measure the distance between the end of the buckle and the hole you use most often. Once again, a well-fitting belt is one where you use the holes that are approximately in the middle. This measurement will give you the length of your ideal belt.
Our selection of belts to complete your autumn look:
For men:
For women: