01 What is embossed leather?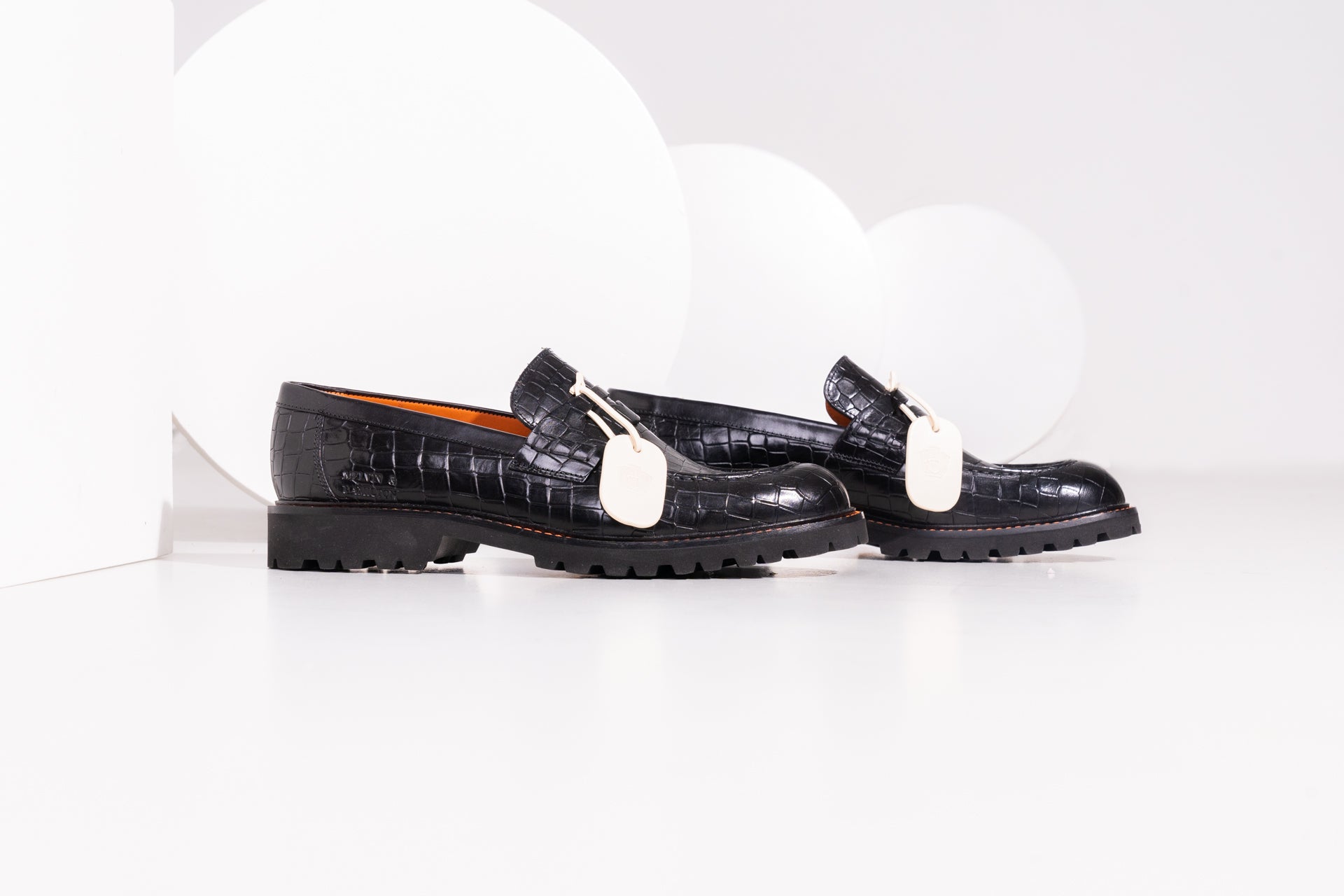 Embossed leather is decorated with relief patterns that are made using presses or rollers. It is the result of an ancient method called embossing, which embellishes the leather and gives it texture. Embossed leather stands the test of time and trends and is supple and sturdy. Through original drawings, animal prints (crocodile, turtle, ostrich...) or geometric patterns - these relief lines are a perfect playground for a simple and refined aesthetic. They are especially popular for handbags and leather shoes. The noble appearance, which is achieved by hot-pressing the patterns onto the material, does not require the addition of chemicals.
02 How do you wear your embossed leather shoes?
Embossed leather shoes come in a variety of styles. From elegant derbies to autumnal monks, each model adds a personal touch to your look. For a professional silhouette, pair your embossed leather loafers with slim trousers and a shirt with subtle stripes. Embossed leather ankle boots go perfectly with straight 7/8 jeans, while high heels add a touch of glamour to long dresses. No matter which model you choose, embossed leather shoes are an infallible way to add a touch of style and modernity to your wardrobe.
03 Essential back-to-work accessory for 2023: the embossed leather bag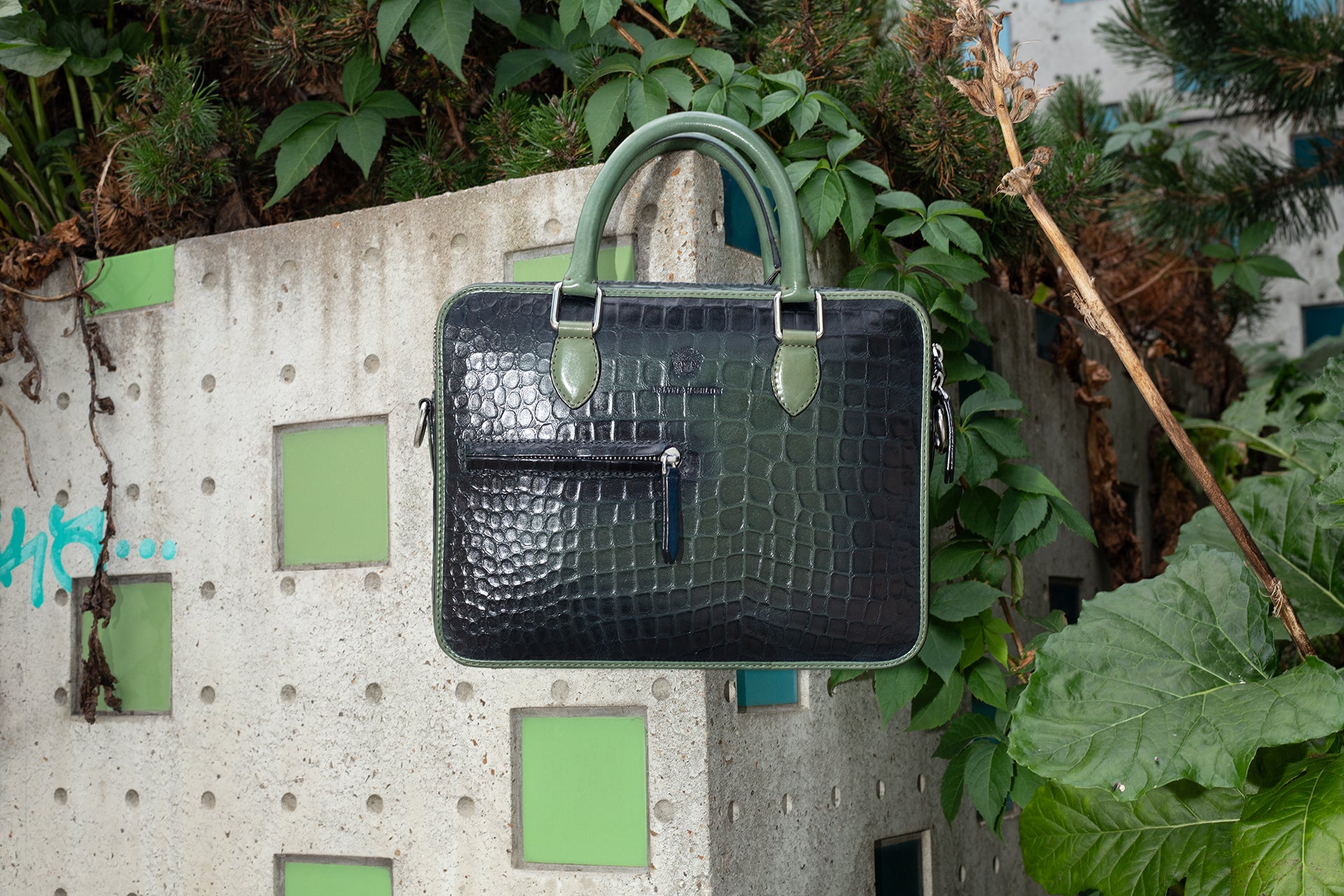 Embossed leather bags are true statement pieces, and choosing the right size is crucial for a perfectly balanced look. For everyday use, a medium-sized embossed leather bag is ideal. It provides enough space for essentials while maintaining a compact and elegant appearance. For a refined twist, you can opt for a smaller size, perfect for weddings or parties. When it comes to colors, a neutral bag in grey or dark green can be paired with a variety of outfits, while a bag with bold patterns or pop colours will become the centerpiece of your ensemble. For a casual style, you can wear your bag over the shoulder, and for a more formal look, carry it by hand.
04 How do I take care for embossed leather?
Contrary to passing trends, you should keep your Melvin & Hamilton shoes as long as possible! To care for the embossed leather and keep it in good condition all year round, here are our tips:
1. Clean your embossed leather shoes: using circular movements with a soft, clean cloth to wipe the surface of the leather and remove dust and dirt. If necessary, slightly dampen the cloth with clean water.
2. Take care of the leather: embossed leather can become dry over time, leading to cracking or splitting. It is best to use a leather care product such as a cream or balm to nourish the leather and keep it supple. Also, apply the product in a circular motion.
Once you've got your shoes cleaned up, don't forget these three points:
1. Avoid excess water: avoid wetting embossed leather excessively, as this could damage the embossed patterns and stain the material.
2. Avoid heat: avoid exposing embossed leather to direct sunlight or heat from radiators, as this could dry out or discolour the leather.
3. Store your leather shoes and bags: When you are not wearing your embossed leather shoes or bags, store them in a dry place away from direct sunlight. It is best to use a fabric cover or bag to protect them from dust and moisture.