Rising temperatures, light fabrics and swimsuits: summer is here, and you must be wondering what shoes to wear with your maxi dress. Timeless and a must-have in every woman's wardrobe, a long dress will be your perfect companion to face the hot days. This trendy staple combines comfort and chic and can be worn on all occasions: at the office, during the weekend, on trips and in the evening. Here are a few style tips for combining shoes and maxi dresses this summer.
01 For a little extra height: how to wear a long dress with wedges?
Timeless symbols of femininity, wedges are the perfect summer companion. If you're looking for comfort and stability, set your sights on this model! Wedge clogs, wedge sandals, platform mules... These shoes offer height without sacrificing the well-being of the soles of your feet, other than ,for instance, with stiletto heels. They're perfect for long dresses with hemlines that are sufficiently fitted to cleverly emphasize the platform of your shoes. Choose a close-fitting silk dress for the evening, or an embroidered white dress for the day. Accessorize your outfit with a small wicker basket to complete your bohemian look à la Jane Birkin.
02 Keeping it cool: how to wear a maxi dress with mules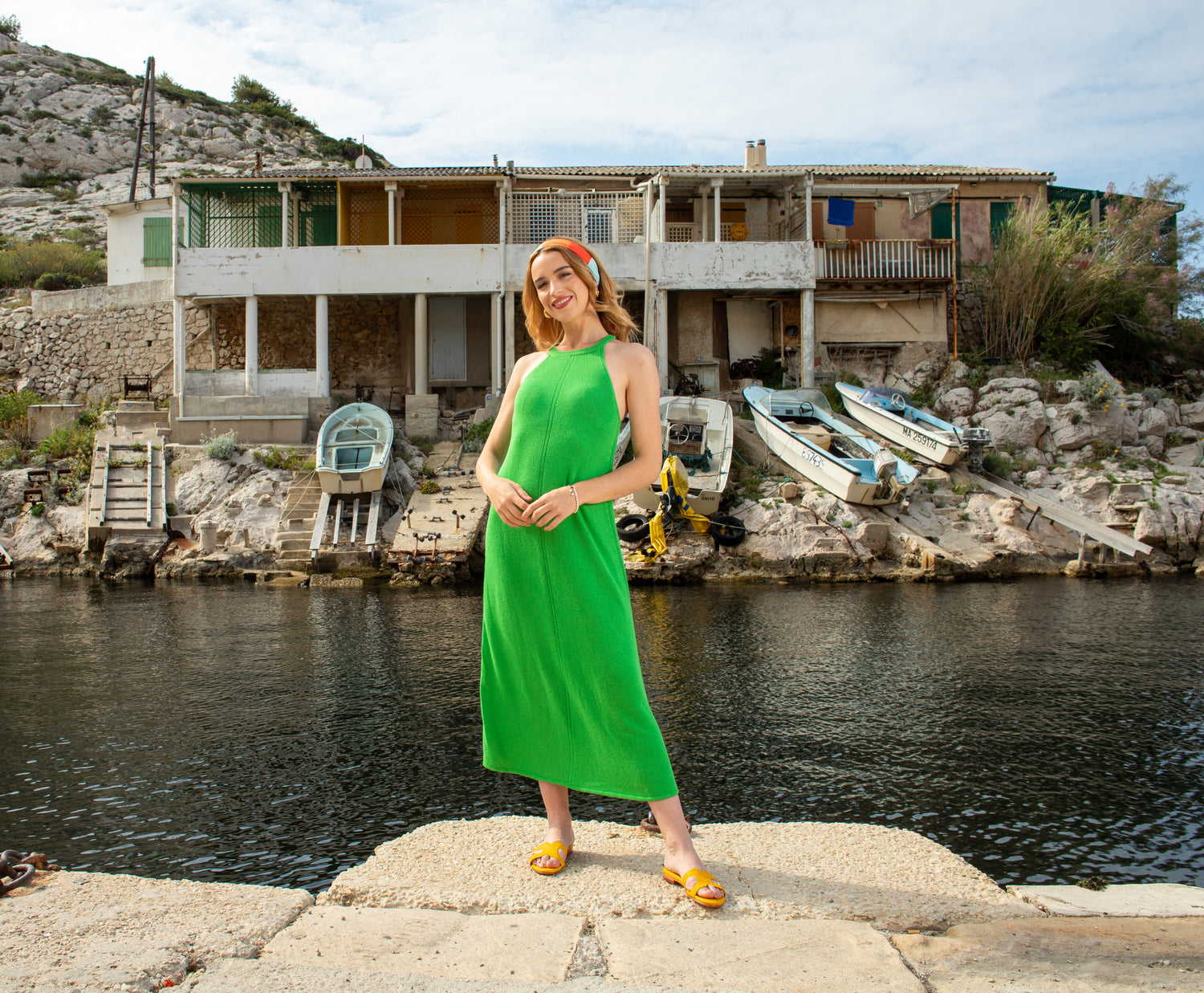 Mules and their natural chic have a special place in your summer wardrobe. They add a touch of modernity and style to your outfit, while ensuring a certain level of comfort. Looking for a trendy and light silhouette? Consider leather mules and a body-hugging knit dress or a flowing dress with thin straps. For the evening, go bold with a kimono-like wrap dress or a long dress with a side slit, chic and minimalist, to be complemented with jewellery: small pearls or large golden creoles.
03 Being chic in warmer weather: how to wear a maxi dress with sandals
Warm sand, seashells, sunsets and other kitschy postcards… If summer has its share of memories, leather sandals are undoubtedly its trademark. Choose woven leather sandals for a bohemian look, or opt for gold sandals to create contrast with your dress and brighten up your outfit. Easy to wear, pair them with a large belted tunic or a shirt-dress to play with masculine-feminine codes. For breezy summer evenings, swap wool for lighter materials and wrap yourself in a large linen shirt.
04 For a dancer look: The long dress worn with ballet pumps
They are the perfect alternative to high heels. Originally ballet pumps were dance shoes, then they became a very popular fashion item in the 50s, but slowly faded into oblivion before making a comeback on the catwalk in recent seasons.
To focus on comfort, a dress with loose shapes and pastel colors is recommended: we suggest a long knit dress or a sweater dress with a turtleneck. For a party or a wedding, a slip dress made of silk is also a perfect fit for ballet pumps. Dressed up with big earrings, this dancer look can be worn on its own or with a fitted jacket. The inspiration for this look comes from the 60s and pop culture: Betty Draper from Mad Men or Beth Harmon from The Queen's Gambit.
05 Keeping it comfortable: How to wear a maxi dress with sneakers
Your daily schedule: you go out and take one appointment after another. You're looking for warmth and comfort first and foremost, a promise fulfilled by sneakers that no shoe closet should miss. The combination of maxi dress and sneakers is ideal to break an overly elegant look. Knitted dresses or sweater dresses are perfect for this chic sportswear look. White sneakers are an absolute must-have in winter. With their simple and pure design, they are the perfect pair of shoes that perfectly combine chic and comfort. To spice up the look on holidays or in the office, you can also try ugly shoes, a trend that revives the 1990s.
06 For a bohemian look: How to wear a maxi dress with boots
To brave the cold and the rain and still stay chic, this is the most important trend of the season. A leap back in time to the 70s: We take inspiration from the cult models of the time, from Anita Pallenberg to Bianca Jagger.
Whether colourful or printed, here you can prefer dresses made of natural materials like cotton or linen... Go for romantic patterns and inspirations: flouncy dresses, embroidered dresses or even boho dresses. The combination of boots and long dresses is completed with a long coat, a trench coat or a leather biker jacket. With high boots you can play with volume by complementing the outfit with a large belt to emphasize the waist and elongate the silhouette.
07 For a rock chic look: How to wear a long dress with ankle boots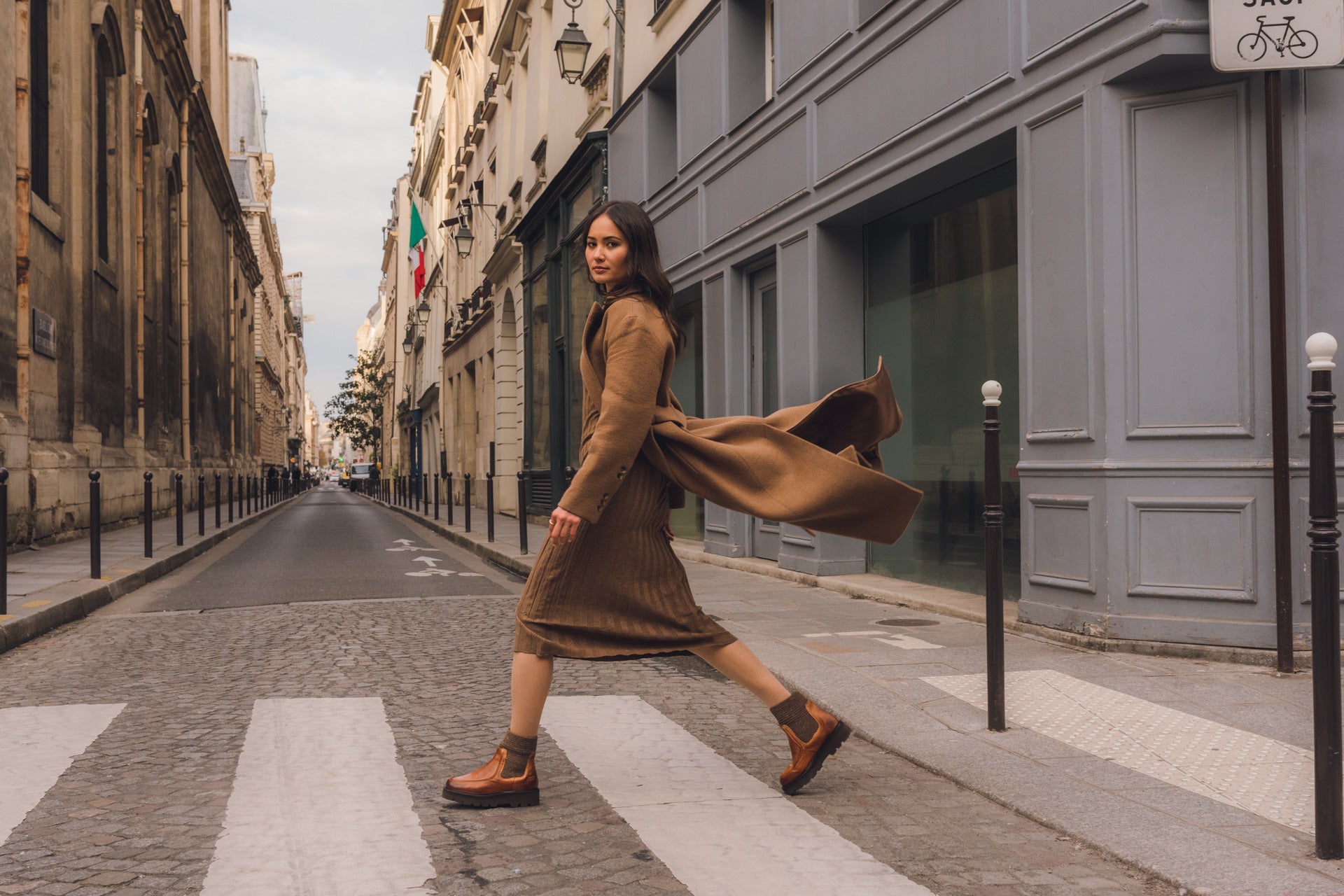 Ankle boots are easy to put on and essential in winter because of their comfort. They are available in different styles and materials.
Whether casual with a rubber sole or with rivets for a rock chic look, ankle boots are ideal for an elegant figure. When it comes to dresses, we recommend choosing structured models: babydoll dresses with puff sleeves, smock dresses or even dresses with graphic patterns. For a gypsy style, go for floral dresses or fabrics with playful patterns. Play with the feminine/masculine codes by choosing a platform sole, lace-up boots or biker boots for a boyish style.
To accessorise with tights or thick socks for those always shivering!
08 Whether it's Christmas Eve or a wedding: The long gown with derbies
This year, make sure you go all the way. Whether it's a satin dress, sequin dress, a dress with a slit or a backless dress, the holidays are the opportunity to finally pull out that dress that's been hanging perfectly on the hanger, waiting patiently in your closet.
To dance the night away, you should go for derbies that are chic and easy to wear. Derbies are characterized by their open lacing system, which gives them an elegant look and makes them a safe companion when you want to look chic and keep it flat. They go perfectly with a monochrome look with clean lines of everyday wear. Pair it with a structured dress with defined shoulders and a straight cut: a wrap dress inspired by Claire Underwood in House of Cards.
09 Staying stylishly flat: The long dress with loafers
The women's loafer is an essential classic, a trend that lasts through all seasons. With a horse-bit clip, with tassels or even with refined details, they come in many forms.
The focus here is on the know-how and natural materials, like loafers made of leather or suede. When it comes to looks, we'll be twisting these timeless shoes with retro accents with a flowing, colorful dress or a graphic pattern. You can also go for the preppy look by choosing a minimalistic dress like a trapeze dress or a skater dress. As for the material, try the tweed dress or for the more chilly, the ribbed knit dress: a fashionable yet easy to wear outfit.
10 For creating contrast: the black or white long dress with colourful shoes
A monochrome dress is a must! If you are used to simple looks and minimalist outfits, you can spice up your outfit with a pair of unique shoes in bright colours.
To a dress with a classic shape and neutral colour choose shoes with jewellery-like accessories, fancy heels or even artistic details like Carrie Bradshaw from "Sex in the City". A shirt dress or a tube dress, monochrome shades and natural materials are a stylish and simple combination for winter days. When it comes to shoes, you can go wild! Blue loafers, green ankle boots, silver ballet pumps.... This pop and colourful touch is ideal to complete a classic business outfit and create contrast, but can also be worn on any occasion: on holidays, to go out or even for a wedding party.