In winter as in summer, leather derbies are the must-have shoes for men and women. For all purposes and super comfortable, derbies are classic and chic lace-up flats, which adapt to different looks and seasons. For the back-to-work 2023 season, these iconic shoes come in a range of new colours, subtly playing with classic designs.
Between tradition and modernity, derbies today offer any fashionista a versatile terrain to experiment with, with an endless variety of options, from simple to daring styles. For an elegant look, leather derbies are the key to a stylish back-to-school season!
01 What is a derby shoe and how can you recognize one?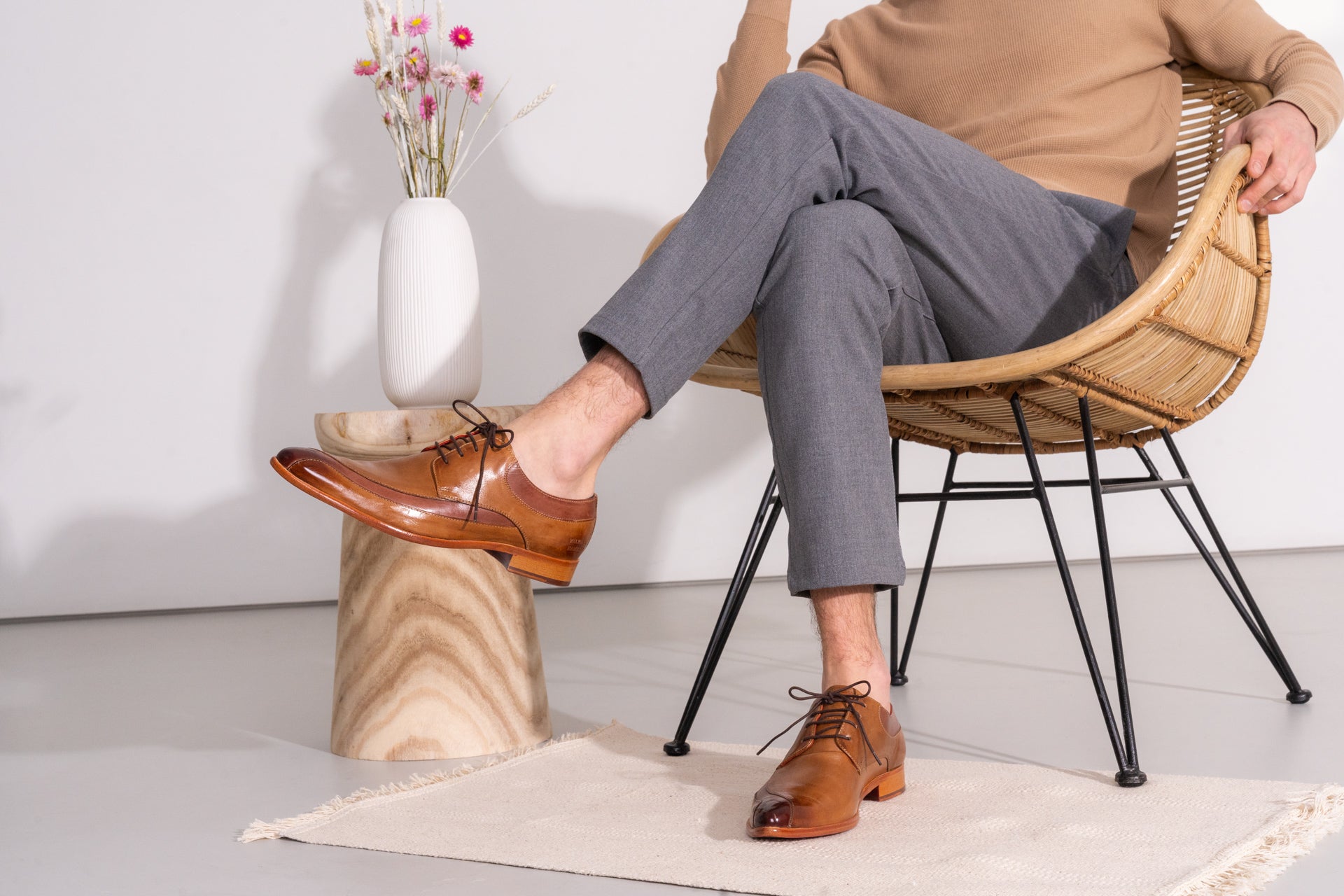 The first thing to clarify is how you can recognise the derby among all the different types of lace-up shoes. For example, the oxford and the derby are similar in appearance and are often confused, but the main difference is the lacing system.
The derbies have open lacing and a three-part leather composition. They always have visible eyelets on both sides of a more open vamp, on two pieces of leather sewn onto the shoe. This system makes it more convenient to put on the laces and leaves the instep more free.
02 When and how to wear your derbies?
There are many ways to style these classic shoes. How about a chic look: flannel suit for men or a little black dress for women? A pair of leather derbies will perfectly complement this outfit, for a day at the office or a formal dinner. Keep the patent models for special occasions!
However, leather derbies also go well with a casual look. If you're going for a head-to-toe casual look, with raw denim and a fleece sweater, derbies with a thick rubber sole will give your style the perfect finishing touch and the fashion twist you needed.
Which trousers to wear with derbies?
Choosing the right trousers that fit perfectly and match your shoes can be a balancing act. To avoid risking a fashion faux pas, go for natural materials: Cotton, linen or wool, depending on the season. Pay particular attention to the length of your trousers, which ideally should end at the top of your derby.
For a more casual look, how do you wear your derbies with jeans? Choose straight-leg jeans in classic blue or black. Choose a rolled-up or cuffed style to show off your ankles or socks depending on the season.
How to wear derbies with a dress or skirt?
In winter or mid-season, derbies can be the ally of choice to wear with a short dress, a midi skirt or a long dress. If the temperatures call for it, the look can be completed with a pair of tights. Opaque, transparent or with playful details - this accessory allows for a variety of combinations and looks, from minimalist to colourful!
For bold fashion fans: what socks can you wear with derbies? Invisible socks, short and immaculate socks inspired by Michael Jackson, or high socks for a chic and preppy look.
03 Colours and materials: which derbies to choose?
From classic camel to vibrant colours, smooth to woven leather, the derby offers a range of options for your look. Whether you want to be discreet or stand out, choose the model that suits your style and lifestyle best.
The classic models
Derbies are the perfect option for those who want an elegant look without having to spend hours worrying about it. The classic and traditional colours will adapt to changing temperatures and your looks all year round.
Black or brown patent derbies are the perfect companion for any occasion, from a simple outfit for work to a chic, festive silhouette for a wedding.
Women's classic derbies:
Men's classic derbies:
The coloured models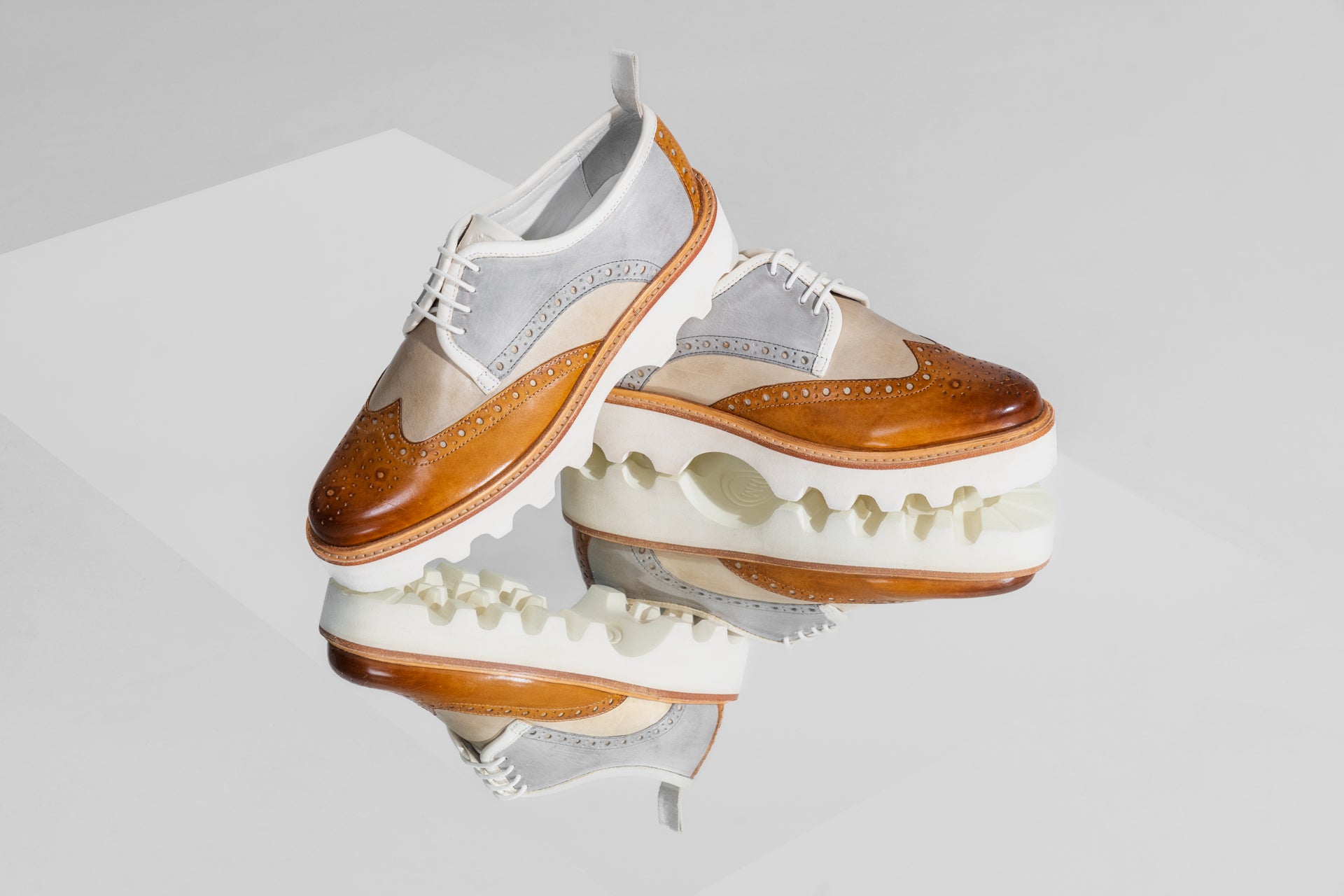 To party, dance until dawn or simply give your outfit a fresh look, what could be better than coloured or metallic derbies? Whether for men or women, derbies in bright and shimmering shades are the must-have styles for the back-to-work season 2023.
How to wear colourful, silver or gold derbies? Go for a festive look and add a touch of colour by pairing your shoes with a blazer or mini bag in the same shade. Less daring but just as stylish, the monochrome black or white silhouette will be perfect for creating contrast and making your funky shoes the central element of your outfit.
Colourful derbies for women:
Colourful derbies for men: