The summer is here! The bright sky, rising temperatures and soon the hot sand. You can finally put away your winter clothes and swap your leather boots for lighter shoes. Just the right time for light, breathable materials, more skin and of course... sandals.
While going barefoot is always an option during the warm season, we still recommend protecting your feet and stride in style with the perfect pair of sandals. To get through the summer of 2022 comfortably, you'll need to keep your ankle well-supported and have a shock-absorbing sole.
Thin or thick straps, flat sandals or wedges, here is our selection of comfortable sandals to show off your toes and enjoy the warm days.
01 Which men's sandals to choose?
Leather sandals, classic and elegant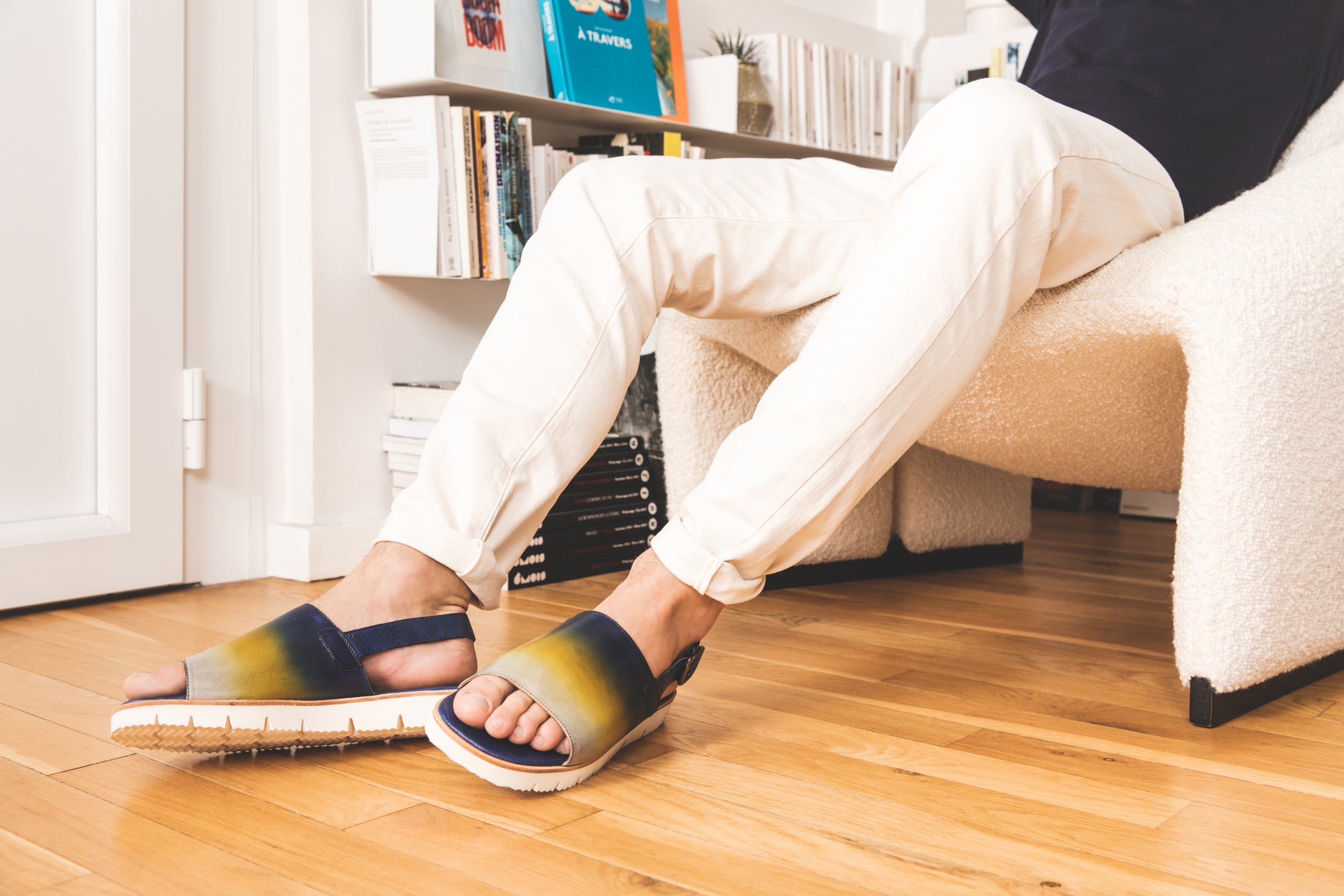 If you're bored by mules and boat shoes, why not try leather sandals this summer? Chic and timeless, leather sandals have become a must-have for every man's summer wardrobe. From the beach to the home office, they will bring you comfort and lightness all day long.
How to wear them?
Whether on holiday, at the weekend or even for a summer evening out, leather sandals can be matched to any look. They are just as easy to wear with a dressy outfit as with a more casual one: shorts or rolled-up chino trousers and a cotton polo shirt.
The fisherman sandals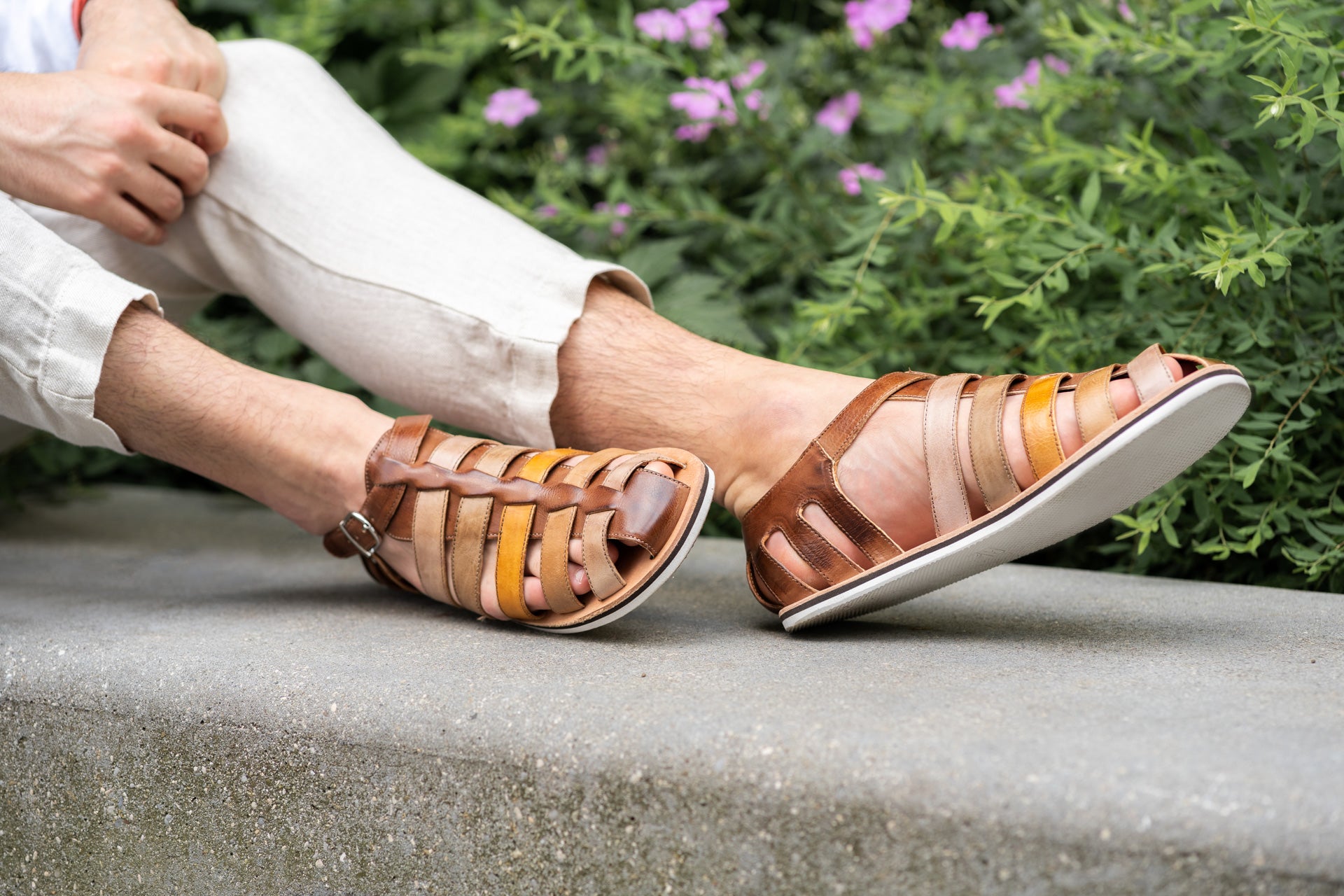 For several seasons now, we have seen a strong revival of outdoor and functional clothes tailored for the city lifestyle. This tendency is also known as gorpcore. Originally being designed especially for trekking and hiking, fisherman sandals play one of the leading roles in this fashion trend.
How to wear them?
Known for their comfort, these sandals are ideal for long walks. Made of leather, sporty but elegant, they are perfect for a daring and slightly funky look: wear them with a light summer suit and a short-sleeved shirt, for example.
02 Which women's sandals to choose?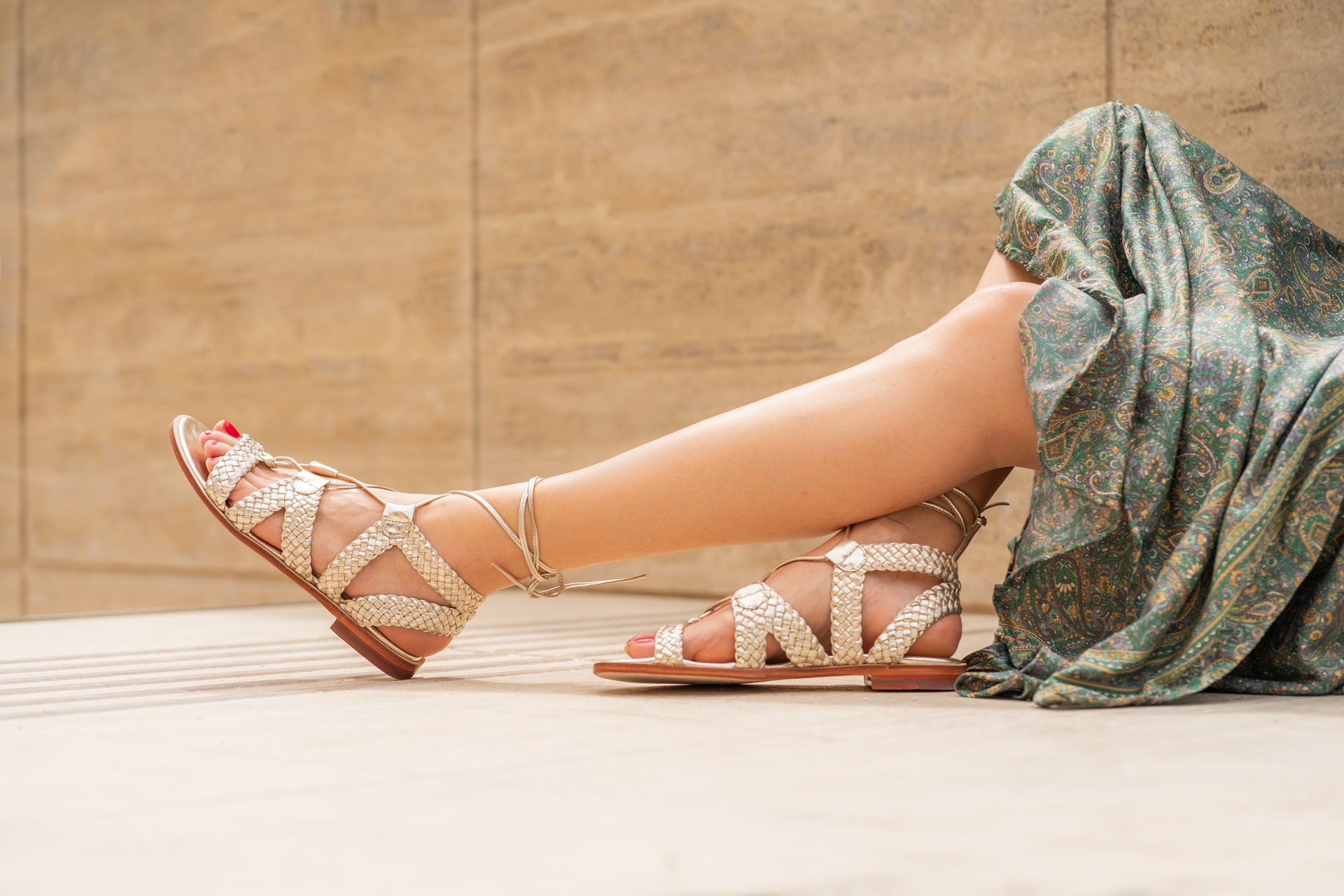 The sporty sandals
A strong style statement: this pair of shoes is sure to be a hit among fashion fans. Recognisable by their Velcro fastening system, these shoes are comfortable and fit your feet perfectly. The thick sole will ensure grip and support. Non-slip, the sandals are perfect for long walks on the picturesque but rocky Mediterranean coastlines.
How to wear them?
For a casual look, wear these sandals with rolled-up trousers or denim shorts. For a more sophisticated style, pair them with a long silk skirt or high-waisted shorts.
Metallic sandals
Bronze, silver, gold sandals... The sun is shining and it is time to finally bring out our iridescent sandals. Their metallic shades are not lacking in style and will immediately provide a chic and dazzling touch to your silhouette. And the mini heels of the Brooke model will definitely please those who want to gain a little inch while remaining stable.
How to wear them?
With a floral dress, a slit skirt or high-waisted trousers, these are the perfect shoes to wear to a wedding. An ideal model to stay up for the whole day and then dance comfortably through the whole night!
The flatforms or platform sandals
Weather forecast promises hot temperatures and you're on the hunt for lightweight, stylish summer shoes? If you're looking for a little extra height and a cool but comfortable way to hit the pavement, platform sandals are your best friend. Halfway between wedges and flats, these shoes are easy to slip on and adjust to your ankle.
How to wear them?
These super-comfortable sandals will quickly become the must-have shoe in your summer wardrobe. Easy to wear, the flatform can be combined with a pair of straight or skinny jeans for an office look or with a long dress for a drink with friends.
03 How to avoid getting blisters in your new sandals?
For your feet, but also for your shoes, it is best to avoid wearing the same pair every day. To keep your feet cool, prevent slipping and limit rubbing, don't hesitate to sprinkle talcum powder on the areas the skin touches the shoe.