Whether you are a person who plans two months in advance or one of those who does everything last minute, December is all about christmas gifts. A never-ending quest that requires the optimal equipment, starting with a chic but comfortable pair of shoes. To brave the winter in style and face the snow or rain, it's important to choose the right footwear for your different activities: the perfect combination of elegance and comfort for a long day.
From leather ankle boots to heels, today we show you our selection of the best shoes for long walks and strolling around the city. A guide which also works perfectly for visits to major capitals or long weekend trips in the countryside.
01 Winter 2022 must-haves: comfortable and stylish heels
Look no further, the most comfortable heeled shoes are here. These small heeled styles are perfect if you want to walk comfortably with good support, thanks in part to their chunky, profiled soles.
No matter what you have in your wardrobe, these shoes will easily match a wide range of clothes and will stay with you all year long. Wear them with a pair of 7/8 jeans, a long skirt or a mini-dress, depending on your mood and the occasion.
02 The most comfortable shoes for long distances: sneakers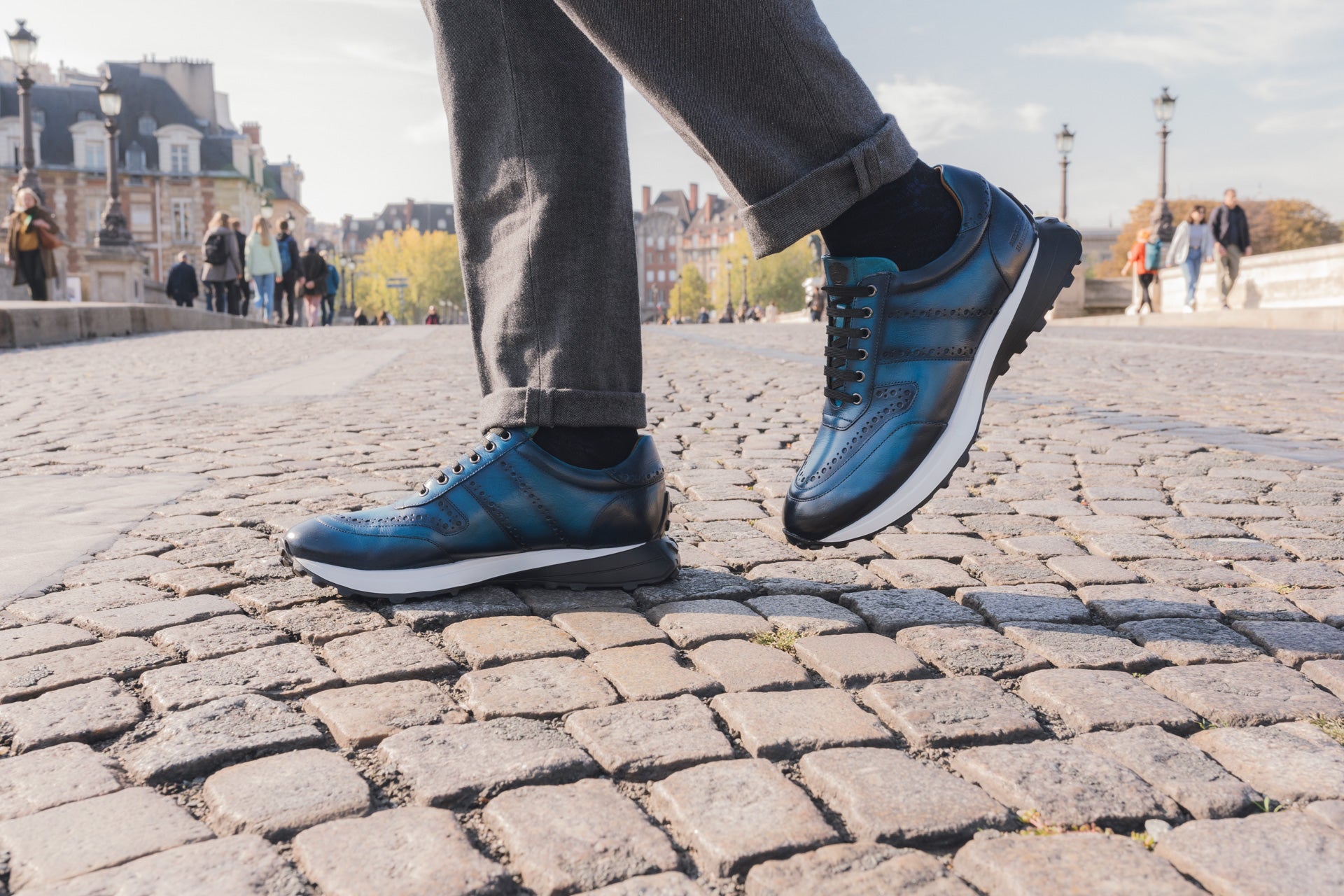 Notice to sportsmen and sportswomen! Sneakers are ideal when you want to be warm while remaining chic. Right in line with the athleisure trend, sneakers are perfect for wide or sensitive feet and prevent them from swelling at the end of the day.
Ideally, the shoes should be made of breathable material to maintain heat while avoiding perspiration. Worn with raw denim for him or a long dress for her, white sneakers go with any look and combine comfort with elegance.
03 The ideal shoes for long walks in the city: loafers
If you don't want to let aching feet ruin your walk or the next wedding reception, loafers will be your best friends. Barefoot in summer or with socks to face the cold, this flat and elegant model is a must-have in every shoe closet.
While they are convenient to put on, they might be a bit stiff at first. Therefore, do not hesitate to apply talcum powder to the friction areas between the skin and the shoe. Finally, a moisturizing cream will allow you to smoothen the leather so that it adapts perfectly to your foot.
04 The warmest shoes for walks in the rain: ankle boots
To give your ankles more stability, you should prefer lace-up ankle boots or hiking boots.They are ideal for walking long distances whether it's raining or it's windy. In cold seasons, you should go for fur lined ankle boots.
For an urban look, rubber-soled ankle boots are a must have to face the cold and stay chic at the same time. Waterproof, comfortable and light, it's the perfect sole to walk for a long time in the city.
05 The most stylish shoe for your next trip: derbies
To tread the pavement with elegance, derbies will be your best allies. They have a thick sole to absorb shocks and are made of soft leather that adapts to the shape of your foot.
At the end of the day don't forget to use shoe trees to keep the leather of your derbies in good condition and avoid creases.
06 All-terrain shoes to walk the streets: boots
For your next trip or weekend getaway this is the perfect pair of shoes to pack. The timeless style of the boots allows you to wear them all day long without going back to your hotel to change - from a museum visit to evening festivities.
Easy to put on and essential in winter, boots come in several styles depending on the occasion: sock boots, riding boots or the inevitable rain boots.
07 The lightest shoes for warm temperatures: ballet pumps
To avoid foot pain, it is best to choose flat shoes or shoes with small heels rather than high heels.
Choose a lightweight shoe for your next long walk. Ballerinas will allow you to stroll comfortably, without worrying about the miles you covered. Wear them barefoot in summer and combine them with tights in winter. Choose soft leather for comfort guaranteed from morning to night.
08 The right thing to do after a long walk: care for your leather shoes
To avoid blisters on your feet it is important to know how to soften your leather shoes.
Shoe trees, leather moisturizers and grandma's tricks...There are many ways to avoid foot pain with your new leather shoes. Follow the guide!