Balancing our fashion desires with rising temperatures can be tricky: the minimum amount of fabric to endure in the summer heat doesn't always offer much room for style manoeuvre. Sometimes we'd rather spend the summer in just a swimsuit than consider any other outfit. The good news is that it is possible to combine comfort, coolness and style, thanks to this season's must-have item: shorts.
A symbol of the hot summer season, this basic wardrobe item for both men and women has been on your radar for a few weeks now. A refreshing alternative to the famous jeans, shorts are essential for a perfect summer. After the skinny jeans and chinos in spring, it's time for high-waisted shorts, denim shorts, cargo shorts…
For a spontaneous weekend trip or a long holiday, they take up little space in your suitcase and can be worn on any occasion. Whilst there are many variations on this sunny piece, certain models are to be preferred, regardless of your body type: go for shorts with a well-fitted waist, and a mid-thigh or below-the-knee length.
How to look elegant in shorts, and which shoes to choose? No pairing is off-limits, but there are some winning shoe-short combinations. These are the shoes to wear with shorts this summer, for a look that ticks all the boxes for the perfect summer look.
01 On the men's side, what shoes to wear with shorts?
Wearing shorts with mules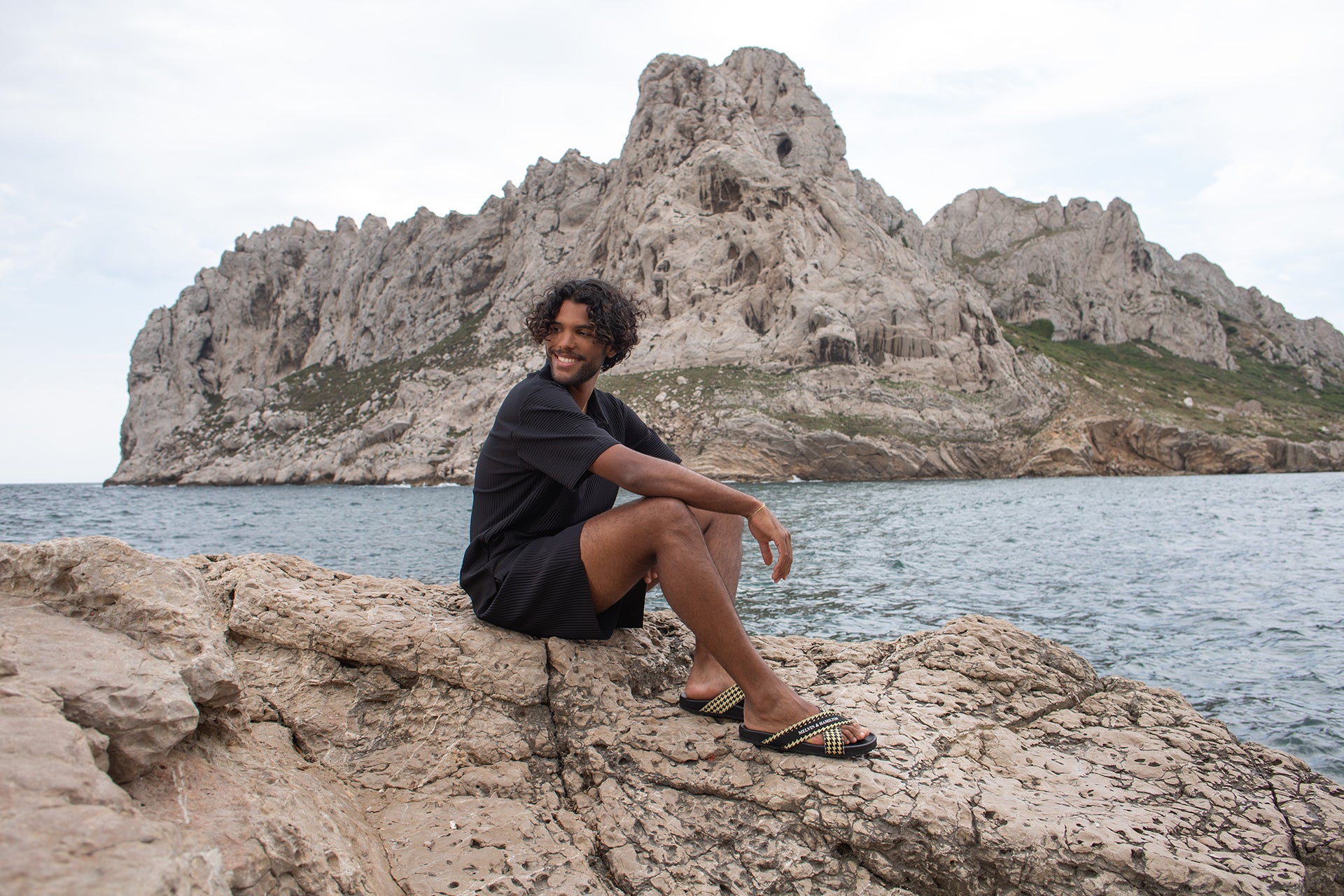 With shorts, the motto is simple: lightness. It's essential not to overload your outfit with heavy shoes. Airy models, such as leather mules, are an excellent option for summer. Easy to slip on and off, they'll keep you comfortable and at ease. Casual and right on trend, they're perfect for an evening by the sea or a dinner with your feet in the sand.
Wearing shorts with sneakers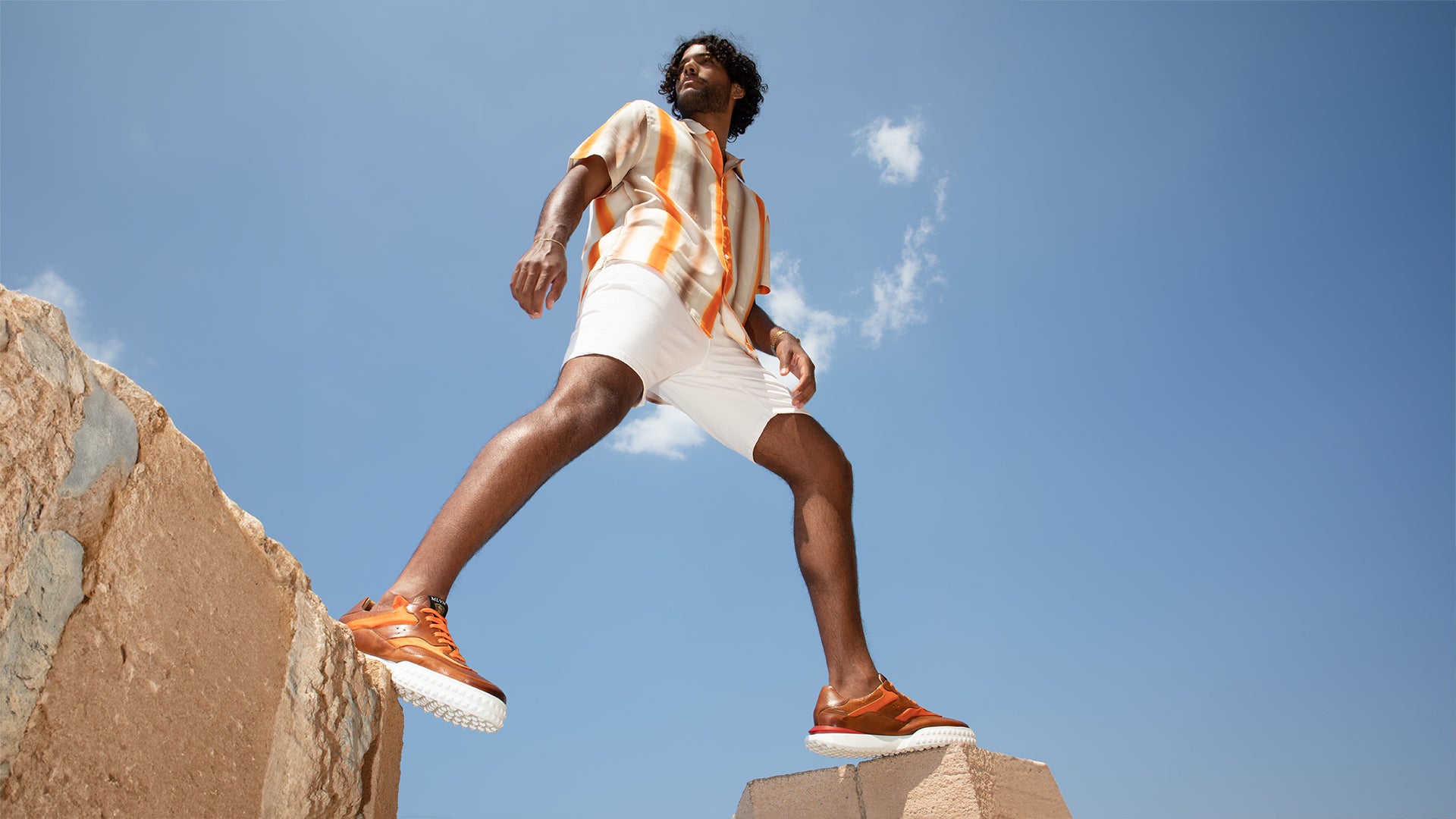 Summer holidays are coming up! On the agenda: relaxing on the beach and sunbathing on the terrace. To embrace the summer season in style, shorts and leather sneakers are always a good idea. This chic and versatile combo is all about comfort. Choose fleece shorts for a modern, casual look. For a more sophisticated style, go for printed or striped shorts, which can be paired with a white cotton t-shirt, denim shirt or round neck jumper if the weather turns chilly.
Wearing shorts with loafers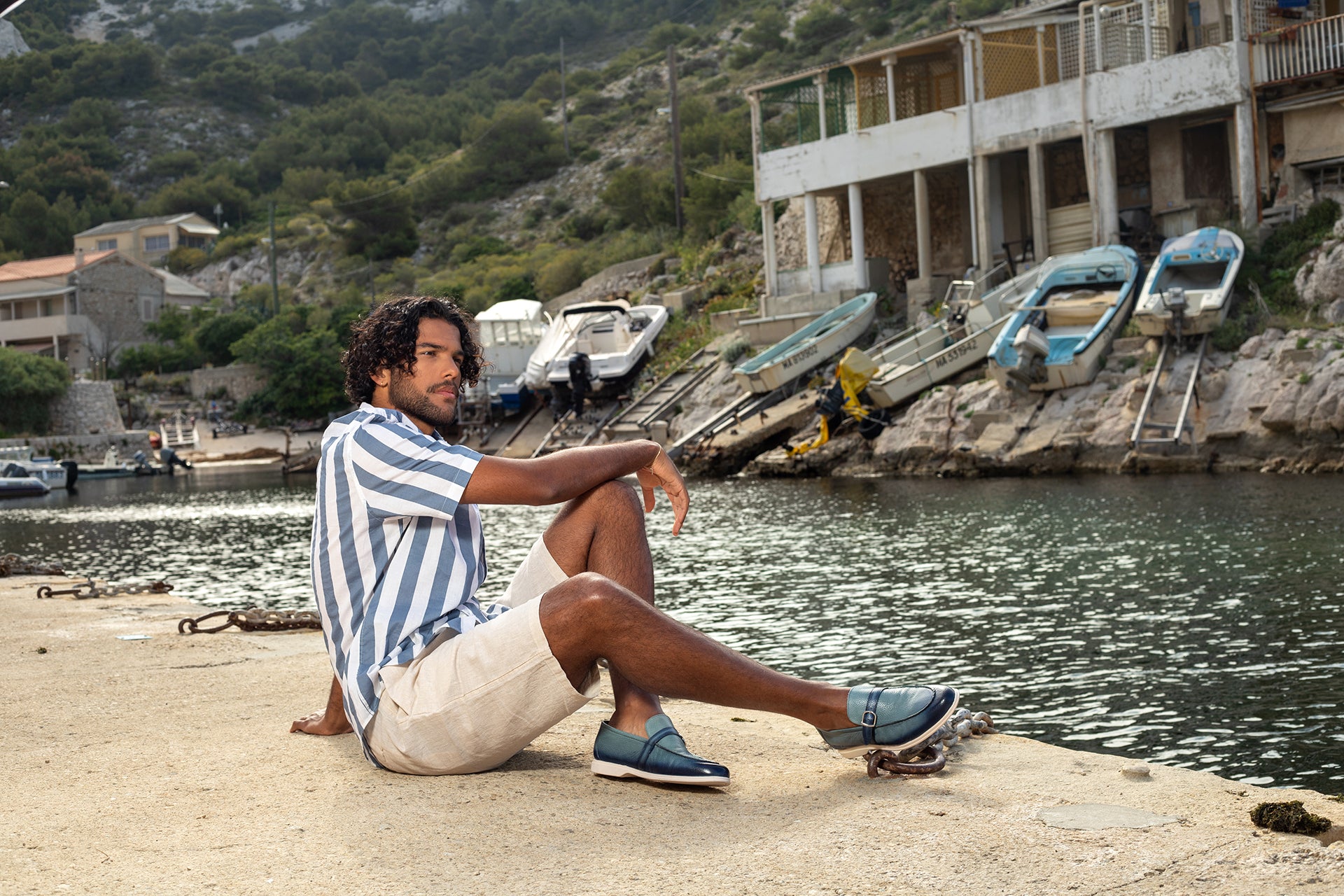 This is the combination that sends us straight into summer. A stylish pairing that works every time, it's also the perfect look for going to a summer wedding. Leather loafers are worn here barefoot with pleated shorts, a shirt tucked in and a light blazer. For the more daring, opt for a preppy look and take inspiration from school uniforms by wearing socks with your loafers. A style statement that won't go unnoticed, and will surely leave you with a typical tan line as a souvenir.
Wearing shorts with sandals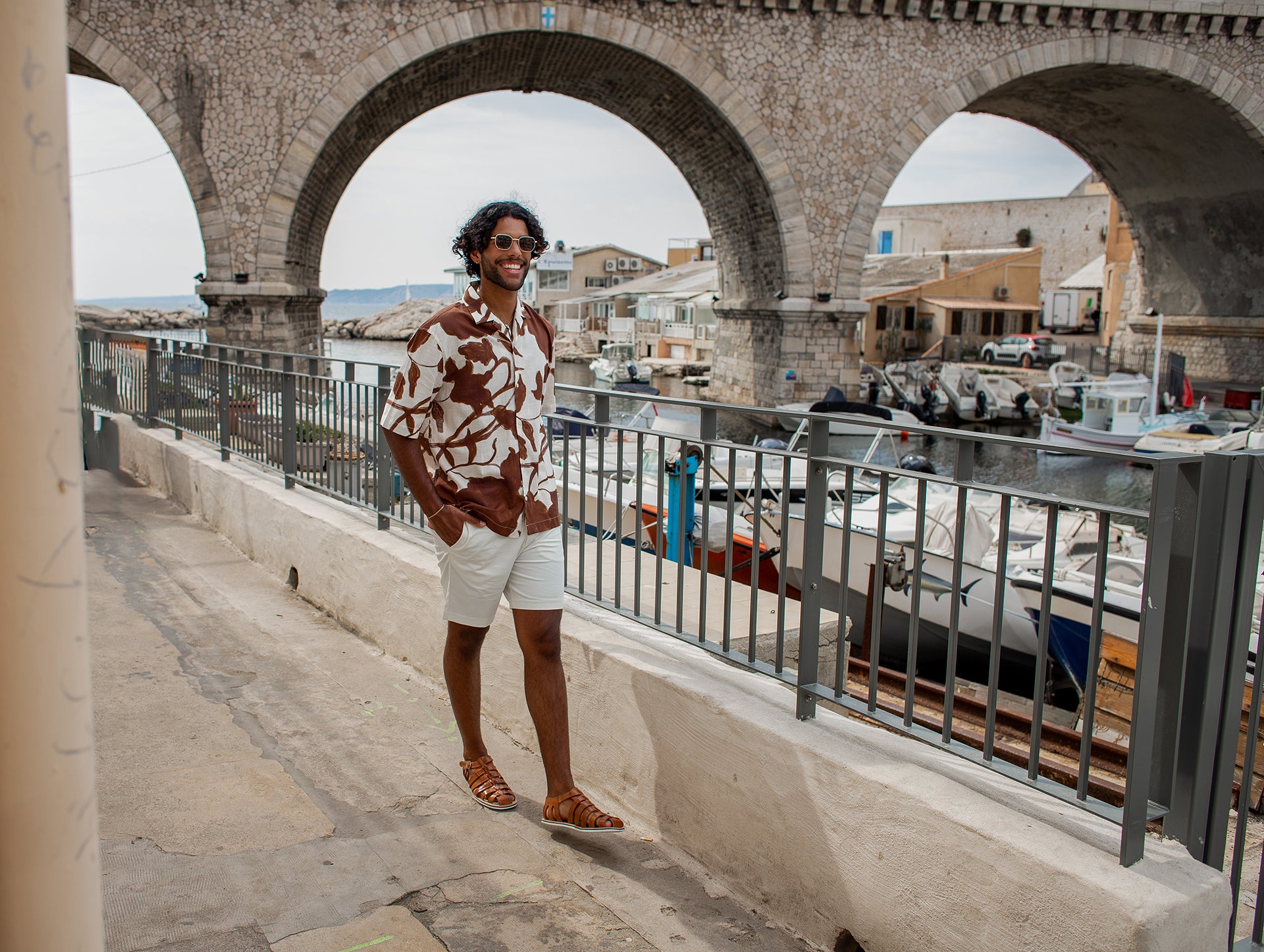 We've seen them on the runways and then on social media, men's sandals and especially fisherman sandals are the must-have shoes for this summer. They are indeed making a very noticeable entry in men's shoe wardrobes. With crossed leather straps, metal buckles and ties on the back of the heel, they will bring an instant touch of fresh air to your outfit. For a stroll around town or a leisurely afternoon by the pool, they're easy to pair with shorts. Choose a linen short or elegant swimming suit, a sailor top or a shirt with a graphic pattern.
Wearing shorts with boat shoes
With black cargo shorts and a short-sleeved or rolled-up chambray shirt, the boat shoes will accompany you all summer. Available in a range of bright and bold colours, these shoes will add a pop of colour to your simple, monochrome silhouette. For a more casual look, go for denim shorts and a chequered shirt. With a cap or sun hat, you're ready for summer!
02 On the women's side, what shoes to wear with shorts?
Wearing shorts ballerinas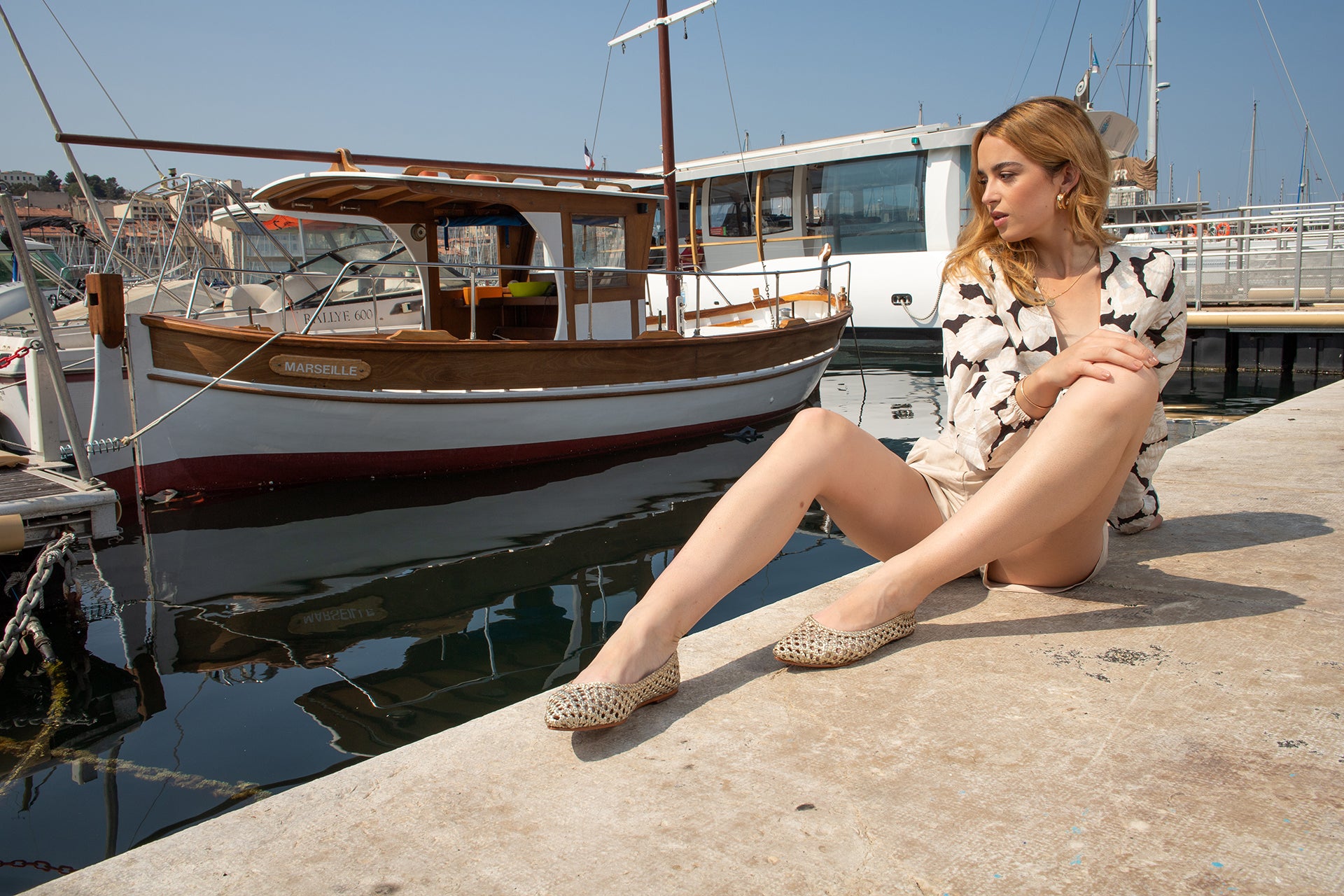 Made popular by Brigitte Bardot in the 60s, ballet pumps are the ultimate versatile option. Opt for neutral colours, such as black or white, which will work well with your different styles of shorts, from grungy to dressy. If you want to add a modern touch to your outfit, opt for pointed-toe ballet flats: they'll elongate your silhouette in the blink of an eye and add a sophisticated twist to your look. Whether you're strolling by the seaside or strolling through town, leather ballet flats will give you both comfort and style.
Wear shorts with oxford or derby shoes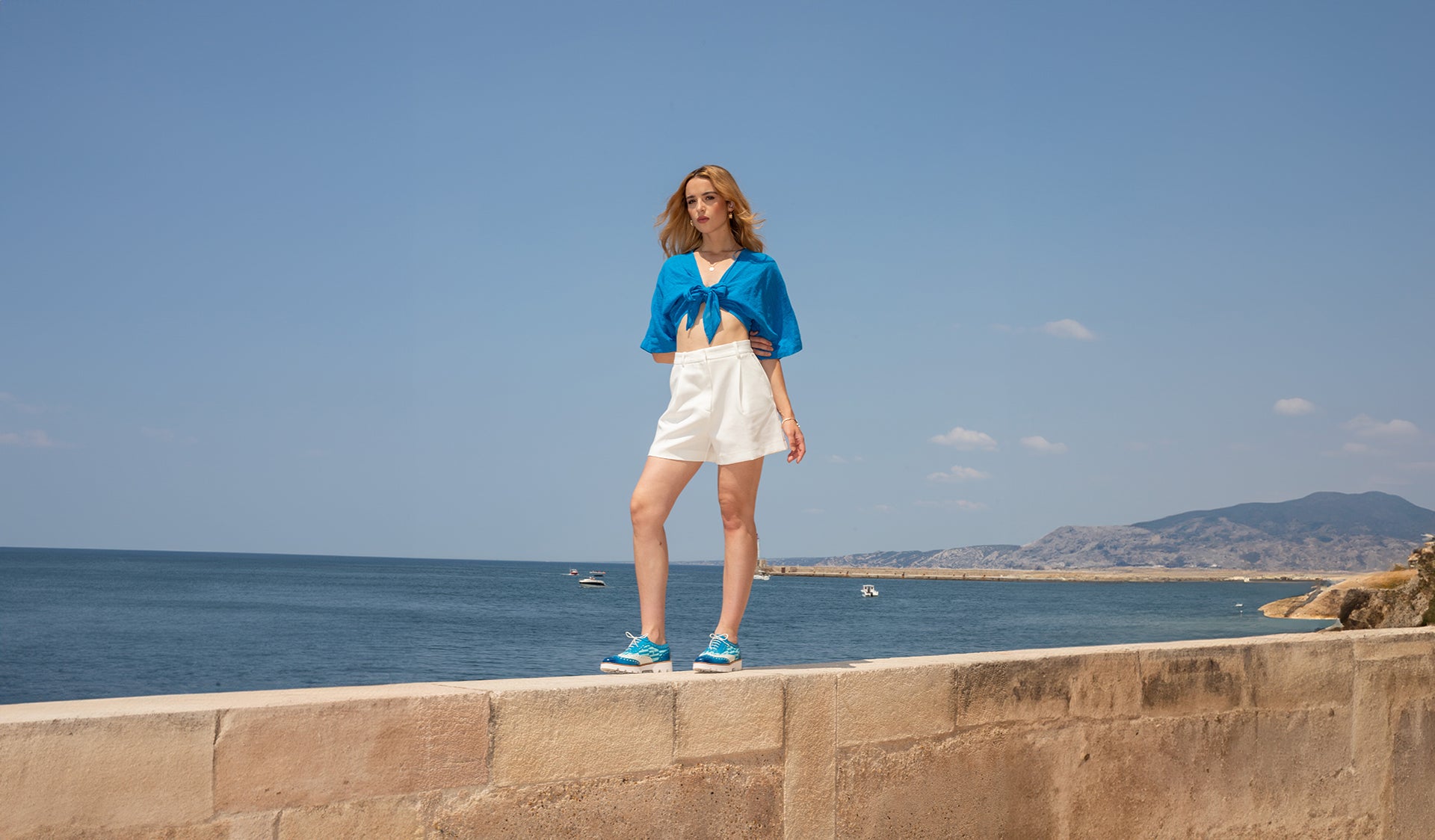 Here's the ideal outfit to wear to the office when temperatures rise. Lace-up dress shoes, oxfords or derbies, are a safe bet that will bring the necessary touch of elegance to any outfit that's a little too casual. They're chic and modern, and can be worn with a pair of jeans shorts or high-waisted white shorts for a more dressed-up look. Light blue, red, orange... For a sunny, summery look, choose textured oxford models in bright colors!
Wearing shorts with sandals or sneakers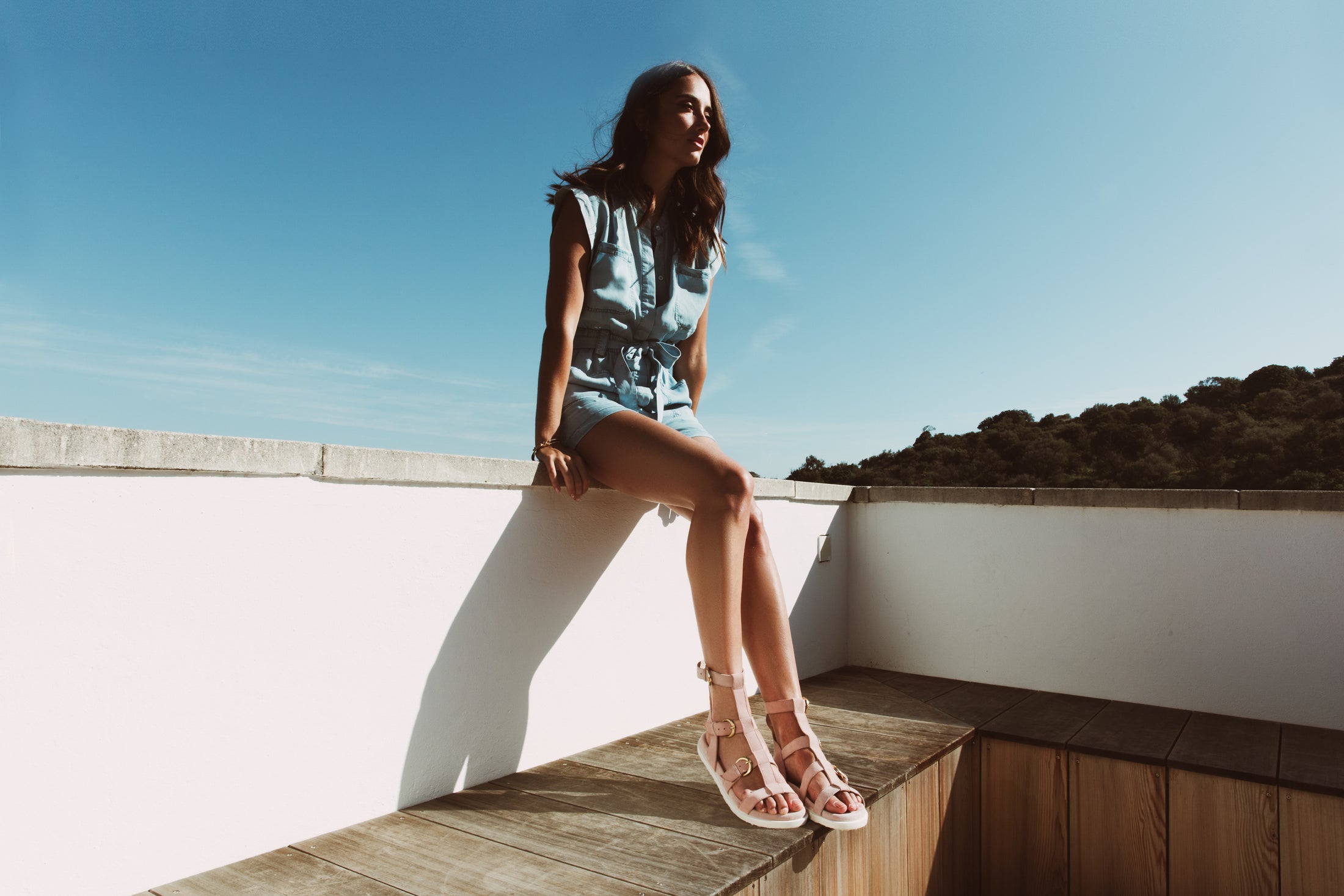 Sandals and shorts… These two summer pieces are a perfect match, and the possible combinations are endless. Invited to a wedding? A modern alternative to the classic long dress, a combishort is perfect with a pair of sandals or espadrilles. Looking for a versatile look to take you from the office to the dinner? Choose cotton shorts, and pair them with a linen shirt, embroidered blouse or lace top for a bohemian-chic look.
Wearing shorts with mules
Super handy: easy to take off and put on, leather mules will be ideal to feel comfortable and show off your legs. To lengthen your silhouette, choose high-waisted shorts, accessorized with a thin leather belt if you want to emphasize your waist. With light-coloured denim or canvas, pair your shorts with a knitted polo shirt or a colourful blouse.
Wearing shorts with sneakers
The shorts and sneakers combo works well all year round: in winter with tights, it is also a must-have bare legged in summer. Try a blouse with a claudine collar and flowing, flared paper bag shorts for a cool, sophisticated look that complements the sporty side of your shoes. For a funkier silhouette, choose an oversized printed shirt and brightly coloured shorts.
Wearing shorts with loafers
In winter as well as in summer, this duo works equally well. Plain or two-tone, leather loafers are the timeless low-cut shoe of choice. To tone down the formality of your loafers, choose silk shorts or a light coulotte skirt with a floral pattern. For a risk-free chic look, you can match the colour of your leather shoes with your top or handbag. Adding a pair of white or black shorts will create contrast and make your beautiful shoes stand out even more.