The winter wardrobe is making a comeback for tights. Beyond their insulating properties that will protect you against the cold, tights are also real fashion accessories that will ensure you have streamlined legs in the blink of an eye. Transparent, opaque, woolen, patterned or coloured, this essential item of women's clothing is making a comeback this month and is available in an infinite number of variations. As with your shoes, the key is to invest in a good pair that won't let you down from the first scratch.
While the drop in temperature also means the comeback of the big wool socks, the tights and shoes equation can be tricky to solve. We've put together a little guide for you on how to wear the two together to stay chic this winter, while keeping your legs warm.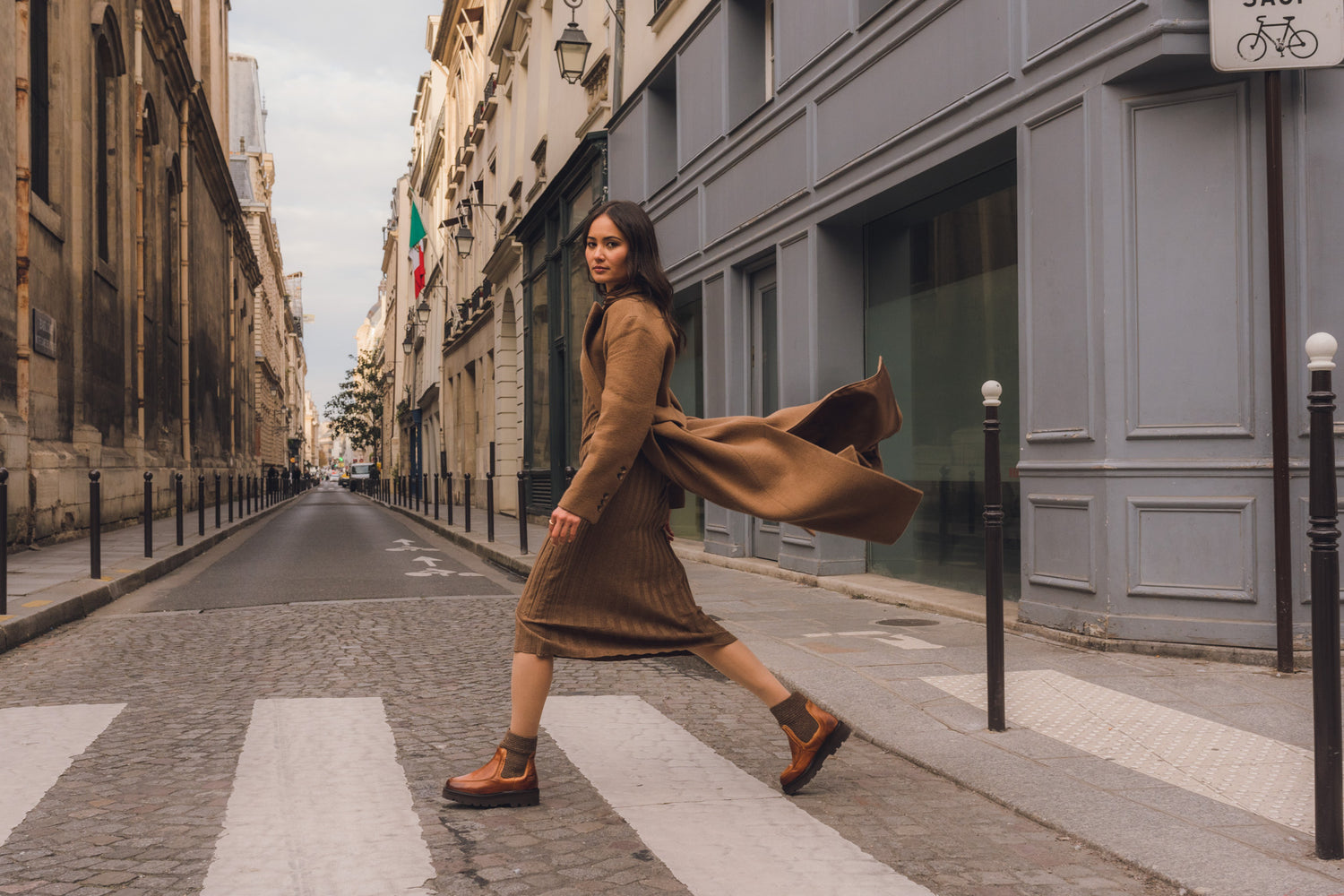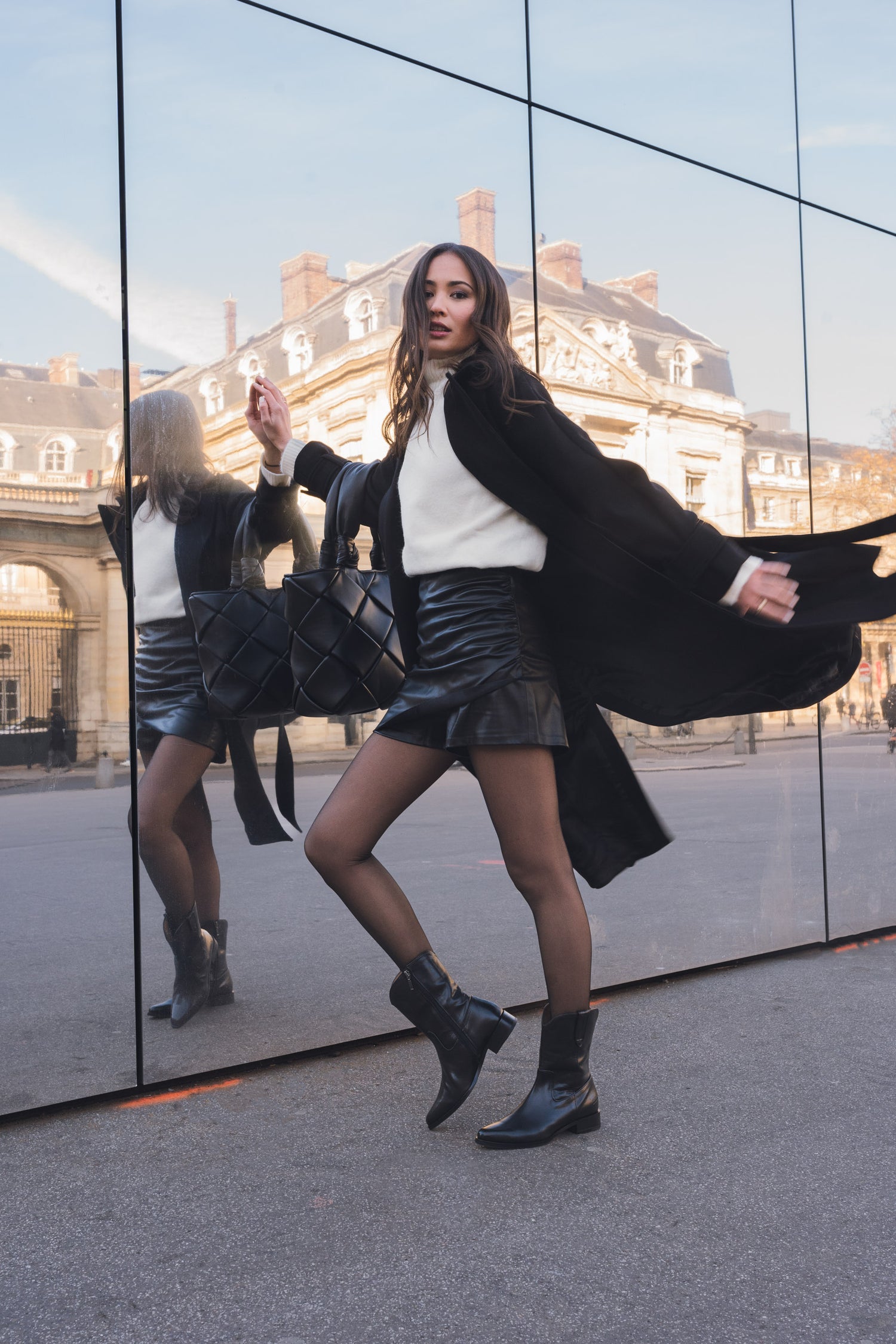 For a candlelit dinner (Valentine's Day is just around the corner!), a business dinner or an evening out with friends: check out our images on the combination alternatives of our selection of shoes and tights. For those of you who are a little chilly, the combination of tights and socks can be a good idea for cold weather. The trendsetters among you should dare to try the sock boot variant! A no-fail solution, right in the spirit of the times.
01 What tights to wear with gold shoes?
Glittery ballerinas, gold ankle boots or even glittery loafers, to create contrast and highlight the metallic shades of your shoes, the combination of gold shoes and opaque black tights is always very effective. If transparent or fancy tights are not forbidden, black tights will always have a small effect. As elegant as they are comfortable, our shiny models or those with metallic details will accompany you everywhere, autumn or winter. For a day at the office or a drink on the terrace, let yourself be tempted!
02 Leather shoes and black opaque tights, what are the options?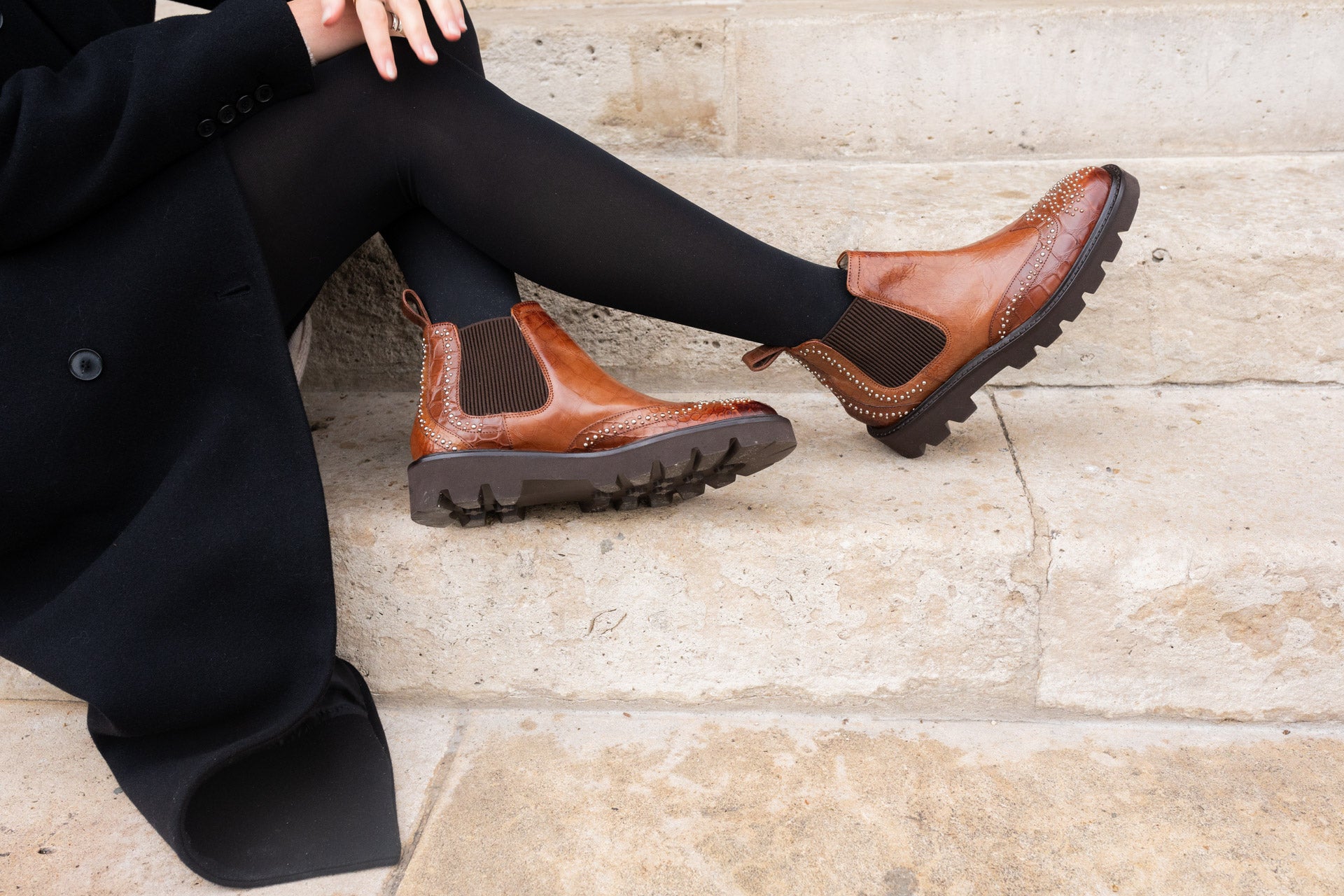 For a graphic look: colourful ankle boots with opaque tights
Whether you choose matte or shiny, black opaque tights are a must-have in your sock drawer. These thick, form-fitting tights not only give you a better silhouette, but are usually the warmest option as well. To create a contrast with your tights and brighten up a sober winter outfit, dare to wear original and colourful ankle boots. The ankle boot allows a multitude of possible outfits: biker boots, Chelsea boots, lace-up boots... You have the choice to express your personality.
To get around town: sneakers with opaque tights
For those who like the combination of comfort and elegance, leather sneakers are always the right alternative: easy to put on and to take care of, they will adapt to all stages of your day. White or black sneakers are best combined with a wide variety of tights: opaque, transparent or even with patterns. For the more daring, it's time to get out your pair of ugly sneakers which can be worn very easily with black tights.
03 What shoes to wear with transparent black tights?
To play it safe: high boots with black tights
To go to work, black transparent tights remain a timeless basic. They go perfectly with a velvet or wool mini skirt combined with a cotton shirt - a chic but risk-free combination. To go out, dare to go for a completely monochrome look or a shade of grey: dark skirt, black tights and black leather boots. To face the dropping temperatures, snuggle up in a big black coat or a wool caban: classic, simple pieces that tone down the rocky accents of the boots.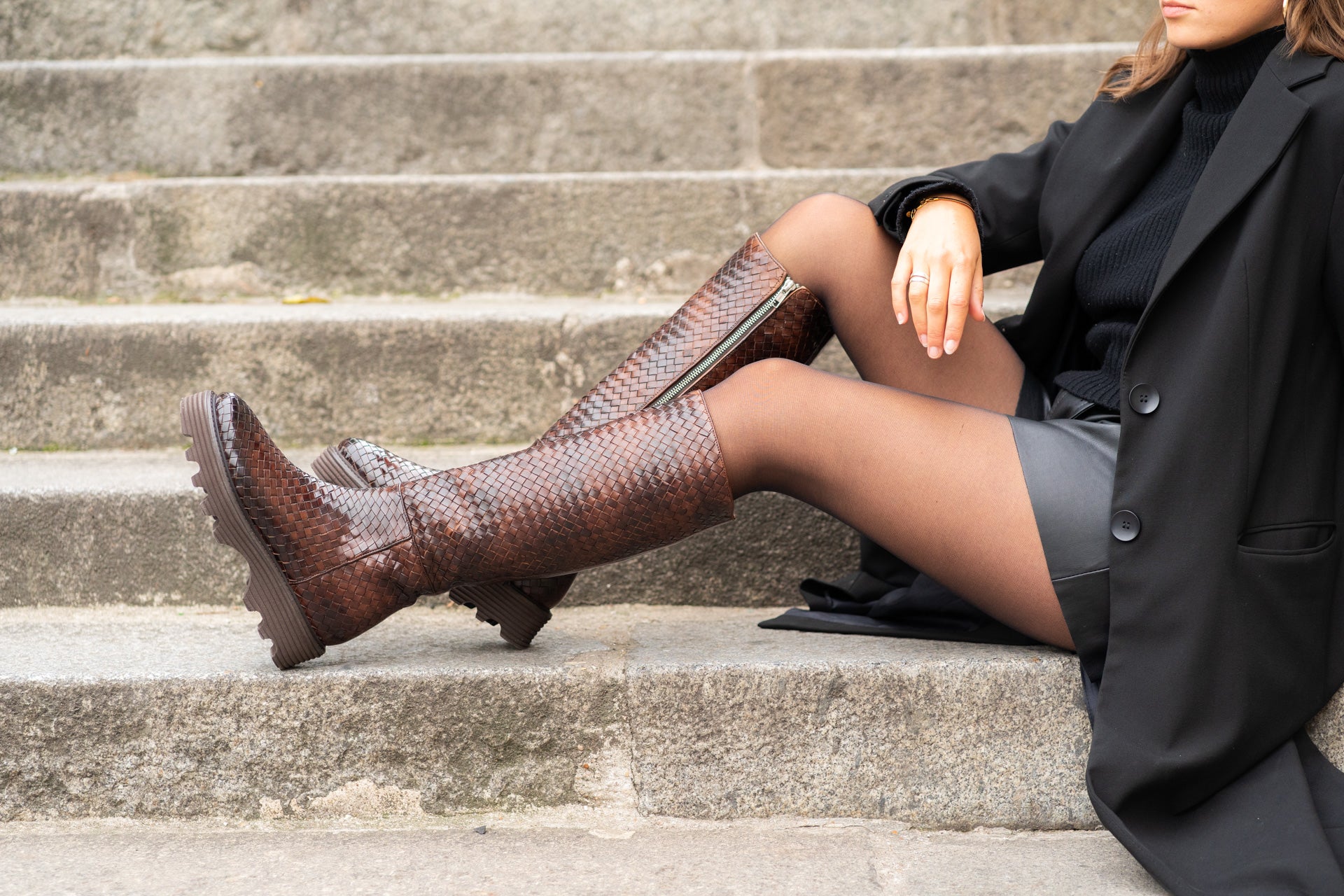 For mid-season: open shoes and black tights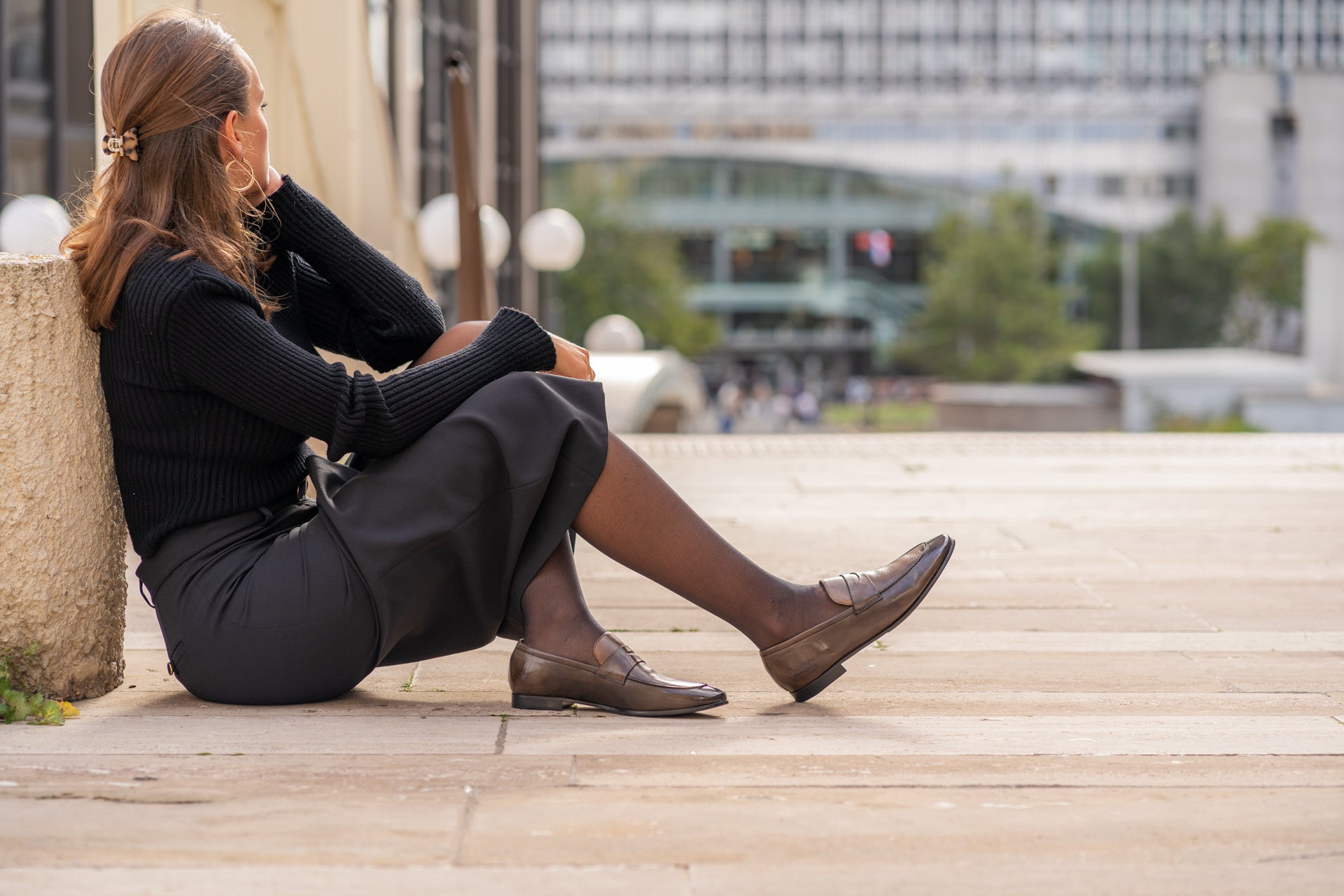 At the beginning of each spring and end of autumn you ask: what low shoes to wear with tights? If leather loafers are the ideal shoe models to wear in mid-season, certain sandals can also be perfectly associated with thin tights: 20 denier maximum. In a retro atmosphere with a midi skirt or more boyish with high-waisted shorts, ballerinas are finally the model to consider, as they are very light and therefore perfect for long walks in the city.
04 What shoes can be worn with fancy tights?
For big (and small) occasions: loafers with polka dot tights
For a winter wedding or a concert visit with friends, polka dot tights are the right combination of elegance and comfort to give a twist to a classic outfit. For a party outfit, slip on a pair of leather loafers, an immaculate babydoll dress, a little black dress or a long flowing dress. For a daytime outfit, dare to wear a leather mini skirt with an oversized blazer.
To be a star of the 80s: derbies or oxford shoes combined with fishnet tights
This is the perfect fall look to face rainy days in style. While fishnet tights were an absolute highlight in the 80s, they are an absolute must-have in every wardrobe this winter. Sometimes dark and rock chic, sometimes colourful and preppy, the fishnet tights can be varied infinitely. For a cool look, go for colourful derbies or ones with chunky soles and combine them with a dress with a graphic pattern. For a chic uniform, opt for a high-waisted skirt, a fitted blazer and a pair of slim, black oxford shoes for guaranteed elegance.