The Eiffel Tower, Montmartre, the Alexandre III Bridge, the Café de Flore, the Garden of the Palais Royal... These mythical places and monuments have inspired countless works and artists from all over the world. The latest highlight, a true phenomenon that we either love or love to hate, is the Netflix series: Emily in Paris. If you are a fan of the adventures of Emily and her friends Camille and Gabriel, here is a new range of shoes that will please you: Stefy! And if you don't follow this cult series very much, but are looking for chunky and stylish heels, this article is also dedicated to you.
With your needs and lifestyles in mind, and wanting to create shoes that will accompany you all year round, we decided to develop this range of comfortable heels with particular attention to detail and choice of materials. The Stefy's block heel are a real guarantee of stability, and its thick, notched sole gives it a preppy loafer look. Halfway between classicism and modernity, the Stefy overturns the codes of the classic heeled shoe.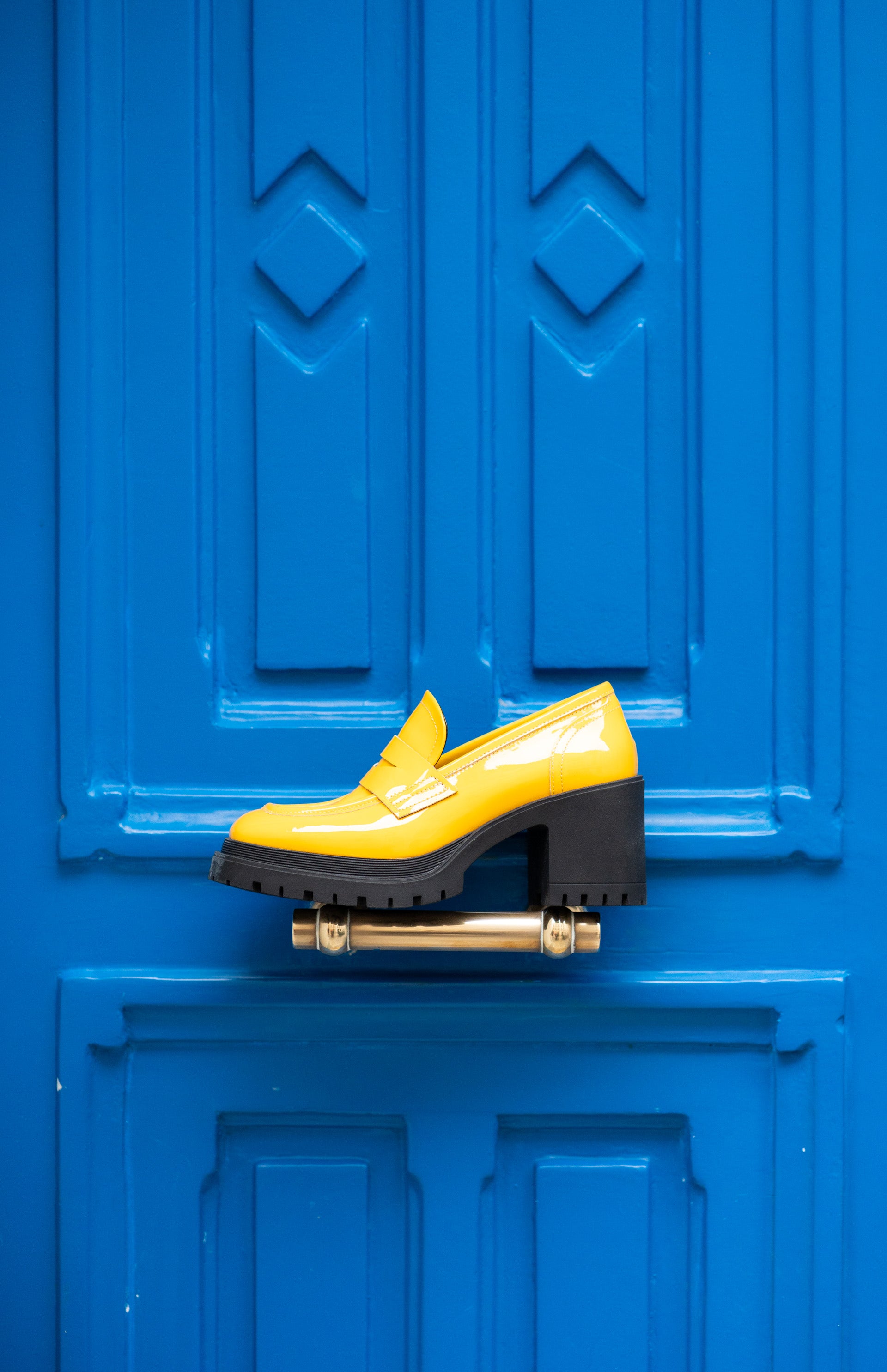 This limited edition, handmade in Italy and available in several colours, is all about comfort. Once you put them on, you'll never leave them: a walk by the sea, a drink on the terrace or a day at the office, they'll go with you everywhere and will fit in with all your looks. The Stefy ensures a slim silhouette and is a real joker for those who want to create the illusion of an elongated leg. These stylish 7,5cm heels add a true pop of colour and lightness to a more casual outfit.
To get off the beaten track in terms of style, this is the fashionable model to wear season after season. With raw denim, a long dress, barefoot or with tights, there's something for everyone. To embrace this new model and its fresh colours, here are our fashion tips for wearing Stefy with style and not making any mistakes. The range launches on 5 August! If it caught your eye as a keen fashionista, stay tuned...
01 Chic and minimalist: our black heels
If this pair of shoes reminds you of the famous Netflix series, we can't ignore the preppy style of the main heroine, which is not always adapted to the cobbled streets of Paris... For a good dose of elegance, we prefer black heels, and we put on a gingham mini-dress, a felt beret and a black handbag. A strong style, perfect for the office, in summer or in winter with tights.
02 Bold and glamorous: our gold and silver heels
If you're looking for heeled bridal shoes, you've come to the right place. These iridescent shoes are not only comfortable, but also add a bright touch to any figure. Whether you're looking to make a splash at a wedding or a night out with friends, this model will suit your mood. For a more casual and minimalist look, wear them with high-waisted jeans, a white shirt and sunglasses, and you're good to go!
03 Fashionable and trendy: our red heels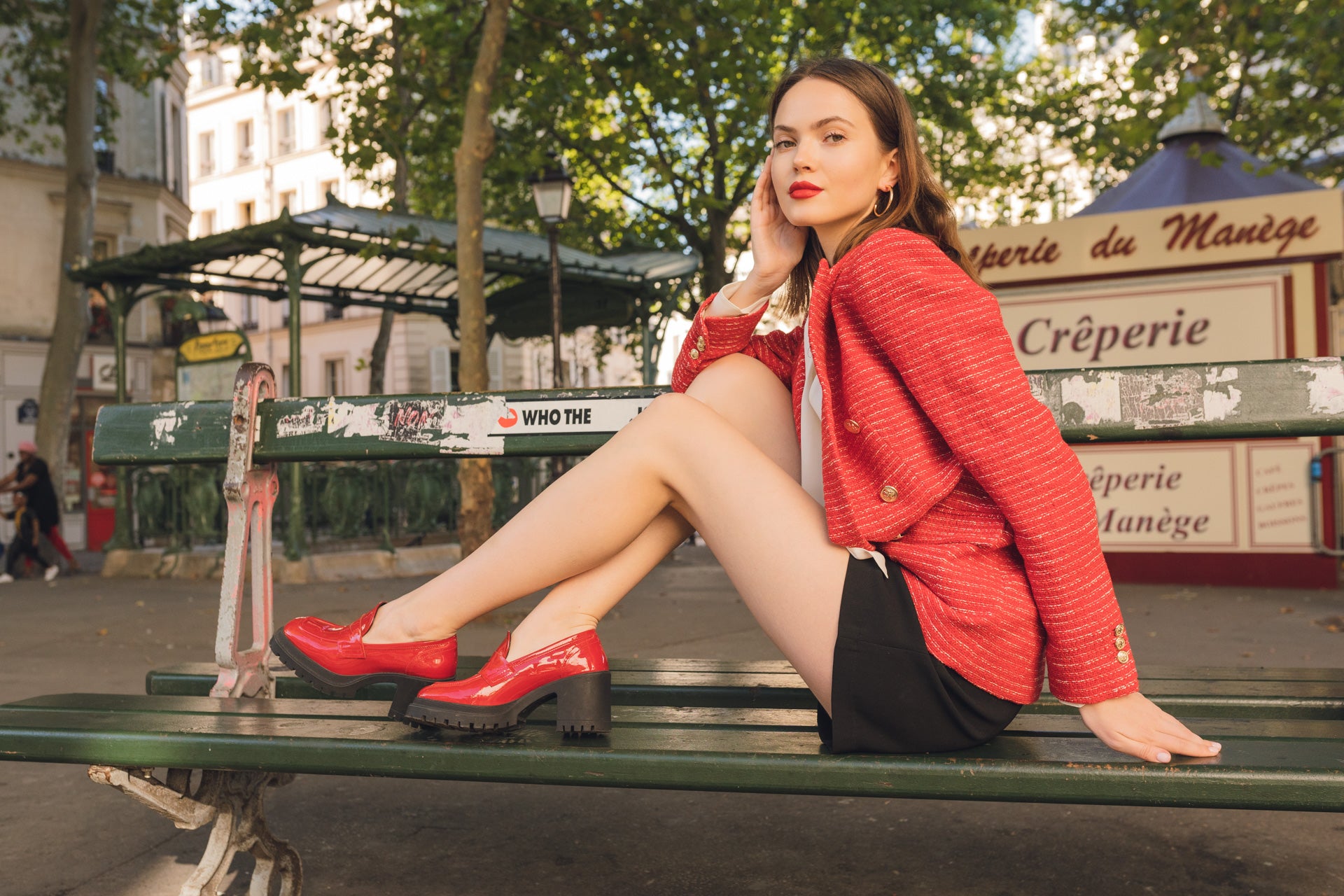 Under the sun exactly! If you want to create the illusion of a longer figure this summer, these red shoes for women are ideal. Red can easily be combined with a wide range of colours, from bright to muted. For example, this colour will always look good with black shorts or mini skirts and a red tweed jacket with gold buttons.
04 Stylish and comfortable: our green heels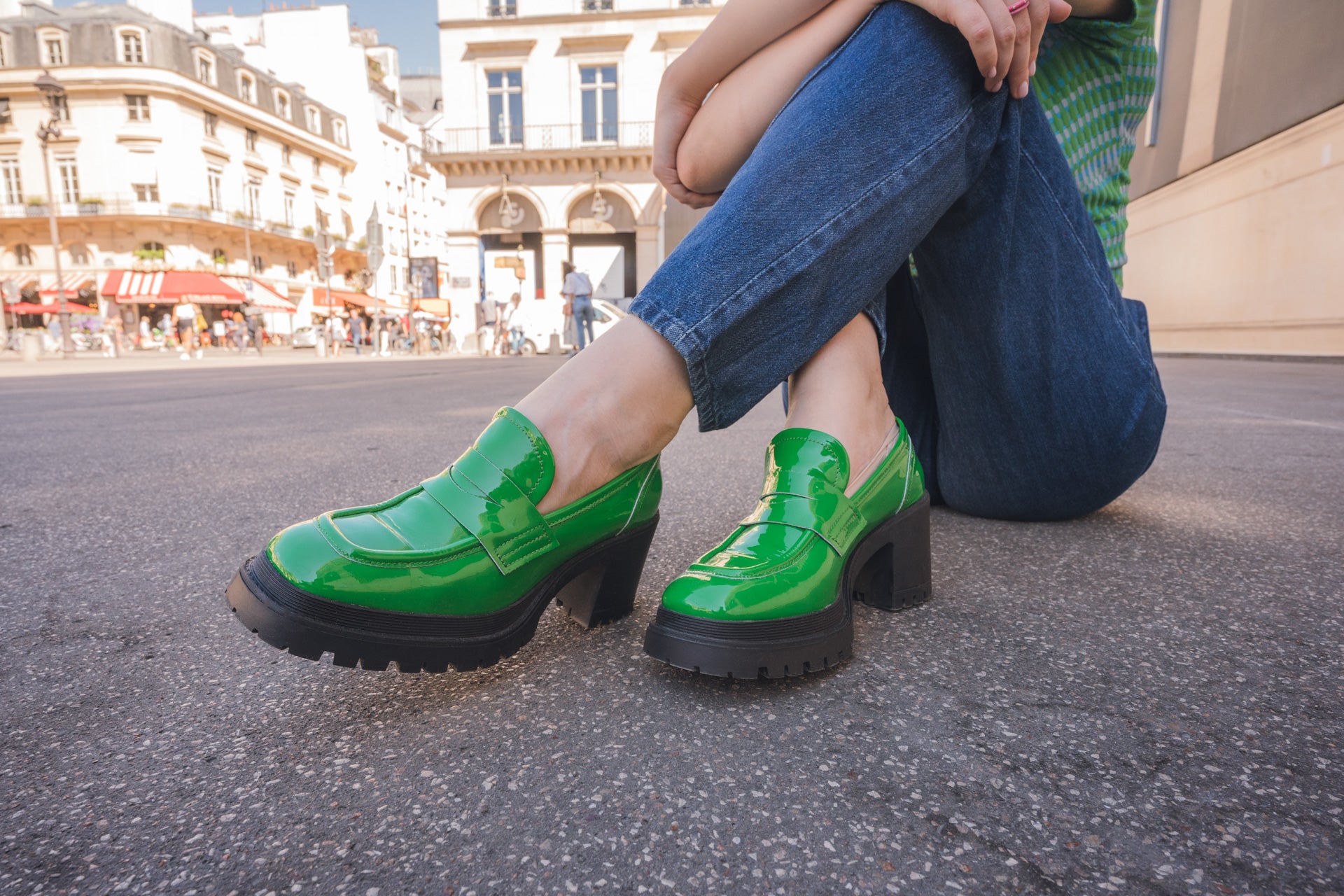 This season, we're not cutting back on colours! If green shoes for women are not always an obvious choice, this colour is making a stunning comeback with Stefy. Borrowed from the men's dressing room, these resolutely chic heeled loafers will be perfect with raw 7/8 jeans and a printed t-shirt. A chic and cool look guaranteed!