In the bus, the metro or in a restaurant, have you ever had fun observing the shoes worn by the people around you? You can do the exercise today, and we bet that the majority of them will be wearing leather or canvas sneakers. The omnipresence of sneakers in shoe wardrobes around the world for several seasons now is a fact. Timeless and easy to wear, they have made a meteoric rise in our wardrobes and are favoured by all generations, from playgrounds to bridge clubs.
It's never been easier to wear chic and comfortable shoes, and it's perfectly possible to combine sneakers with elegance. Diverted from their sporty origins, they come in a wide range of shapes and are making a splash on the catwalk and in the street. As the figurehead of unisex fashion, they have great fashion potential and can be adapted to all types of clothing with a certain ease.
If solving the style and comfort equation is not always easy, here are our tips for solving this dilemma with sneakers. Here's a look at timeless sneaker styles and the best ways to wear them in the coming back to work season 2023.
01 What are the different types of sneakers?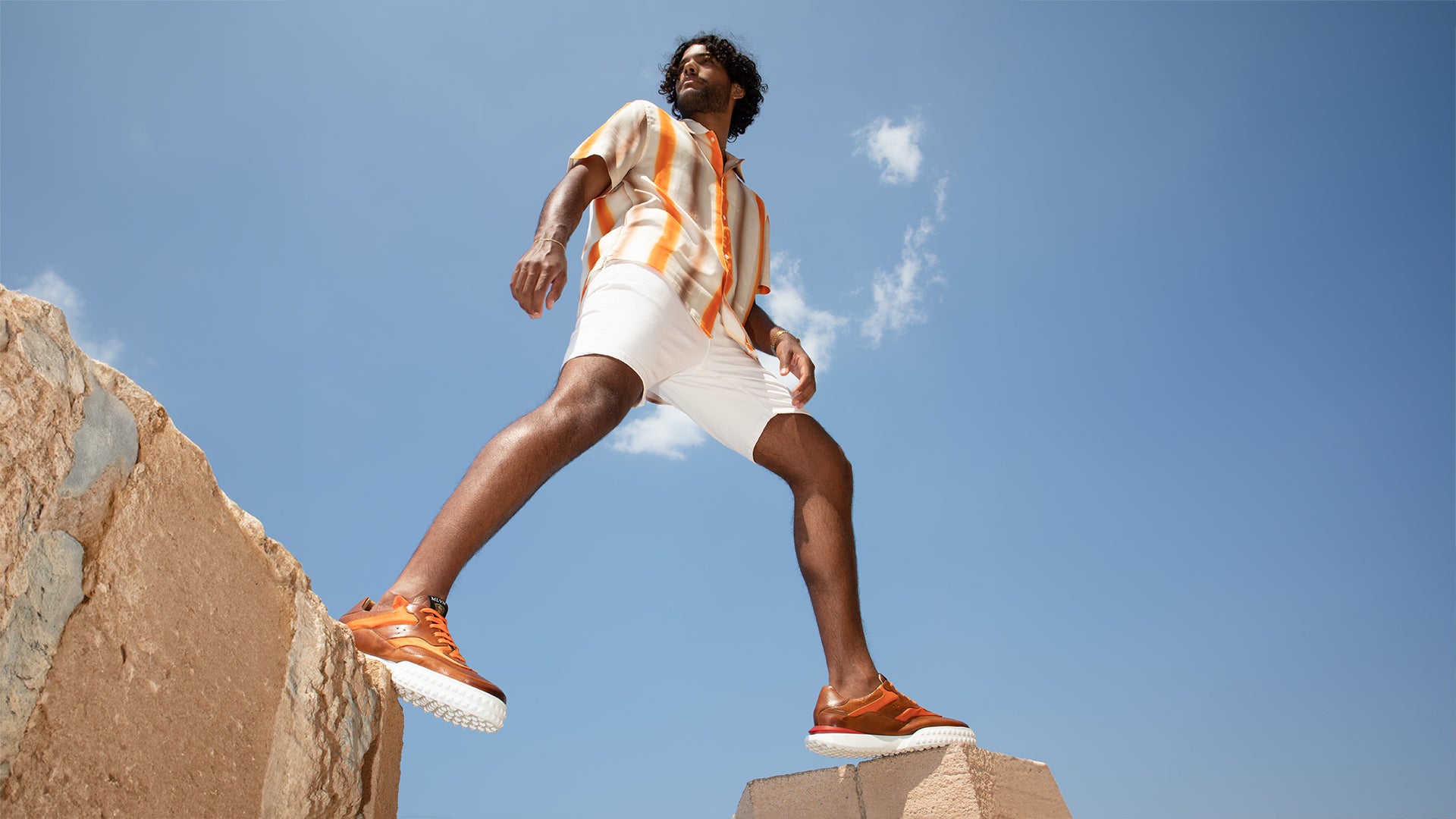 Easy to wear and ultra-light, leather sneakers have become the flagship shoes of men's and women's wardrobes and are reinvented every year. The quintessential timeless model that is unanimously adopted is the white sneaker. For your everyday uniform, this all-purpose colour will be synonymous with an elegant and minimalist silhouette. If you want to stand out from the crowd, opt for a pair of "ugly sneakers" or chunky sneakers: these are the most fashionable and have become style icons over the past few seasons. First spotted on the basketball court, high-top sneakers are finally the must-have sportswear models. They are easy to slip on and provide perfect support for your ankles, ideal for walking the streets comfortably.
02 How to wear high-top sneakers?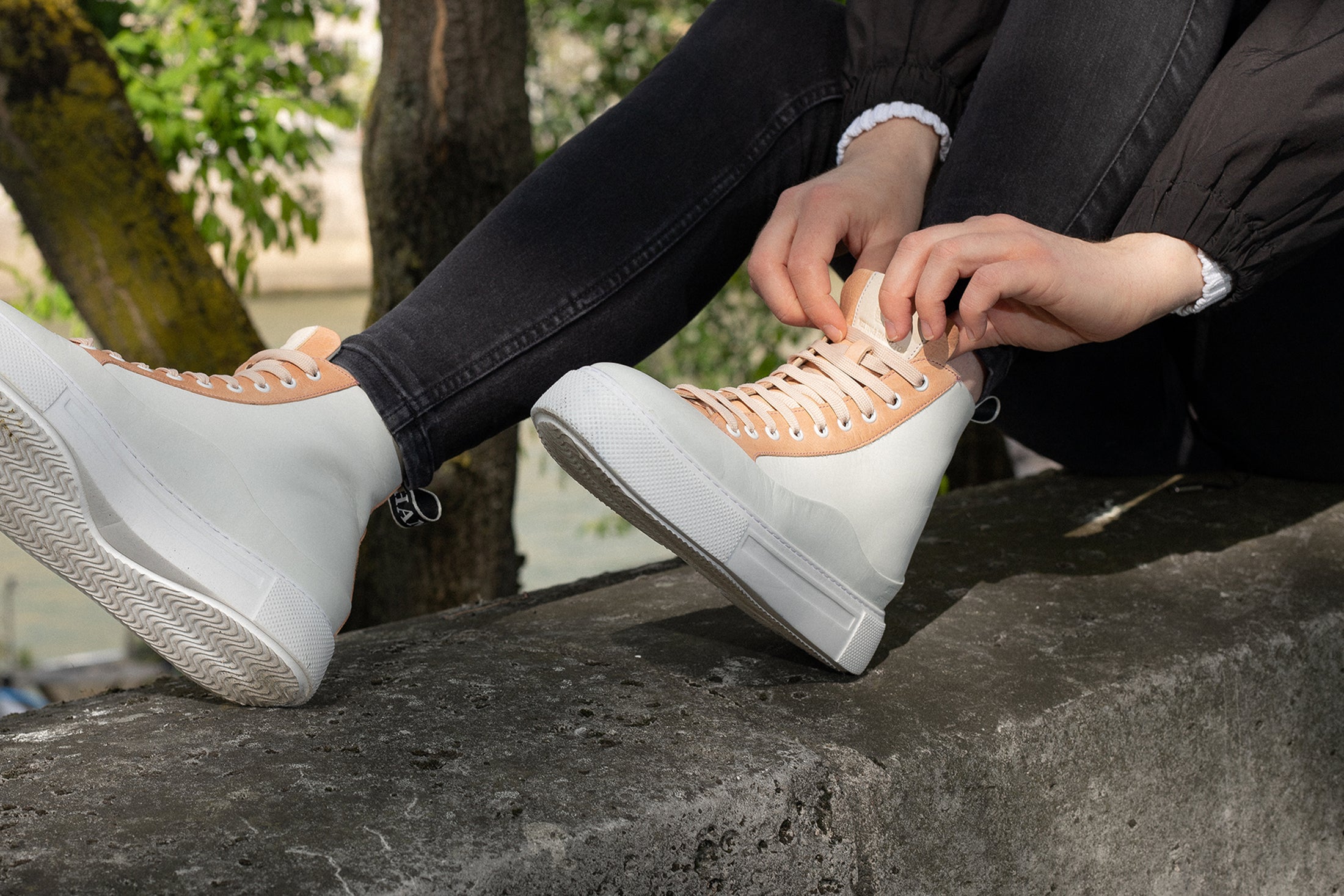 Whatever your foot shape, high-top sneakers are easy to wear, provide perfect support for your feet and go well with a wide variety of outfits. The only important thing to bear in mind with these models is the length of your pants. Neither too short nor too long, the hem of your pants should sit elegantly on top of your shoes. For this reason, opt for pants with close-fitting hems, slim-fit jeans or 7/8ths. For the start of the 2023 academic year, women's high-top sneakers will also be perfect with a long skirt or a mini-skirt and tights.
Our high-top sneakers for men:
Our high-top sneakers for women:
03 What trousers to wear with your sneakers?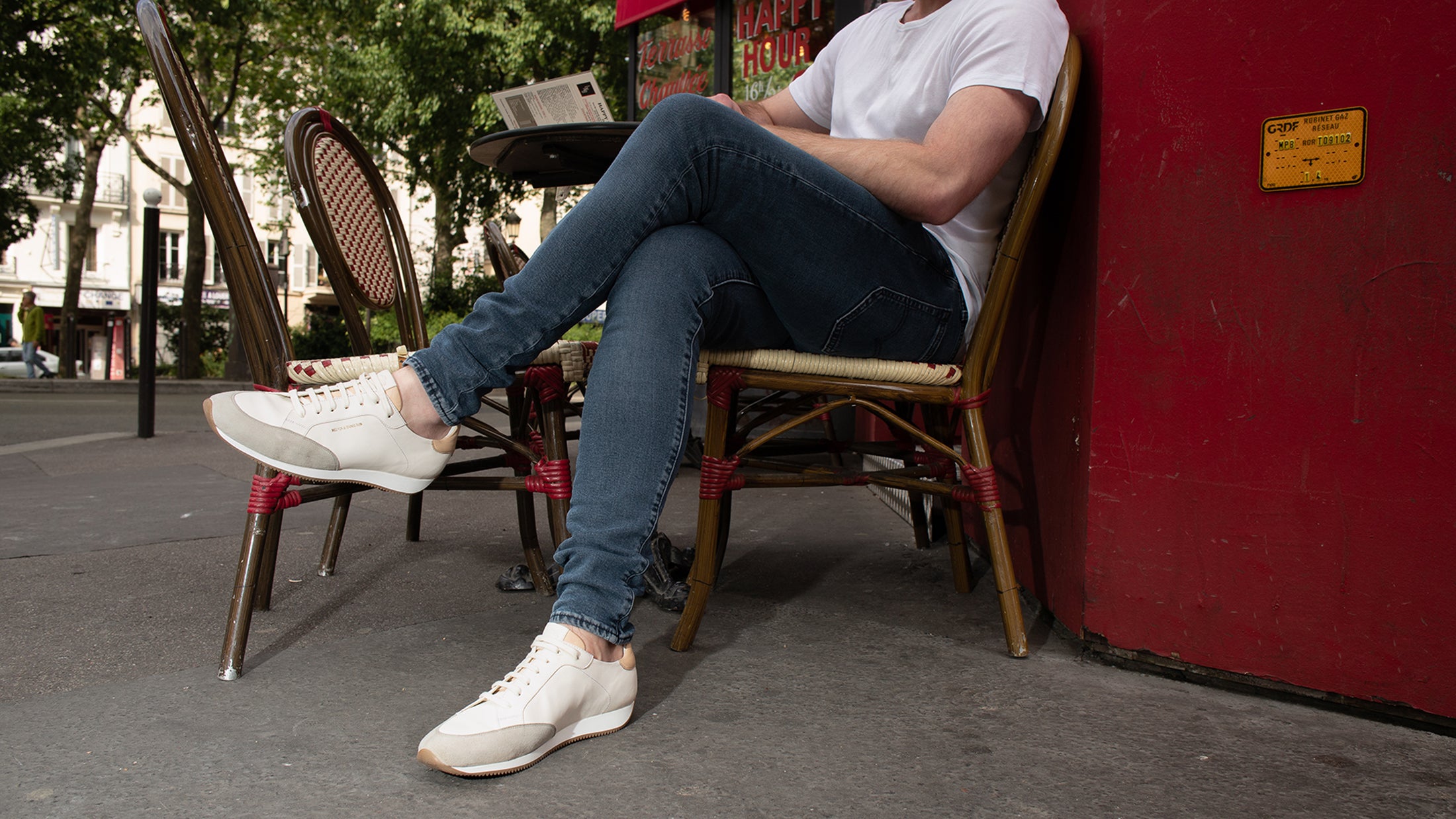 How to look chic with sneakers? Here's the answer to that pesky question without further ado. Shoes are the centerpiece of your outfit, and you should never underestimate the power of leather sneakers to make any outfit look cool: all it takes is the right pair of sneakers to jazz up a look that's a little too formal. To avoid making a faux pas, ignore the trends and keep it simple: a pair of well-fitting men's or women's jeans that fit perfectly over your shoes. For a retro or more contemporary style, sneakers can be worn with a pair of trousers with pleats or with fleece jogging pants. Other more summery options include a white chino for men or denim shorts for women.
04 How to wear your sneakers at the office
With sneakers, no outfit is off limits. They are the perfect joker and the casual asset to modernise and revive a style that is a little too classic. If some people appreciate their comfort, others will be seduced by their hybrid side. At the office, they will be perfect with a long dress, a silk shirt or a colourful t-shirt. For men, wear your leather sneakers with flannel trousers and a white shirt. Timeless and modern, these shoes are the perfect addition to a chic yet casual outfit. In all cases, opt for sneakers that are well-maintained and in good condition: for a clean look, avoid worn or torn sneakers!
The perfect men's sneakers for the office:
The perfect women's sneakers for the office:
05 Which pair of sneakers to choose for a wedding?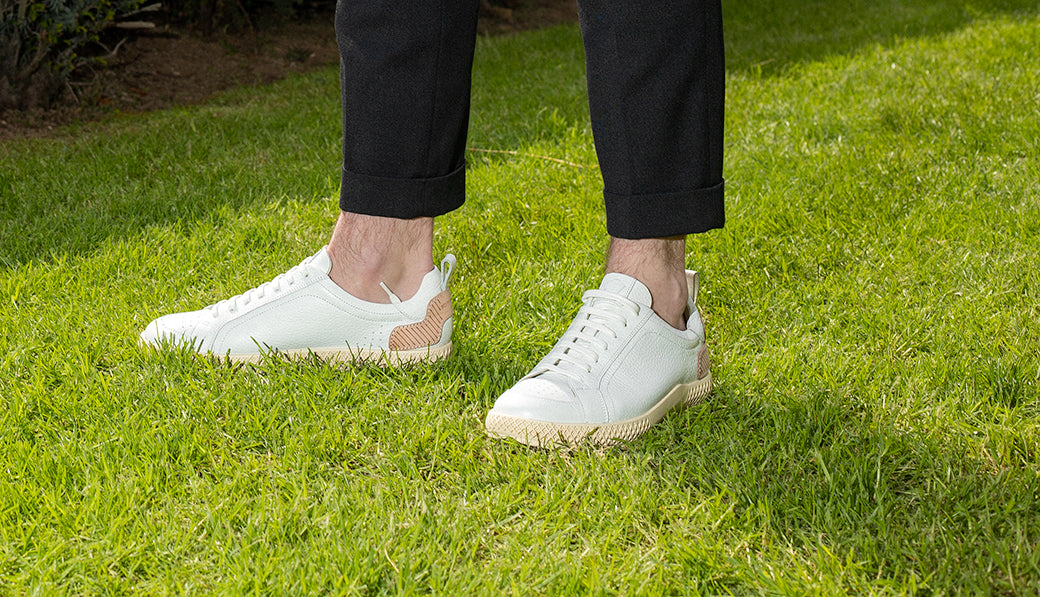 When comfort wins over tradition: wearing sneakers to a wedding ceremony is possible! They have gradually entered the dance and borrowed the codes of luxury by adorning themselves with details, finishes and high-end materials. If you don't fancy the high-top option, make a sustainable choice by choosing sneakers you'll wear all year round, rather than a pair you'll only wear for one occasion. What sneakers to wear with a dress or suit? White leather sneakers are probably the safest option! More daring, multicolored, gold or silver sneakers are a real eye-catcher. When wearing colorful sneakers, make sure the rest of your outfit is relatively neutral so as not to overload your look. Instead, opt for light, solid colors or discreet patterns.
Men's sneakers ideal for weddings:
The ideal women's sneakers for a wedding:
06 Which sneakers should you pack for your holiday?
After packing, unpacking and re-packing your suitcase, don't scatter and choose the essential pair of shoes for a successful holiday: sneakers. They are the perfect shoes to keep your luggage free of clutter during your winter holidays or your summer holiday. Perfect for daytime or evening wear in warm weather, they'll keep you comfortable and adapt to all your activities. As for style, wake up the tourist in you! To complete your summer look, opt for denim shorts, a linen shirt and why not a straw hat.
07 How to take care of sneakers?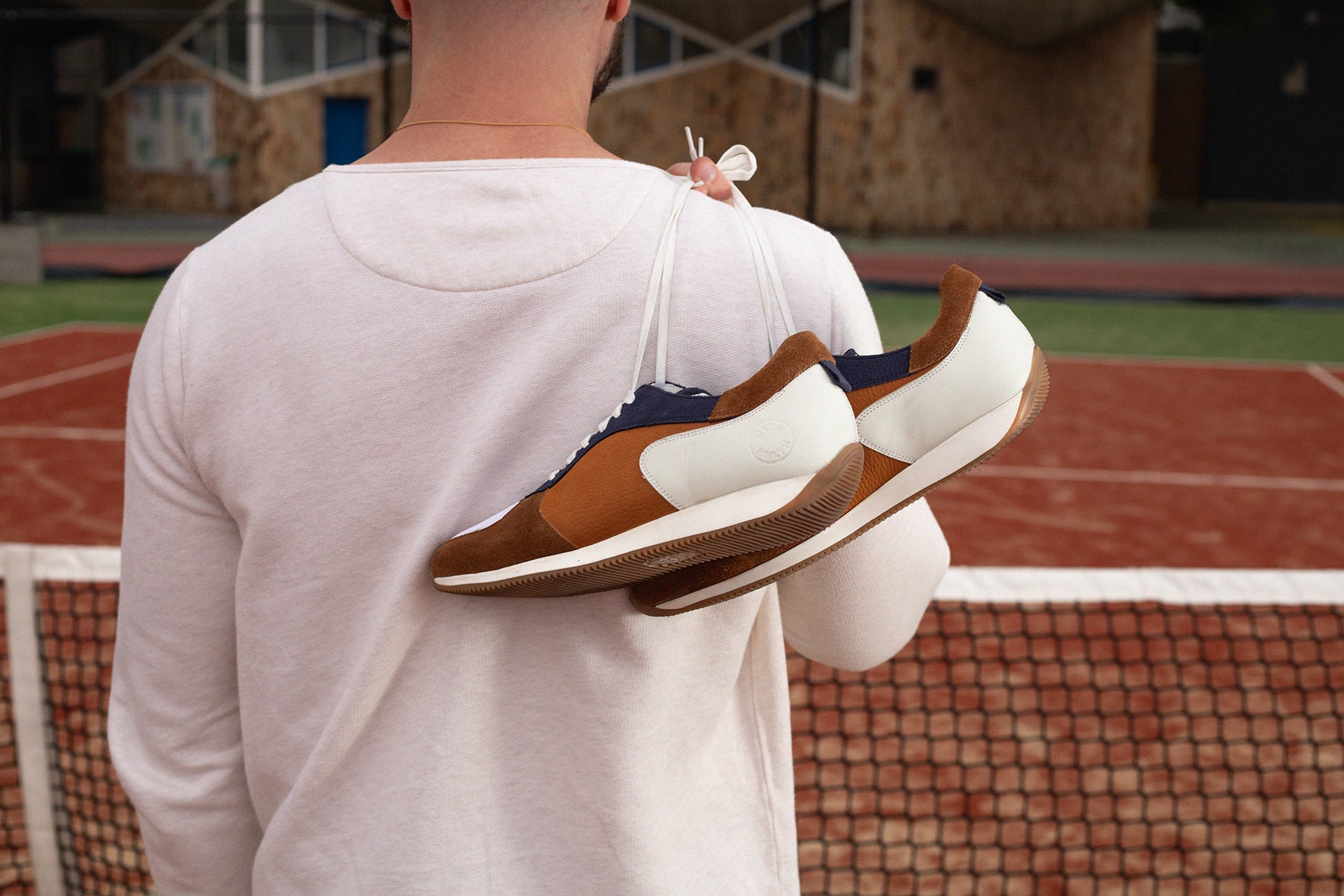 Leather sneakers are no exception to the rule: they need to be cared for. Like all leather shoes, they need a little care. First of all, brush your shoes to remove as much dust as possible and then apply a shoe care cream. Then use a round brush to apply shoe polish to the entire surface of your shoes. After wearing them, don't forget to put shoe trees in your leather sneakers to keep their original shape and avoid any creases. The last step is storage. Ideally, store your shoes flat and out of the light. Find here all the steps to follow and the essential products to maintain your leather sneakers.