Tight laces or uncomfortable rubbing sensation - shoes that are too tight or too wide can have a significant impact on your walk and therefore on your well-being. A pair of shoes that fits the form of your feet is essential for a comfortable walk. The length, but also the width of a shoe are important elements to consider when buying your shoes online to avoid taking too much risk and disappointment.
First of all, you should choose the right size so that your feet are not constricted, but you should also consider certain models and materials when choosing your shoes to avoid friction. Leather shoes are the most adaptable. Leather is a natural material that adapts to a wide variety of foot shapes.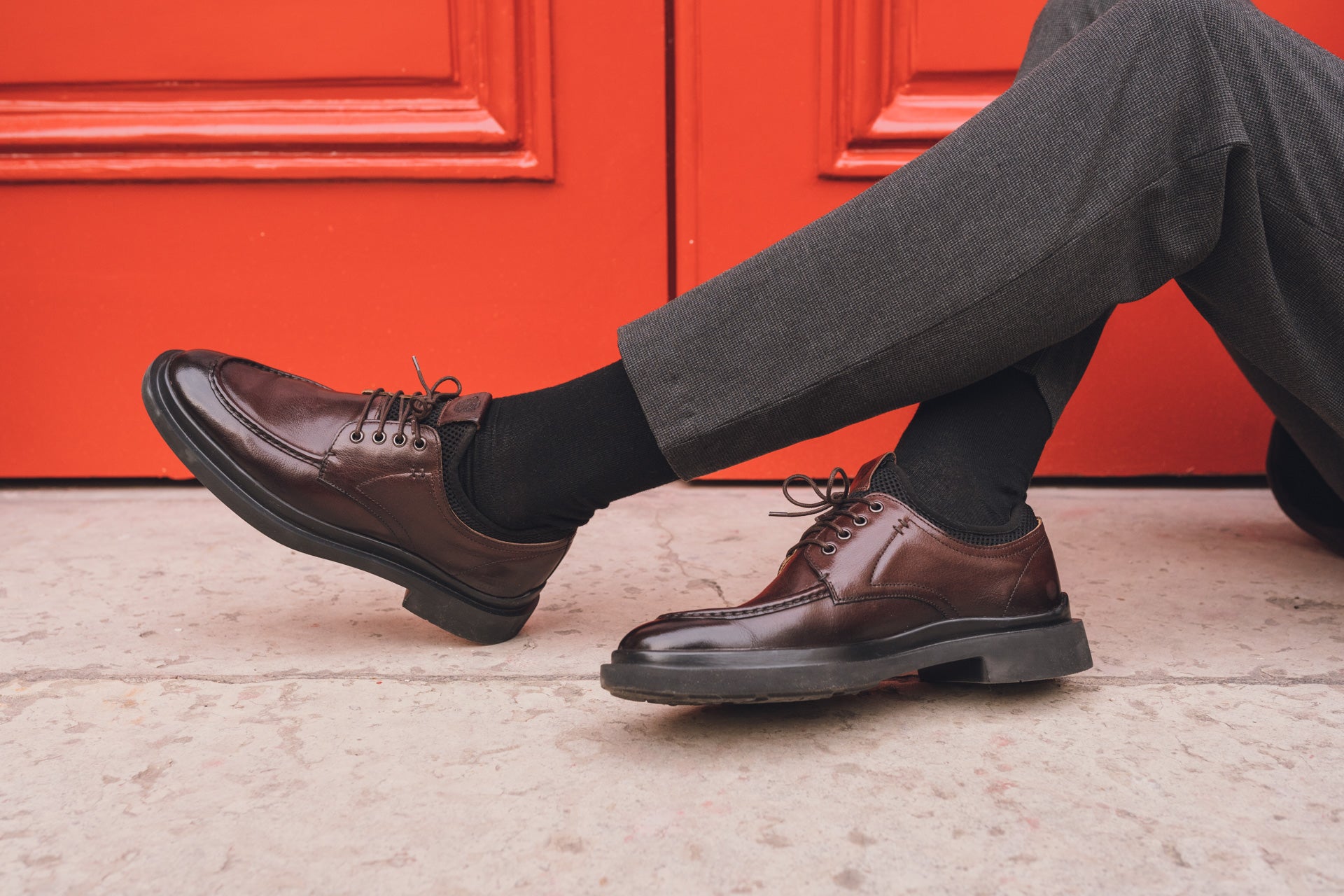 So we have put together a selection of shoes to ensure you will be never underdressed again. Here you will find a comprehensive guide to choosing the right shoes for your foot shape, as well as simple and stylish tips on how to embrace the trends and feel good doing it.
01 Wide feet: which shoes should you choose to feel comfortable?
Wearing shoes that are not optimally adapted to your body shape can lead to pain and incorrect posture in the long term. Muscular calves, wide feet or strong instep - finding the right shoes can be complicated!
When looking for wide fitting shoes, you should opt for open lace shoes such as derbies, certain lace-up ankle boots or hiking boots, and soft materials that adapt to the shape of your foot. Straps will be perfect to avoid having shoes that cut off your blood circulation. If your feet swell in the heat, you can sprinkle talcum powder on the insoles. When it comes to low shoes, avoid loafers and ballet pumps and choose sneakers instead. Finally, avoid pointed shoes and instead opt for shoes with a wide toe box.
Our perfect men's shoes for wide feet:
Our perfect women's shoes for wide feet:
02 Narrow feet: which shoes to choose to feel comfortable?
If you're tired of shoes that are too wide at the sides, here's a paragraph that might interest you. First and foremost, shoes whose width can be varied by straps or buckles are perfect for your feet: Leather sandals for summer, monks or narrow oxfords for the midseason.
To prevent you from slipping out of your shoes, you can also insert an insole or wear thick socks to support the arch of your foot. As for the shape, pointed shoes are suitable for narrow feet. When it comes to materials, you can opt for more rigid materials, from thick leather to patent leather.
Our perfect men's shoes for narrow feet:
Our perfect women's shoes for narrow feet: