The sun is at its zenith, the skin is radiant and the hair is golden. With all these sights, you could almost forget that in September the holiday season is almost over - but we'll be happy to remind you. To keep your spirits up and your return to reality smooth, we recommend all-round shoes that are ideal for summer and perfect for the transitional season.
Sneakers, mules, sandals, loafers... There is no shortage of shoe models for women. For an elegant and light gait, however, you should opt for the star of ballet: Leather ballet pumps. They were the privilege of opera rats before becoming the symbolic shoe of pop culture, making several notable appearances on the feet of Brigitte Bardot or Kate Moss in recent times.
Iconic and popular, these soft leather ballet shoes are synonymous with elegance and true ambassadors of the French touch. To embrace these flat shoes that are easy to wear with style, let's take a look at the must-have ballet pumps of the summer. A fashion trend that still has a long way to go!
01 What are the different types of ballet pumps?
The classic style of these super easy to slip on shoes has been a hit for several seasons. Ballet pumps are by definition flat and comfortable shoes. Whether open or closed, with a round or pointed toe, they come in a variety of styles and will suit any style. They can be worn with tights in winter, or barefoot with a bit of talcum powder as soon as the temperature rises. At Melvin & Hamilton, top-of-the-range materials and pop colours are given pride of place: red, white or black ballet pumps, matt or patent leather ballet pumps.
02 What pants to wear with ballet pumps?
The good news about these shoes is that they can be worn with everything. For a look that works every time, jeans seem to be the best ally for ballet pumps. For a preppy look, wear your ballet pumps with 7/8 or skinny jeans, a white shirt and a blazer. To accessorise your outfit, pick a scarf, a leather belt or large earrings from your jewellery box. For a more casual look, opt for boyfriend jeans or rolled-up cigarette jeans. The ultimate in elegance, ballet pumps are perfect with flannel pants or a velvet culotte skirt for a retro look this winter.
03 How to wear ballet pumps to the office?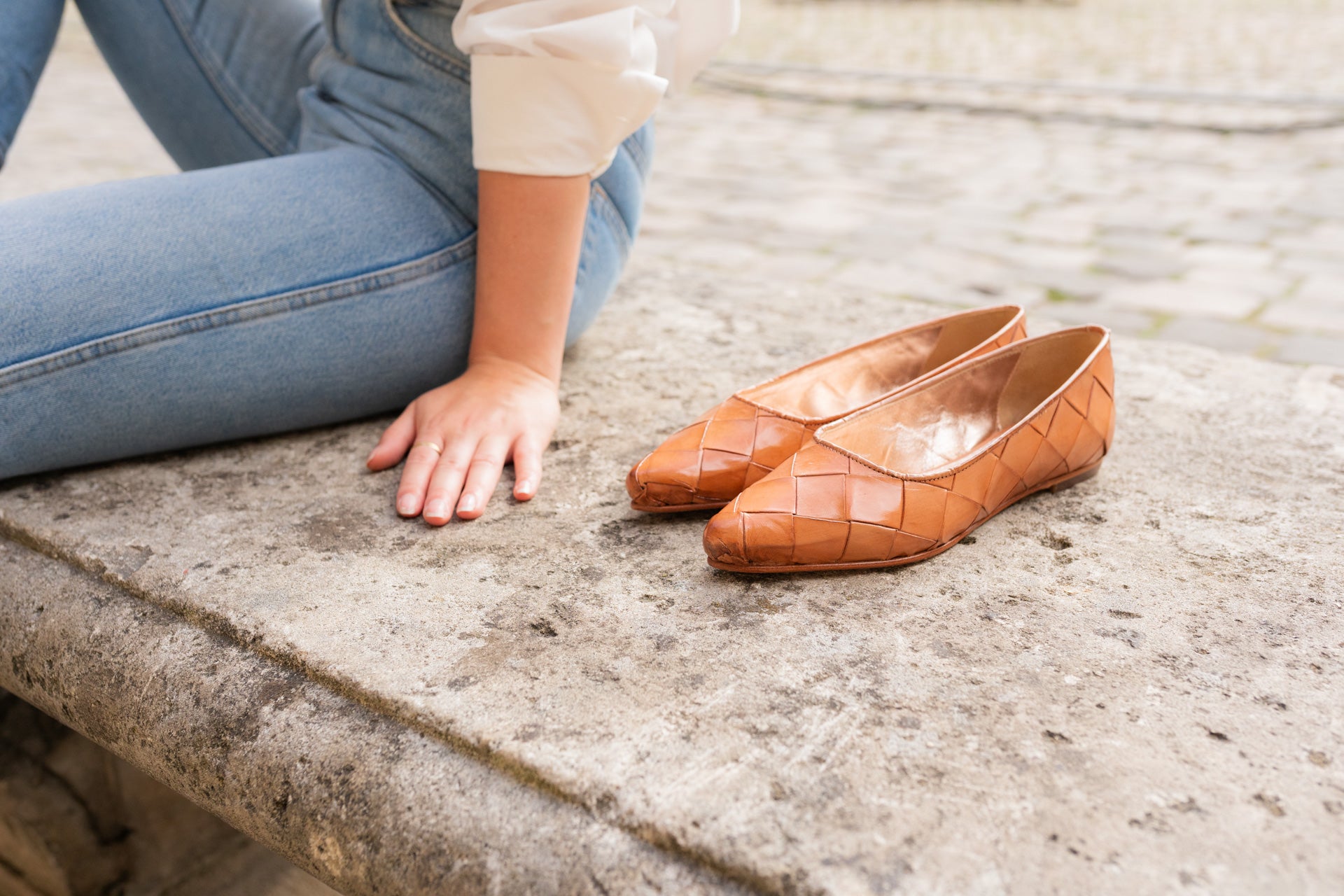 These timelessly stylish shoes are on the rise. They'll be perfect for comfortably getting through meetings and finishing the day with a drink on the terrace, without having to go home to change. For a silhouette that works whatever the season, opt for a belted shirt dress and black ballet pumps, casual but super chic. For a summer look, opt for a white or printed t-shirt, denim shorts and white ballet pumps. For winter, wear colourful ballet pumps, high-waisted jeans, a trench coat or a leather jacket over a thin jumper.
04 Which pair of ballet pumps to choose for a wedding?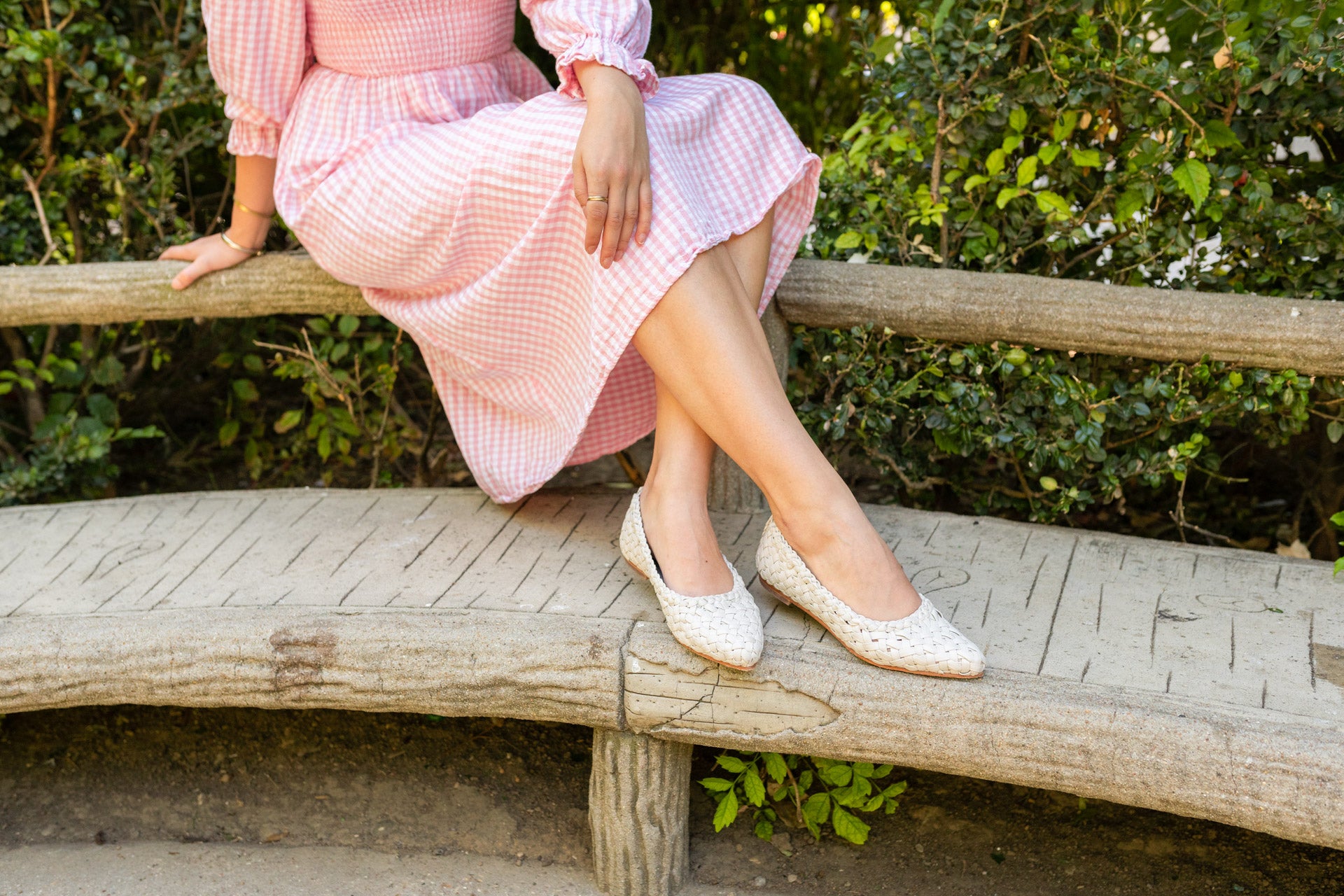 Whether you're a bride or a guest, you've found the dress of your dreams for the big day. The only problem is that you are still missing the key piece of your outfit: your shoes. Good news for comfort lovers and flat shoe aficionados, ballet pumps are the ideal shoes to wear to a wedding. For the occasion, they are adorned with their most beautiful festive details and come in satin tones: silver, gold or iridescent ballet pumps. As for the look, there is a wide choice to celebrate this unique day: a long dress with flower print, satin skirt, silk slip dress, white dress with straps, patterned wrap dress...
05 Which ballet pumps to pack for your holiday?
A coffee in the sun, a visit to a museum, dinner in a restaurant... Your holiday schedule is (super) busy. So you need all-purpose shoes that you feel comfortable in and that won't take up too much space in your luggage. Leather ballet pumps tick all the boxes! If you're the type of person who doesn't leave anything to chance, even on holiday, these are the shoes that are tailor-made for a chic silhouette and a fast-paced life. The models compete in originality and can be worn with jeans and a hoodie during the day, or with a little black dress in the evening.