If the mere mention of the word "back to work" sends your mood into a tailspin, and if September is synonymous with gloom, don't let it get you down this year! To brave the back-to-work season in style and make a smooth transition to autumn, we've scouted out upcoming trends and created a collection of shoes made to last more than a season. From animal prints to trendy shades of green, from extravagant styles to more classic designs, our Autumn/Winter 2022 collection is made up of great pieces to wear all year round. So without further ado, which shoes to choose this autumn-winter?
Your return to the office will be a stylish one. The mid-season wardrobe marks the comeback of leather boots and lace-up city shoes! They are making their way back into men's and women's wardrobes. Dark brown, forest green, burgundy or purple... Our new models come in a range of elegant colours, perfect for gradually forgetting the sand and salt water. With thick soles or notched platforms, the new season's shoes are comfortable and resistant, ideal for long walks. To slowly turn your back on summer in style and get back into the swing of things, here are the must-have mid-season shoe trends.
01 Men's shoes: what are the trends for autumn-winter 2022?
Like leather sandals in summer, men's ankle boots are undoubtedly the shoes of autumn. Whether minimalist or more original, monochrome or multicoloured, these men's wardrobe basics are indeed the must-have shoes of fall. With a cotton chino, suit trousers or raw denim, they are the perfect hybrid shoe that you can wear with everything.
The timeless lace-up boot is also making it's comeback this month! Perfect with a blazer in autumn or a warm wool coat in winter, there is a real craze for this model, modernised by a thick or notched sole. Are you a fan of simple outfits and neutral colours? Then look for the extra touch of elegance provided by the chic details and modern lines of our leather ankle boots. If you like to mix materials and colours, then Chelsea Boots are the way to go.
02 Women's shoes: what are the trends for autumn-winter 2022?
It's time for the return to the office and you don't know what shoes to wear when the weather gets a little cooler? For a casual silhouette, our leather sneakers are the ideal mid-season shoe. For a modern look and a dressy approach, opt for gold loafers with notched soles. This is definitely the pair of shoes that will make a statement this season! This model can be worn with a floral dress as well as with straight, chic and casual jeans.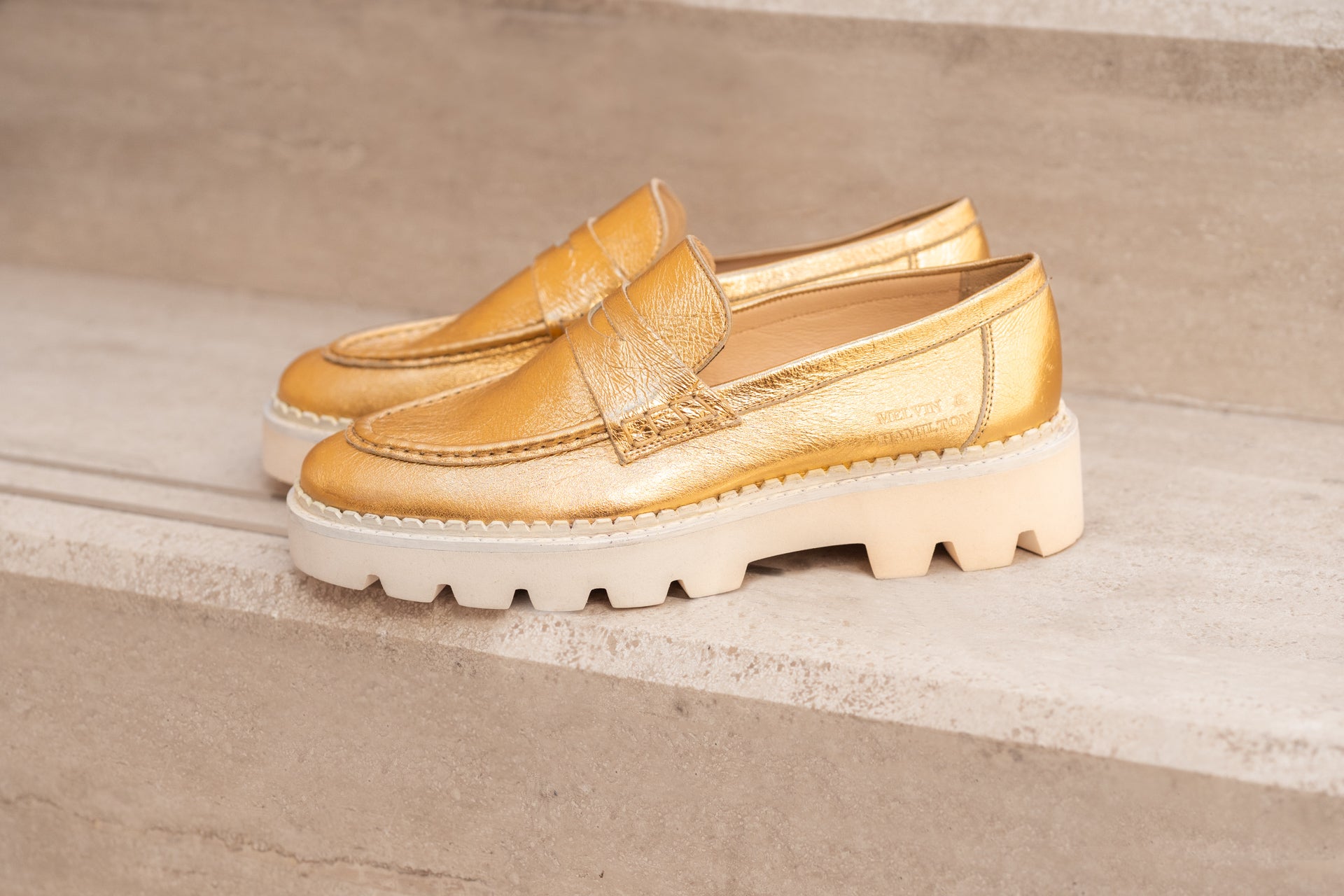 To create a bohemian look, opt for leather boots, with or without tights. The new season is perfect for getting back into these trendy must-have autumn styles. A good dose of chic and comfort for a casual look at the office, which will go perfectly with slim jeans or a long dress depending on the occasion. An unbeatable head-turning silhouette to fall for this fall!
03 The must-have bags to go back to the office in 2022
Here's your perfect ally to get back to the office in style! If you don't want to go all out with your shoes, what could be better than a handbag or leather accessory to revive a look that's a little too classic for your taste? The most subtle way to make a trend your own without appearing overdressed is to opt for a bag, a real fashion asset for your outfit.
The natural tones and soft colours of back-to-work bags are the perfect twist to a monochrome look. The play of textures and patterns in the details: handles, shoulder strap, trimmings... will enhance your look with elegance. Super practical and a real style booster, these bags will also accompany you on a few days' getaway to the seaside or the countryside.