An essential shoe style, women's white shoes are a real style joker that works every time. Whether you're on the lookout for trends or motivated by the practicality of a look, white brightens up a silhouette in the blink of an eye and can be worn with everything from pastel shades to the brightest colours. In a monochrome total look or in accents, this timeless shade has everything to please: cream, beige, ecru... The palette is vast and can be adapted according to tastes and seasons! However, if the devil is in the details, this model is certainly no exception to the rule! With white shoes, it is indeed essential to redouble your efforts to keep them as new, or at least clean.
Whether you're super active with a fast-paced life or top of the class when it comes to lounging in the sun, there's a pair of crisp shoes for everyone: ballet pumps, sneakers, mules, sandals... So which white shoes should you choose? What socks to wear with white shoes? And finally, how do you clean your white shoes? You're just in time! Timeless, chic and undeniably trendy, we have carefully selected the pairs of white shoes to wear all year round, and here we give you our tips for reinterpreting this basic feminine wardrobe with style.
01 What kind of pant to wear with white shoes?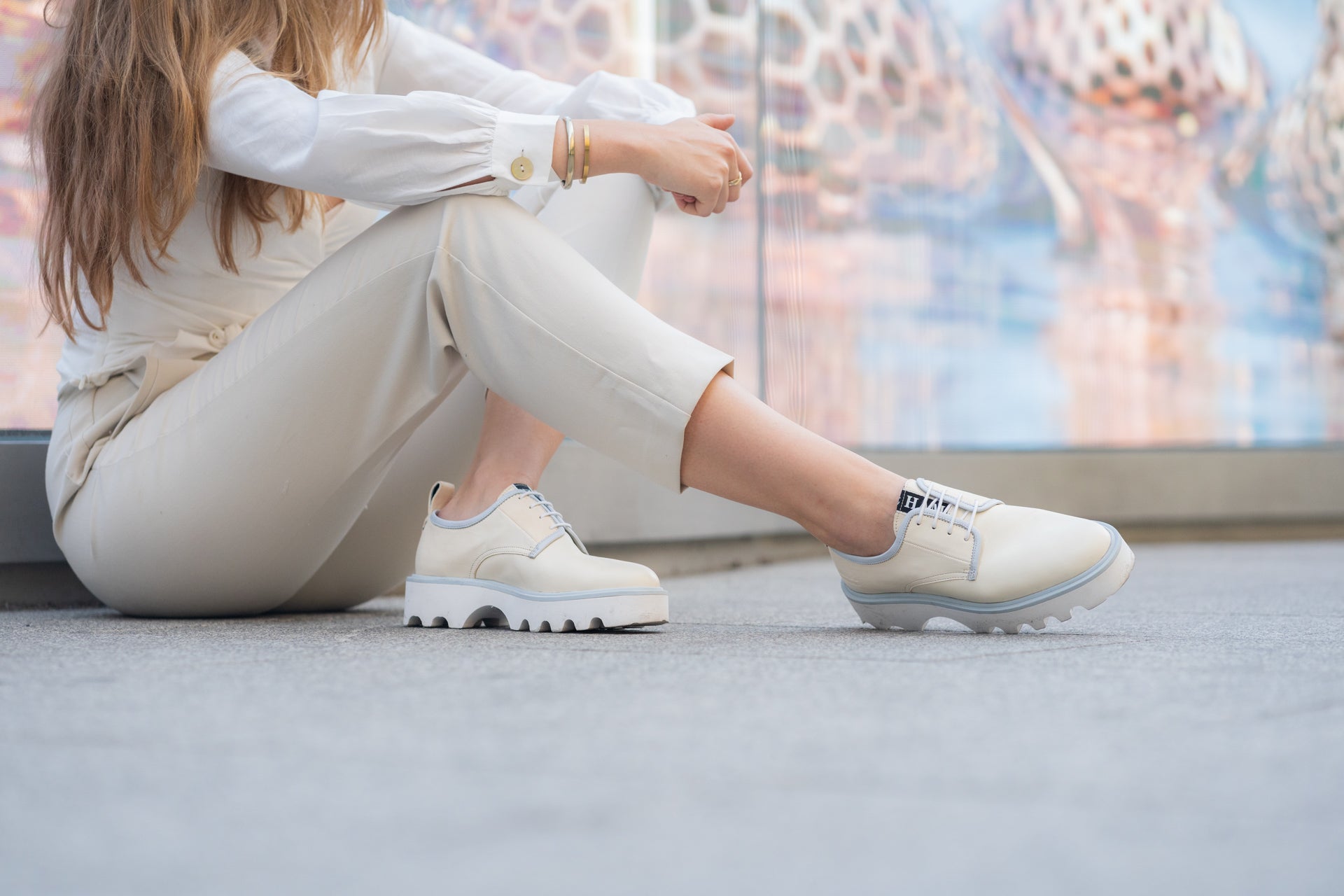 For those of you who lack inspiration in the morning, white shoes are a great ally: they are probably the easiest to combine with any outfit. When it comes to pants, give your creativity free rein! Structured cuts: straight jeans, skinny jeans, cigarette pants... Or on the contrary, more fluid cuts: leggings, culottes, mom jeans, cotton chino... You can go for it with your eyes closed. As for colour, opt for tone in tone: beige, cream or white trousers, or create a contrast by choosing pop colours: bright orange, fuchsia pink, electric blue...
02 How to wear white shoes in the office?
Chic and eclectic, white shoes bring a breeze of freshness to your wardrobe! Halfway between a classic silhouette and sportswear, white sneakers and white ankle boots are ideal for a casual, dressed-up look to wear to the office. With a blazer jacket, light dress or shorts in summer, white shoes worn with invisible or mid-height socks will be perfect for a comfortable series of meetings. At Melvin & Hamilton, we are committed to enhance our craftsmanship while paying special attention to creating wearable leather shoes that you will feel comfortable in all day.
03 Which pair of white shoes to choose for a wedding?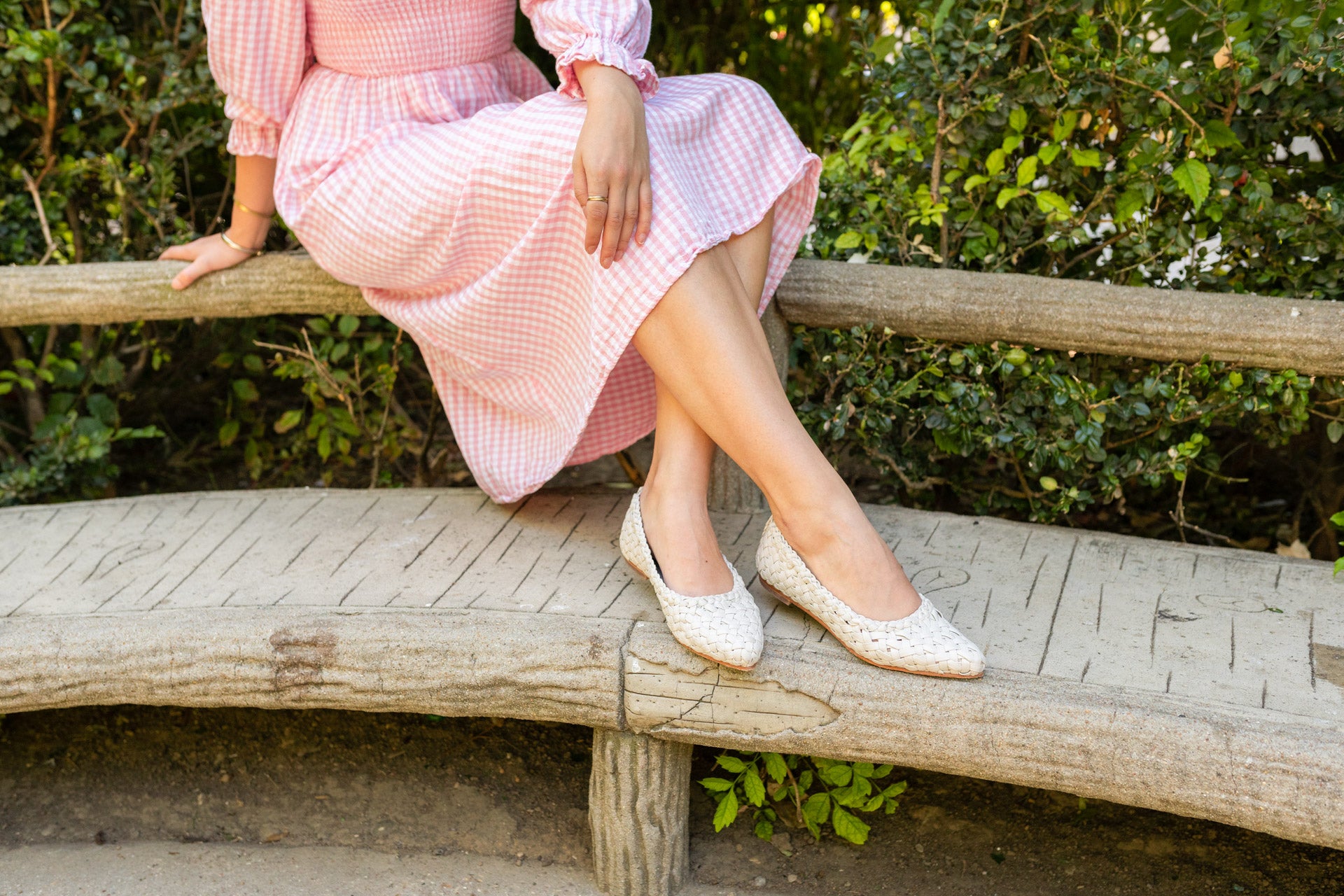 White shoes are so easy to wear that it's hard to make a mistake. To make a subtle statement and create a refined look, these shoes are perfect. For a country wedding, choose a long fluid plain or printed dress and opt for white sandals, perfect alternatives to high heels. For a city wedding, choose an embroidered blouse, a silk skirt with a slit and white mules. For the ceremony at the town hall, opt for a lace camisole, coloured suit trousers, a matching tuxedo jacket and a pair of white wedges.
04 Which white shoes to pack for your holiday?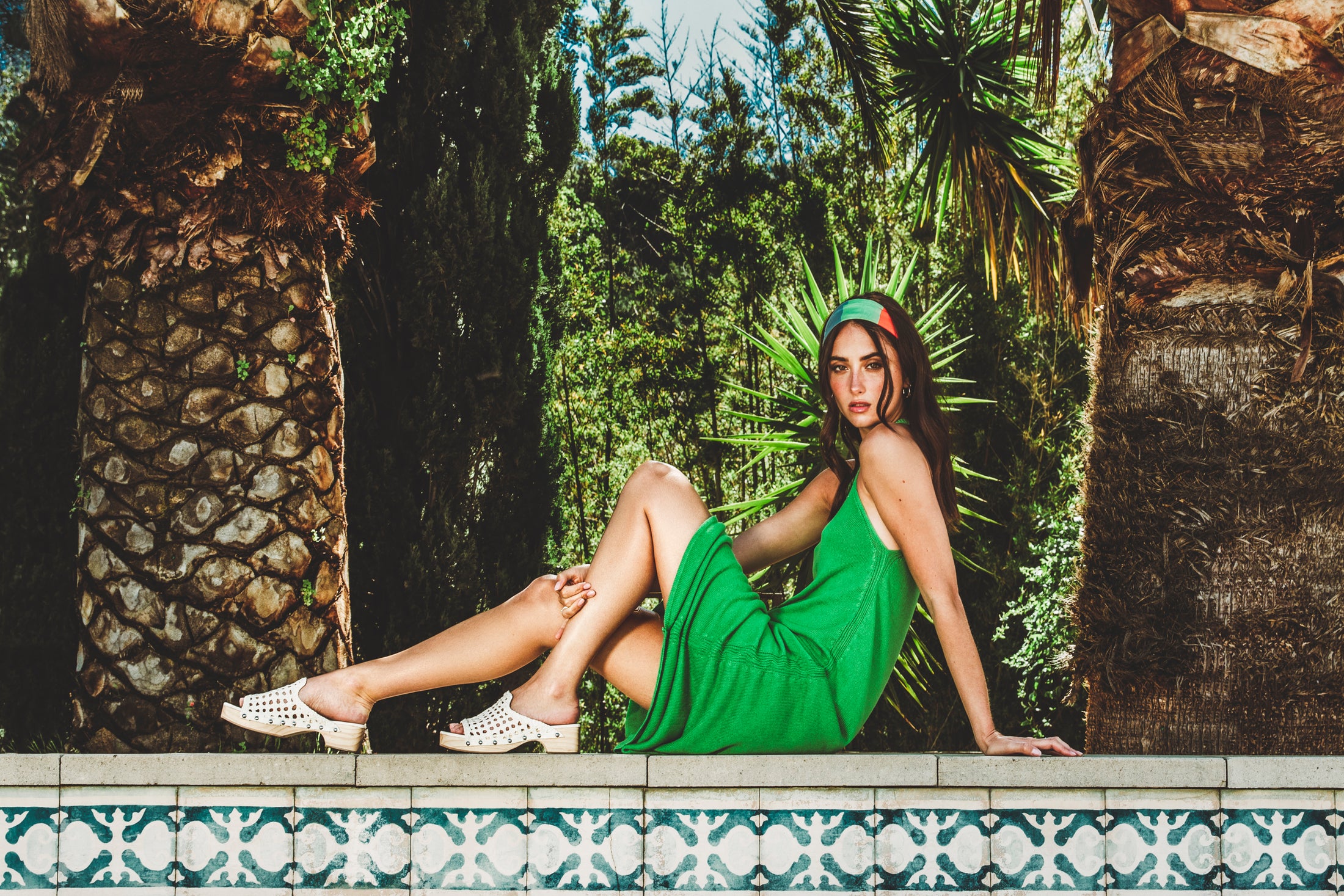 For a weekend getaway or a longer trip, white shoes are always a good idea. For a foolproof combination day or night, and especially during the summer season, opt for a hybrid pair: white sneakers, sandals or even white loafers. In the daytime with light blue jeans and a linen t-shirt, twist your silhouette in the evening with black fluid trousers and a printed silk shirt. A demanding style cleverly built around your leather shoes, the centre piece of your outfit.
05 How to clean your white shoes?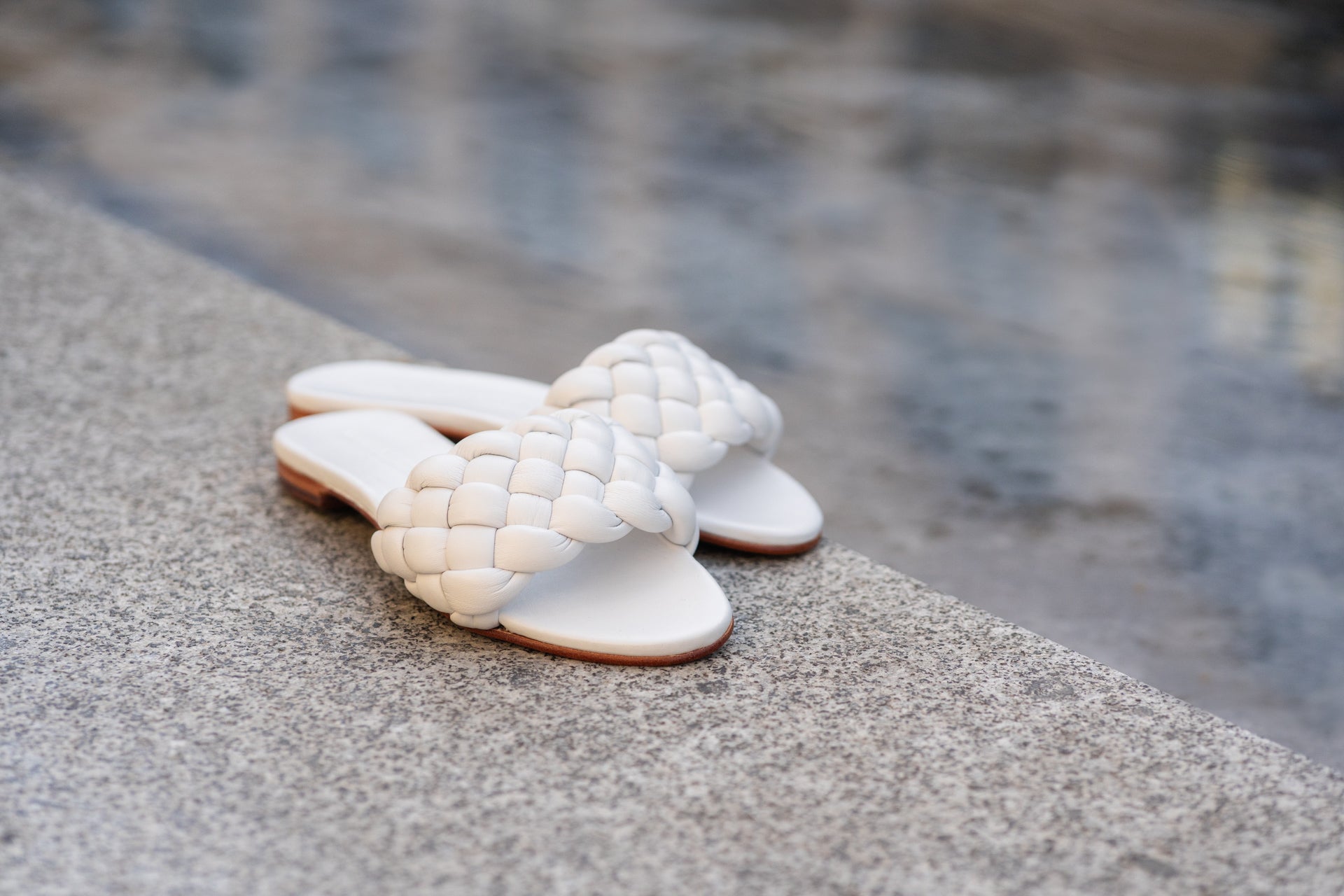 You've probably already experienced this problem: the anxiety of wearing your white shoes for the first time. If you want to make a point of keeping them spotless, you should know that with regular care your shoes will last you for many years. A simple task, even for the most inexperienced! While our complete guide details each step, here are the most important elements: first brush your shoes to remove dust, then rub off stains with a damp cloth, and finally shine your shoes with a dry cloth. Even under the most intense examination, your shoes will look as good as new!