A breeze of freedom is blowing through the autumn fashion world: the back to work 2023 season will be marked by audacity. The structured lines of the models in our new collection outline the contours of a gentle season and guarantee looks with a modern edge. In contrast to the classic colours of dress shoes, our models are available in a range of warm colors, from the softest to the most flamboyant. With thick soles, supple materials, elastic and discreet lacing, our autumn-winter 2023 leather shoe collection is all about comfort.
Our derbies, sneakers, Chelsea boots and loafers are designed without unnecessary styling effects, focusing on a precise, well-fitting design for a light, confident walk. Minimalist or cutting-edge, whether you're a fan of suits, black chinos or blue jeans, our shoes will complement any outfit with elegance. Which models will catch your eye this season? In this article, you'll find all the footwear trends for autumn/winter 2023, so you can start the new season in style. To discover our entire new collection, click here.
01 Autumn-winter colour trends: an anthology of shades to adopt for back to work 2023
This season's key colours are both bold and subtle. The autumn-winter 2023 colour trends include olive green, brown, charcoal grey, orange, dark red and black. Warm tones in an autumnal colour palette that goes perfectly with autumn looks. Whether you opt for derby shoes, Oxford shoes, Chelsea boots or loafers, you'll find the perfect colour to enhance your style.
02 Men's shoes for autumn-winter 2023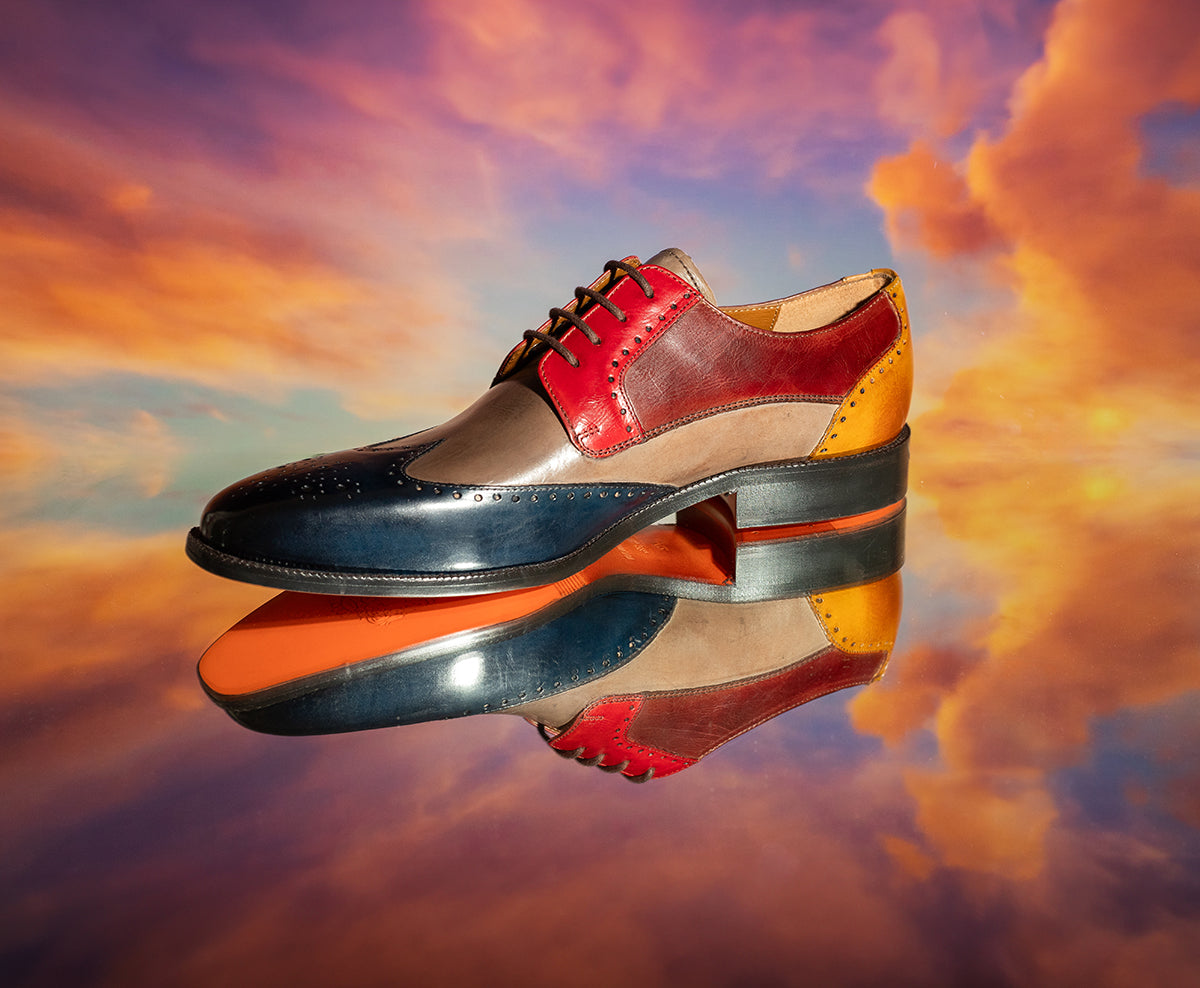 Which model of shoes should you choose this autumn to match these warm colours? This season, opt for high Chelsea boots, bold and sophisticated, or choose models with notched soles for a more casual, modern look. With their simple design and timeless finishes, these leather boots offer casual elegance for every occasion. Worn with denim jeans or flannel trousers, these boots will instantly add a touch of character to your style.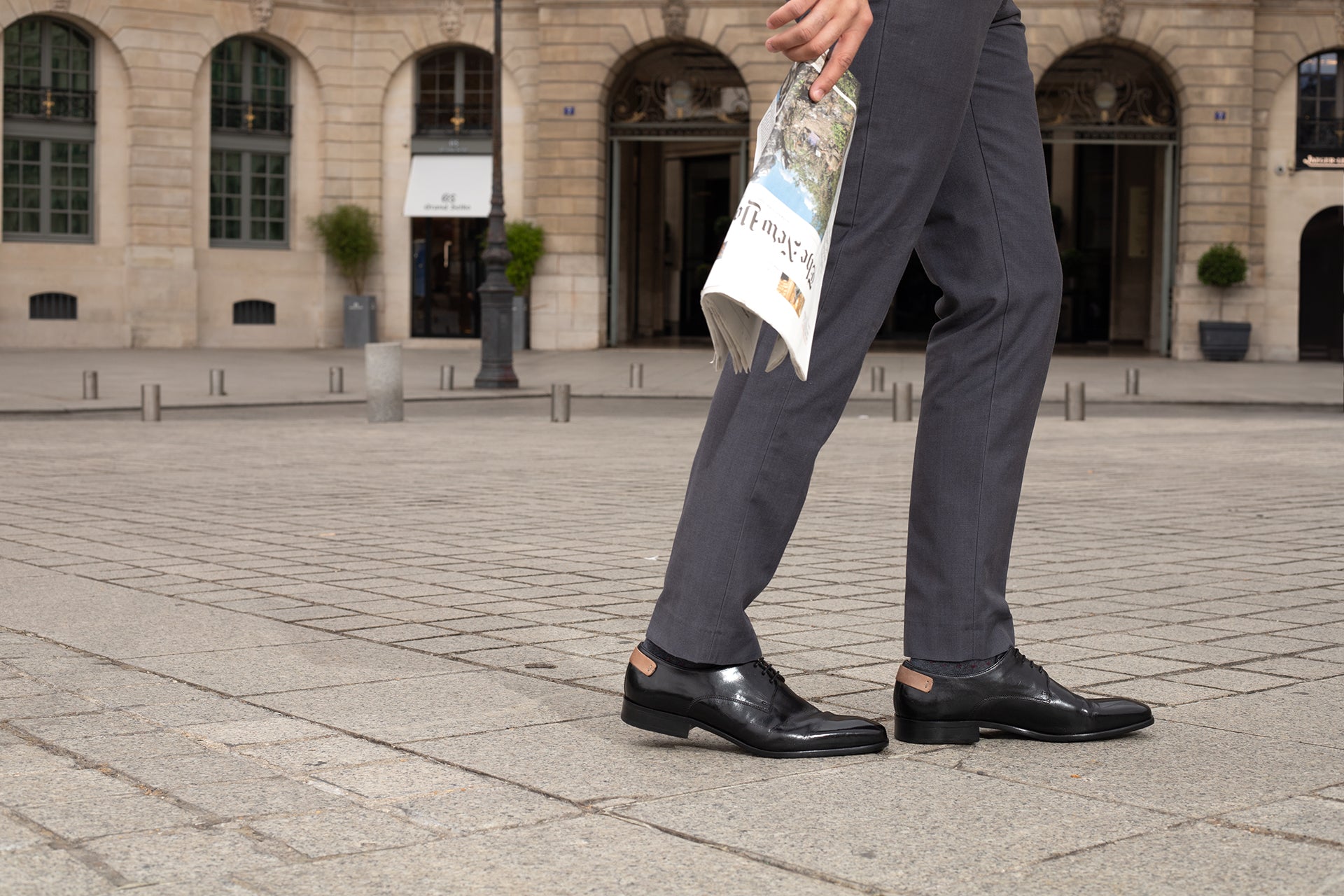 Timeless, men's derbies and Oxford shoes are the essence of elegance. Opt for smooth leather models for a formal look, or choose models with brogues for a more casual twist. Or are you looking for absolute comfort without compromising on style? The leather sneakers in our autumn-winter collection are the ideal alternative. Their design and supple leather ensure a perfect fit all day long. For a day at the office, or a spontaneous weekend trip, they take up very little space in your suitcase and can be worn on any occasion, with a chino with a well-tailored fit or with denim shorts.
To see our new Autumn-Winter 2023 men's collection, click here.
03 Women's shoes for autumn-winter 2023
It's possible to reconcile style and comfort, and the leather ankle boots in our new collection rise to the challenge. They'll be the must-have shoes for autumn 2023, paired with a beige trench coat and white pants for a trend-setting outfit. With their light step and slim silhouette, heeled Chelsea Boots also offer a perfect balance of style and practicality. Worn with a midi skirt and tights, or with cigarette trousers, they add a refined twist to your autumn wardrobe. An important detail: their thick soles or platforms are designed to withstand winter weather.
When it comes to low shoes, leather derbies are the symbol of timelessness. Designed with embossed detailing, high-end finishing and delicate lacing, derbies offer unrivalled refinement. Pair them with a knitted long dress or high-waisted pants for a look that won't go unnoticed. If you'd prefer to wear slip-on shoes this autumn, platform loafers or with notched soles are the perfect option. They offer absolute comfort while adding a preppy touch to your outfits. Barefoot or with socks, worn with a mini-skirt or velvet pants, moccasins promise elegant, relaxed style in all simplicity.
To see our new Autumn-Winter 2023 women's collection, click here.