Fashion may glorify change, but it's still a good idea to have a pair of timeless shoes you can count on, no matter what the current trend. Do your style desires fluctuate according to your moods? Then black shoes are your best bet: this timeless colour leaves a lot of doors open in terms of looks. Available in a myriad of models, black leather shoes are an essential element of the male wardrobe. Sober and elegant, they can easily be worn with all types of work outfits, from dressy to casual. Beyond their versatility, why choose black shoes? They are very easy to clean and maintain, making them practical for everyday use.
If the business uniform seems monotonous, then it's time to choose a pair of shoes that will subtly enhance your look. Derbies, oxfords, ankle boots and loafers are all popular options that can be considered depending on your office's dress code. Check out our guide to finding the perfect shoe to suit your personal style: from dressy to casual, we've selected stylish and comfortable styles to keep you comfortable at work.
01 The different styles of black shoes for men
Black derby shoes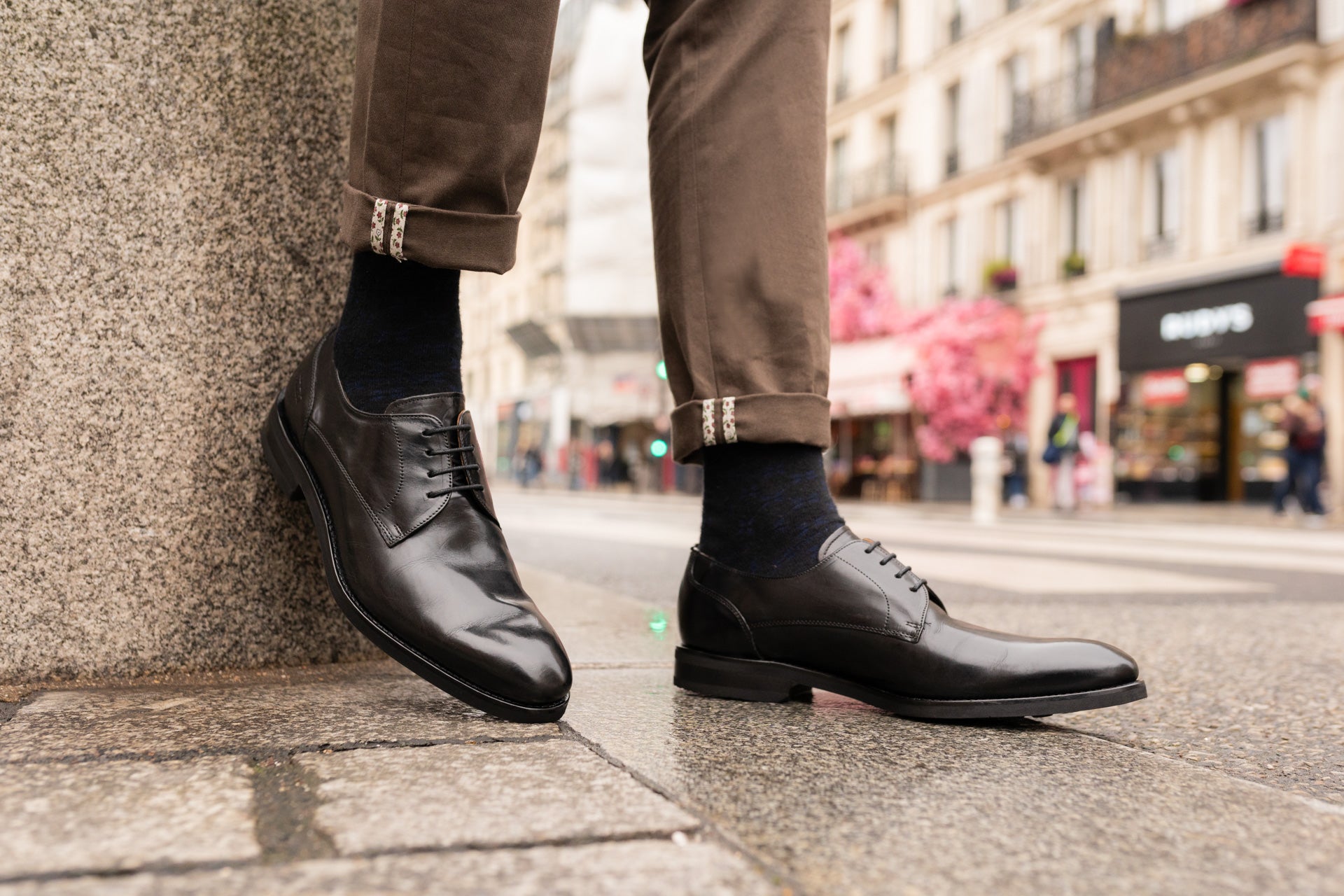 Black derby shoes are a classic option. Their elegant lines will match all types of outfits, from dressy suits to washed blue jeans. The derbies have open lacing and a three-piece leather composition, which allows them to fit different foot shapes. Finally, with their fine leather laces, they will bring a sophisticated touch to all your looks.
Black Richelieus or Oxford shoes
Richelieus or Oxford shoes differ from derbies in many ways. They have a more closed look, with the lacing directly into the two pieces on top of the shoe. These classic dress shoes, with or without floral golf toes, are timeless. They will look great with a light grey suit, a white shirt and a dark blue jumper.
Monks or black buckle shoes
A buckled variation on the derby shoe, the black leather monks with their metallic detailing are a stylish and sophisticated option for the office. If you want to stand out from the crowd, opt for this pair of shoes with a unique look. Black buckle shoes are best worn with a dark suit and are a great choice for special business occasions.
Black loafers
Worn with socks, men's black loafers are the casual alternative to going to work. Made of soft leather, easy to slip on and off, these timeless shoes have a comfortable sole that makes them very practical for everyday wear. Leather loafers can be worn with well-fitting jeans, cotton chinos or suit trousers.
Black boots
If you want to stay warm and chic, leather boots are the perfect choice. Chic and modern, your black boots will look great with rolled up jeans and a well-cut white t-shirt. For a more formal look, you can wear your black boots with a blue or dark grey suit and a white shirt. In winter or mid-season, slip on a blazer to complete your look! For a comfortable stroll through the open space, make sure your leather boots are well-fitting, not too tight or too loose around the ankle.
02 FAQ: All about black shoes for men
How do I care for my black shoes?
To maintain your black shoes, make sure you clean them regularly with a damp cloth and polish them to protect them from scratches. For detailed information on the steps involved in complete shoe care, please consult our guide to shoe care.
Can I wear black shoes with coloured socks?
Our answer is yes! However, choose from similar colour schemes. It's important to choose thin socks that match the colour of your shoes. Similarly, black men's shoes can be worn with coloured suits, if the different colour shades match elegantly.
How many pairs of black shoes for men should I have?
This of course depends on your style and budget, but we recommend that you have at least one pair of black shoes for the office. If you work in a formal environment, you may want to consider having several pairs of shoes so that you don't wear the same model every day, as this can distort the shoe and accelerate wear. Remember to use shoe trees after each use.