Melvin & Hamilton is all about testing, innovation, transforming, breaking the rules & mixing colours. However, this is only doable when you can rely on a strong know-how, the knowledge of incredible craftsmen, and all the experience our brand gathered in more than 30 years of existence. So if you're not really sure of how to make the difference between a derby or an oxford shoe, if leather ankle boots can also be worn during summer, or what about these sneakers everybody is speaking about nowadays? No worries, we're here for you: just follow our guide, there's everything you need to know about leather shoes!
01 From shape to style
In our designs, everything begins with a shape. It's a shoe template, it will have a male name if it's a men shoe and a female one for a women shoe. The shape will be the true essence of that style: the narrowness of the pattern, the choice of a round or pointed toe, the general curve... From this shape different types of shoes will emerge, from a bootie to a sandal, from a derbie to a monk!

So Martin 15 is a men derby shoes, but Martin 5 is a chelsea boot... Selina 25 is a women Jodphur boot, and Selina 87 a double monk strap shoe. If you find a very comfortable shape that fit you perfectly, an Amelie for instance or a Lewis, here is the magic: every model of this family should fit you perfectly too, whatever the shoe type is.
02 The difference between derbies & oxford shoes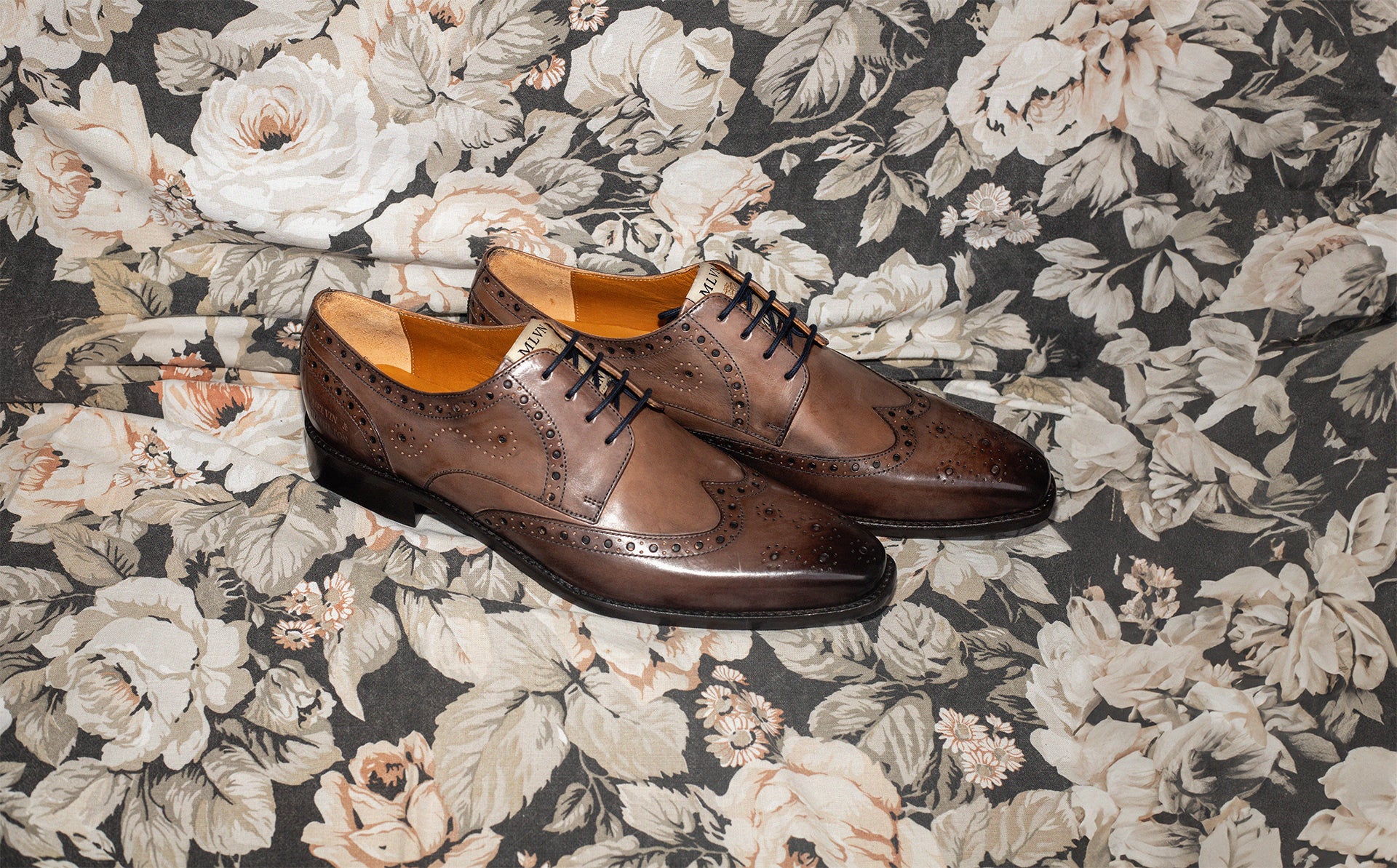 Choose your side among smart shoes! Are you more fond of derbies, or in love with oxford shoes? But do you really know how to make the difference between these two models of lace-up shoes? Please do not panic, we're here to make it clear!
Oxford shoes: a timeless classic
When you first think of lace-up shoes, you immediately visualize an Oxford. Classic, yet sophisticated and, above all, very elegant. In comparison with a derby, the difference is quickly identified and lies in closed lacing, i.e. the 5 eyelets (for perfectionists) are sewn directly into the upper leather and cover the tongue. For this reason, the Oxford is a rather tight and narrow cut shoe, which people with a very high instep should avoid.

Incidentally, we thank our British neighbours for the so-called Brogue pattern. This (partial) perforation allowed water to escape quickly in rainy weather conditions. Today the noble perforation is purely decorative, but has lost none of its original charm. Whether decorated or not, Oxford is a true gentleman: Thanks to its classic cut and androgynous design, it is equally popular in the world of fashion. In the office or for special occasions like a wedding, Oxford shoes are simply a must-have of every shoe cabinet!

We at Melvin & Hamilton love to present these lace-ups in new and surprising ways - whether in bright or pastel colours, with extravagant decorations or in a dandy look. Elegance does not have to be bourgeois at all!
Find all our oxford shoes for women and oxford shoes for men here!
Derby Shoes: Casual Mondality
The derby shoe belongs to the category of lace ups. Compared to the Oxford variant, it is a little bit more relaxed and casual. This is due to the so-called open lacing, which means that the side leathers do not touch each other and the flaps are clearly visible! This means that the Derby can be laced up easily and is suitable for a wide range of foot types and offers all the comfort that some people miss with the Oxford.

Right from the start, derby shoes have been in the front row at Melvin & Hamilton and are clearly one of the flagships of the men's and women's collections. And a lot has happened since the beginning of our brand history in 1988: Derbies are no longer uniformly black or brown, but rather true fashionistas who love trends! Woven or perforated leather (as in the well-known brogues models, for example), accent colours, embroidery - the derby gets them all!

These changeable lace-ups make a good impression everywhere and fit to all occasions. Combined with a skirt you will embrace the preppy chic, worn with chino pants you will become a businessman, worn with a sparkling party dress you will create a stylish break in style and in an outfit together with a polo shirt you will impress at Sunday coffee. The possibilities are endless!
Find all our women's derbies and men's derbies here!
So, derbies or oxfords? After theory, let's have a little test. Between these two lace-up shoes, can you really spot the difference between Oxford and Derby shoe?
03 The Distinctive Style of Leather Sneakers
Our sneakers - only few shoe models reflect the current trends as much as the sporty sneaker. They are comfortable, yet stylish, underline our casual side and turn every look into a streetwear outfit. This is how we walk through all adventures dynamically! At Melvin & Hamilton we made sure that this type of shoe also has our personal touch. Our sneakers are made of high quality leather and are equipped with innovative, feather-light (mostly colourful) soles.

Obviously, sneakers have won a very special place in our hearts (and our closets!) and are proudly worn in our leisure time, but also more and more often in the office. In our collections every sneaker lover discovers his favourite shoe: from puristic to fancy - just have a look around!
Find all our women's sneaker and men's sneaker here!
04 Leather loafers, effortless elegance
Transitional time is loafer time! Our loafers are made of high-quality leather all around. This is especially important when it comes to the insole, as it is wonderfully permeable to air and allows your feet to breathe even in high temperatures. You can rely on loafers in any situation! In the large loafer family, you can distinguish between 2 basic types: the classic loafer and the so-called penny loafer.

The former is a bit more relaxed: it is often worn without socks and the design is purist: a decorative seam adorns the back of the shoe, sometimes it also has decorative tassels. The penny loafer is a little more dressed up: There is a decorative strap on the back of the shoe that has a small slit. According to American college tradition, a penny or two can be hidden here, which also explains the origin of the name of this famous model. Loafers are very versatile and come in dignified or colourful nuances. Anything is possible when it comes to the type of leather: you can choose between smooth or suede leather. Speaking of suede: the well-known driver, also called "car shoe", is extremely popular with professional drivers because of its non-slip sole and the typical loafer comfort.
As you can see, the loafer looks back on many traditions and exciting stories - who would have suspected that behind its classic appearance? Attention, attention: the question of whether or not you should wear socks in your loafers can lead to real battles of words among loafer fans. Our cosmopolitan, multicultural and open-minded Melvin & Hamilton Team remains true to its values on this issue and leaves you free to choose in this delicate matter.
Find all our loafers for women and loafers for men here!
05 Leather monks, bold and modern
The monk is a shoe with its own identity, and a real style for those who adopt it! Don't confuse it with a moccasin, you can recognize it by its particular sign: the monk is built on the model of a derbie, but it does away with lacing and replaces it with a flap (or strap) closed by one or two buckles. It is also known as a monk strap - or double monk strap, in the latter case.

This is a very elegant buckle shoe, with a real dandy feel, especially if you choose it in two-tone leather. For those with strong insteps, the elegant monk shoe is a great alternative to the tight richelieu shoe, both for special occasions and for everyday wear.

The strap shoe is the men's shoe for the discerning dress shoe enthusiast. But monks have also made their way into women's wardrobes, in particular thanks to the revival of women's styles, vintage trends and the preppy look! Whether we prefer them in genuine leather, with a rubber sole for a revisited British style, or in braided leather, Melvin & Hamilton monk shoes follow all our trends and fantasies, and your desires of the moment!
Here you will find all our monks for women and monks for men!
06 Ankle boots, trend and comfort for everyday life
High-quality leather ankle boots are clearly the stars of our Melvin & Hamilton collections. No season is complete without our bestselling boots. Women's booties, men's ankle boots, colourful or simple, playful or rocking details - the models are just as diverse as our customers. Come along and discover all our variations!
The leather ankle boot is our everyday ally, our best friend in all seasons and on all occasions.
Why do we love them?

- Because they are super practical: so easy to put on, with their elastic bands or zip!
- Because they slim the figure and make legs look pretty, for women and men, with or without heels! It also makes the foot look slim, when it's a bit strong.
- Because they fulfill all our fantasies, from the wise and essential little black boot to the trendy mountain boots with straps and eyelets...
- Because they are full of personality, and come in dozens of varieties: chelsea boots, jodhpur boots, with buckles or laces, balmoral boots or chukka boots, travel or British style, biker style or cowboy boot spirit...

(And maybe also because it hides our socks when they don't match our trousers).
We all have 1000 excellent reasons to wear boots every day of the year. The leather boot is one of the brand's favourite styles, and there's a whole world of fashion available to you. So explore the world of boots without restriction.
Find all our women's ankle boots and men's ankle boots right here.
07 Leather boots, a true fashion statement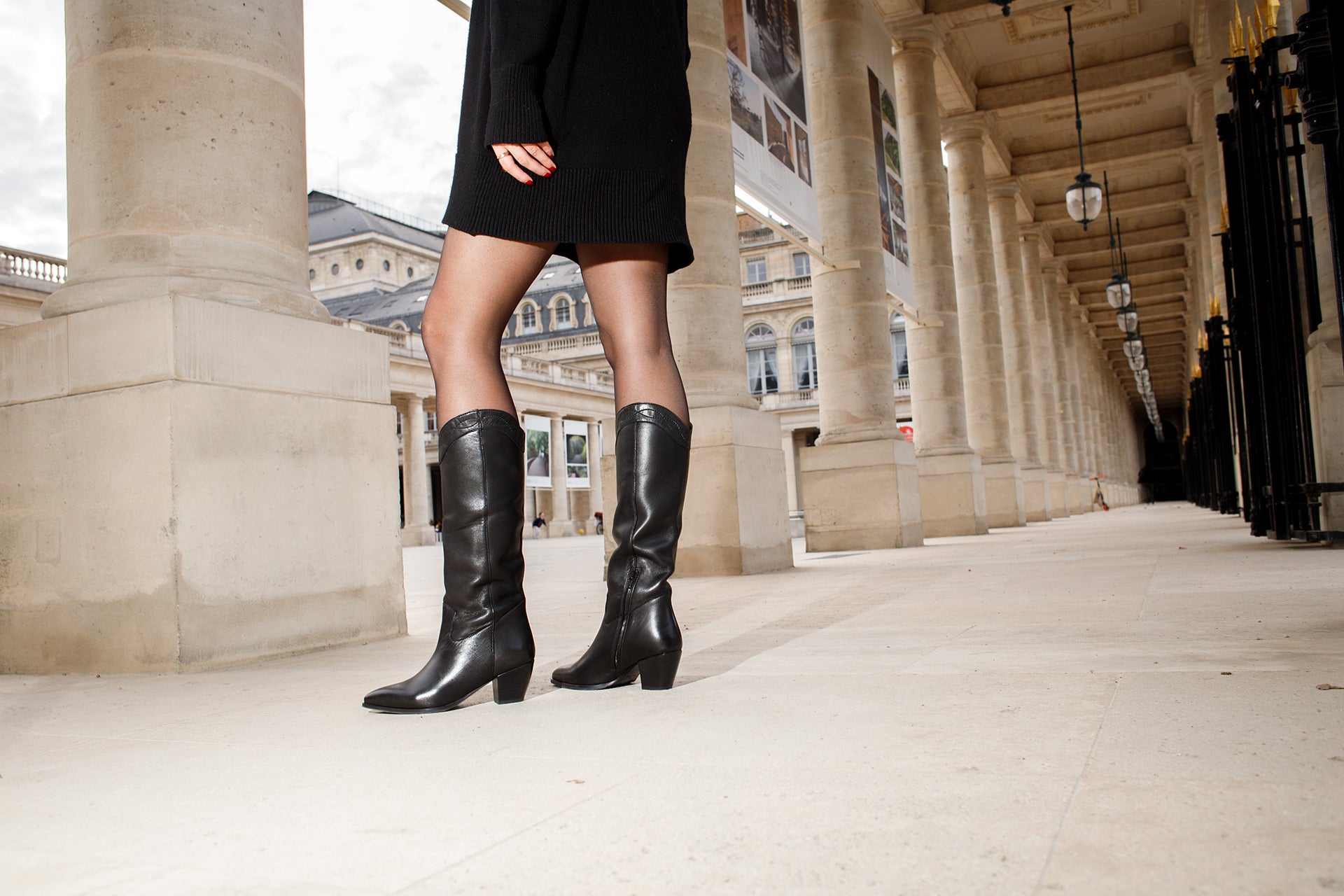 Boots are just as versatile as their little sisters the ankle boots - calf-high, just below the knee or as over-the-knee boots, there is a leather boot to suit every occasion!
At Melvin & Hamilton, leather boots are every bit as good as our best-selling ankle boots! Just as trendy and available in different shapes and materials, boots are a must-have for every wardrobe. In our collections you will find boots in a trendy mix of materials, in the cowboy version or in the equestrian look. Especially in autumn and winter, boots brighten up any outfit.
You can find all our leather boots for women here.
08 Sandals & Mules: Summer on our feet
As soon as the temperatures rise, we long for light footwear. Sandals and mules for men and women are the perfect solution for those who don't want to sacrifice style for comfort in the summer. Gone are the days when these airy models could only be worn on holiday, our models can also be seen in the office. Let the summer come!
Leather sandals
A leather sandal doesn't have to be Spartan - either in form or in spirit. This type of footwear popular since Antiquity, finds a thousand shapes and inspirations to make summer comfortable, wherever we are, at the office or on the beach, leaving our toes completely free! Melvin & Hamilton has chosen leather for these sandals, especially for the insole: it's a breathable material, so you can walk comfortably and enjoy the warmest of days.

Flat sandals, low heels or wedges for women, buckles or laces, rubber or cork soles, it's all a matter of taste... Men's sandals are not to be outdone, with a variety of colours rarely equalled in this product range. All the more reason to treat yourself and be original, even in summer!
Here you will find all our womens sandals and mens sandals!
The mules with all the comfort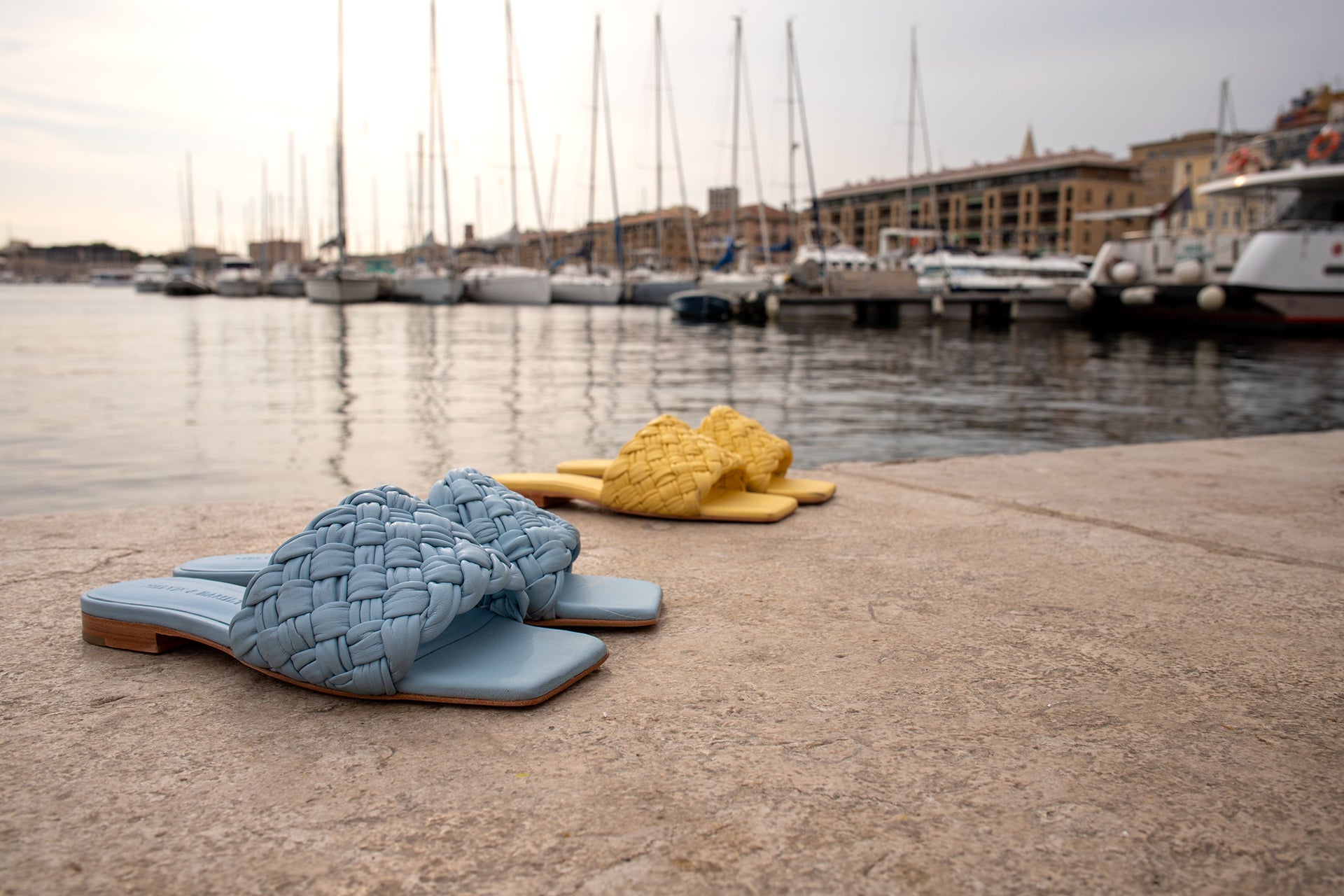 Next to other summer shoes like sandals or moccasins, the mule doesn't have to hide! On the contrary, for a few years now mules (also called mules) have been the absolute front runners in the fashion world! Mules are the perfect compromise between comfort and style - you can walk in them like in slippers and still be super stylish. In the country, in the city, at the barbecue or on a short trip, mules never let you down.

At Melvin & Hamilton, you can choose from numerous variants in many colours and leathers. In addition to classic smooth leather, braided leather in particular is a frequent feature of our mule collections. Promoting this unique craftsmanship is a matter close to our hearts and we are particularly proud of the luxurious models made using this method! And we have also thought of the fashionistas: our models with platform soles will make you the star of any party. And of course we haven't forgotten the gentlemen: You can wear your mules either plain and closed at the front or in croco.
Here you will find all our women's mules and men's mules!
09 Classic beauties: leather ballet pumps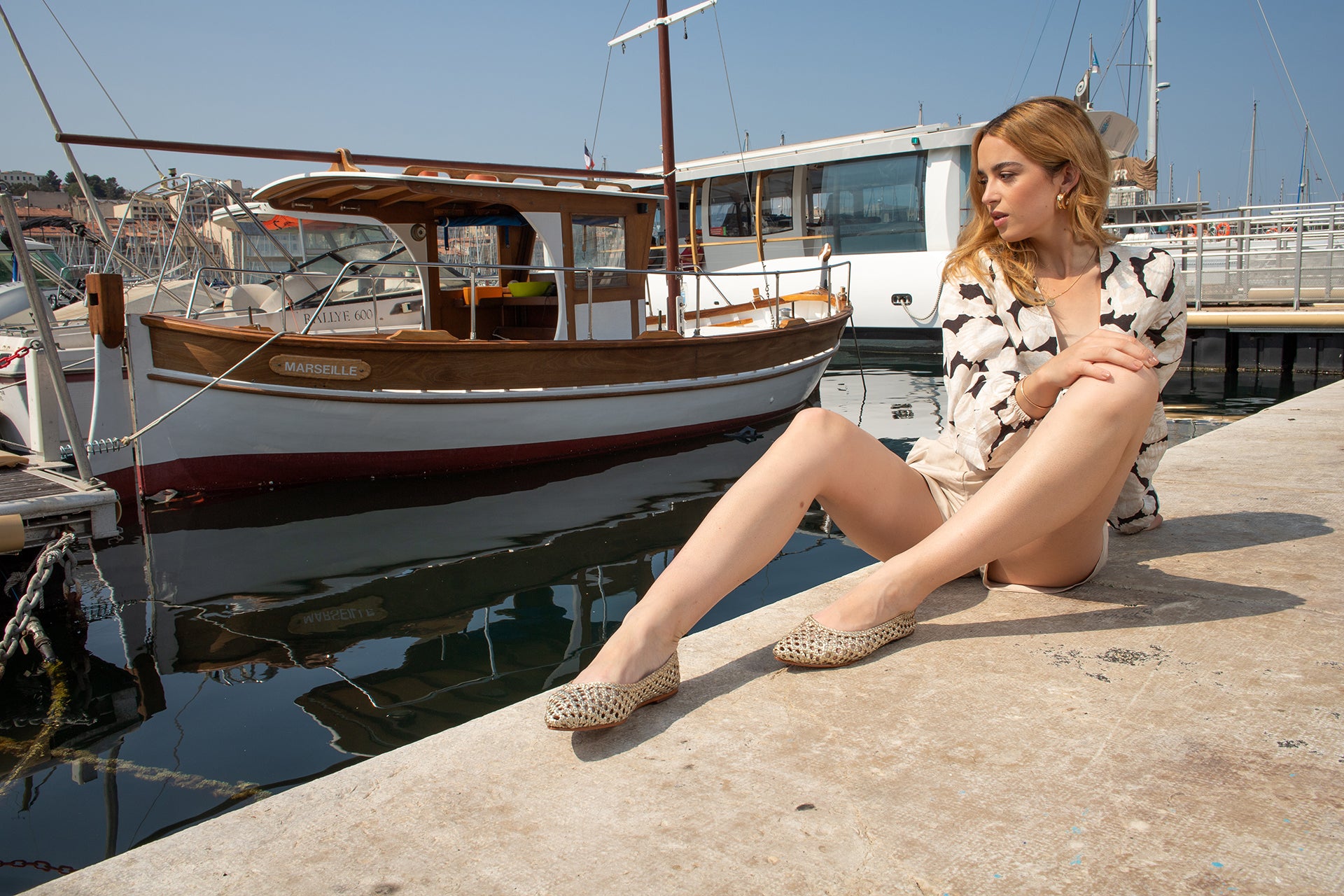 Romantic and elegant - in leather ballet pumps we virtually float across the streets of this world. And although this type of shoe has its very own, unmistakable style, it can be universally combined. With skirts, dresses, slim trousers and even shorts - a ballerina is always a good idea and gives you the trendy preppy look! So it's no surprise that this model is one of our customers' absolute favourites.

The ballet pumps have a long history: in London in the 1930s, classic dance shoes inspired the Australian Jacob Bloch to his first creations. A few years later, the stylist Rose Repetto took up this idea and further developed the ballet flats. Originally, this prototype was intended exclusively for his son (a dancer and choreographer), but his fellow dancers were so enraptured by this new type of shoe that the ballerina spread rapidly and was soon to be seen on the feet of numerous Parisian women. The international breakthrough of ballerinas came with films such as "And God Created Woman". Besides its beautiful leading actress Brigitte Bardot, Audrey Hepburn and Coco Chanel were also true fans of ballet pumps.

When you say ballet flats, you immediately think of long spring walks or long summer nights - in these seasons, these feather-light yet sturdy women's shoes are simply indispensable. At Melvin & Hamilton, ballerinas are always reinvented, so we have a great collection for you, in pastel or bright colours, smooth leather or in the braided version.
Find all our leather ballerinas right here.
10 Heeled shoes to gain height
From classic pumps to minimalist, block heeled ankle boots, heels - a symbol of elegance - have evolved gracefully through the ages. Today, heels have conquered the fashion world and are the ultimate accessory for adding a sophisticated touch to any outfit, from an evening dress to a more formal look for the office.

To master the art of heels and wear them brilliantly, it's important to strike the right balance between style and comfort. Opt for mid-height heels for everyday wear, offering perfect support while elongating the silhouette. More classic pumps can be teamed with a fitted dress for a formal look or with skinny jeans for a more casual look. Don't be afraid to play with colours and textures, whether in suede heels or shiny patent leather. Heels are a great way to express your style, adding a dose of confidence to every step.

11 Clogs, chic and rustic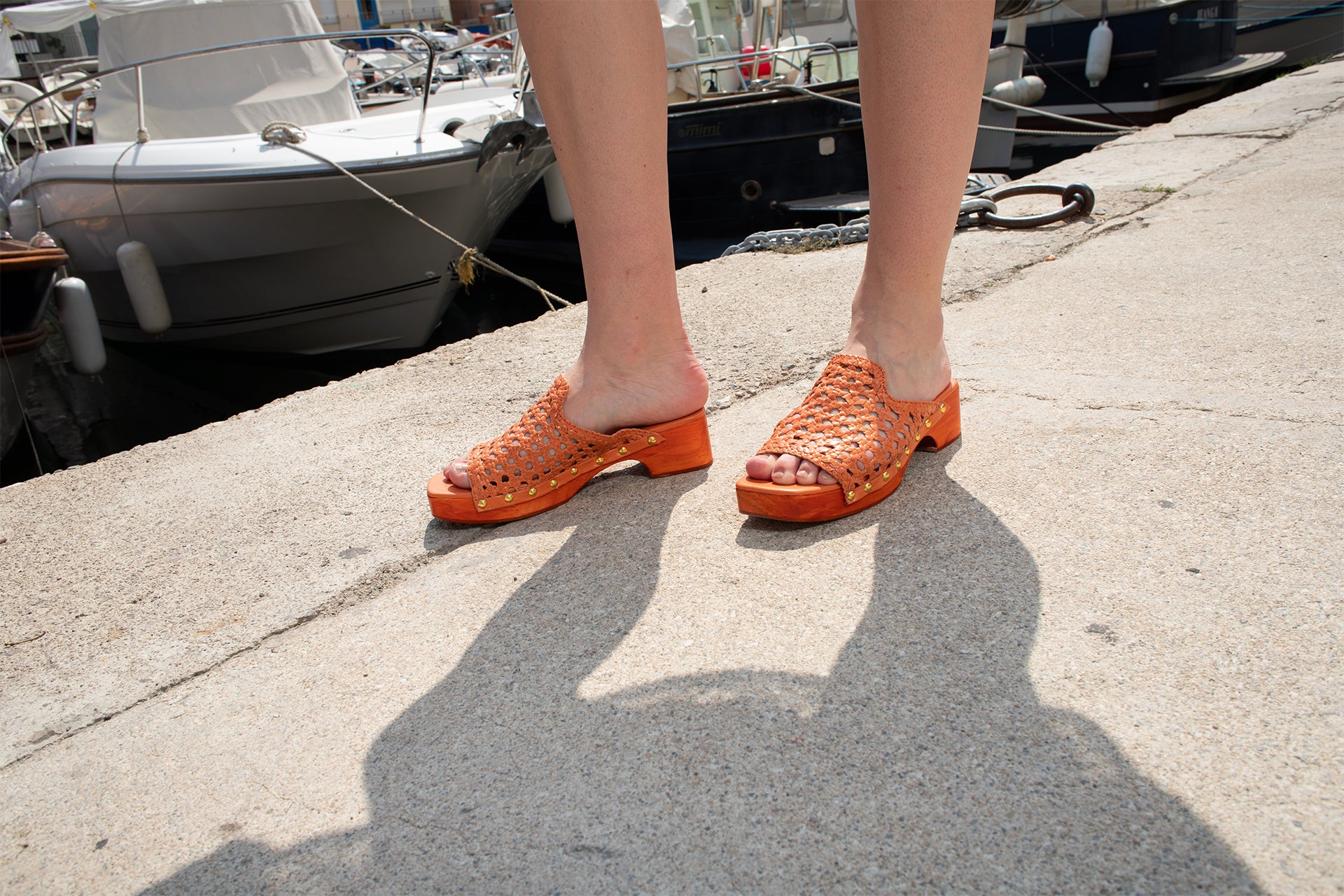 Clogs, shoes with wooden soles, have a rich history that goes back centuries. They originated in Northern Europe and were originally worn by farm workers. Today, clogs are back on the catwalks of the fashion world, where they skilfully combine tradition and modernity. The latest trends give them a new look with delicate embellishments and elegant heels, transforming these rustic shoes into trend pieces. Combined with a short summer dress or high-waisted jeans, clogs add a touch of bohemian flair to any outfit.

Opt for black leather clogs for a sophisticated look or choose a camel-coloured model for a casual style. Don't hesitate to play with colours and patterns.... Clogs offer exceptional versatility, so you can incorporate them into your everyday look as well as your weekend outfit.
12 Learn even more about us
Want to learn even more about the design and house of Melvin & Hamilton? Learn more about the values that are our hallmark, our commitment to ecology, sustainability and social development and our plans for the future.